Fight Pick & Preview – Cotto vs. Canelo:
On November 21st, a fight long in the making finally takes place as Miguel Cotto vs. Canelo Alvarez headlines a HBO pay-per-view from the Mandalay Bay in Las Vegas, Nevada. Cotto vs. Canelo is an excellent scrap which should prove to be an entertaining one, and it will also have a huge bearing on the careers of both men involved, and the division they're fighting in, middleweight.
Yet, they're only technically fighting at middleweight — with a mandated catchweight of 155 lbs — which is why we stripped Cotto of his championship. Our World Middleweight Championship was decided last week, when Gennady Golovkin pummeled David Lemieux to capture the vacant crown. Everyone wants the winner of this fight to face Golovkin next. The difference is that here at ProBoxing-Fans.com, should the fight occur GGG will be defending his title, and not vice versa. In either case, here's a look at what to expect on fight night with Canelo vs. Cotto.
Meet the Fighters
[tabs type="horizontal"][tabs_head][tab_title]Miguel Cotto[/tab_title][tab_title]Canelo Alvarez[/tab_title][/tabs_head][tab]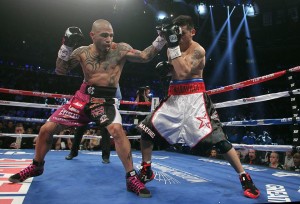 Record: 40-4, 33 KOs

Age: 35 (by fight night)

Height: 5'7″
Reach: 67″
Ranking: #1 Contender at Middleweight
Best Wins: TKO10 Sergio Martinez, UD Shane Mosley, TKO9 Antonio Margarito, TKO4 Daniel Geale, TKO11 Zab Judah
[/tab][tab]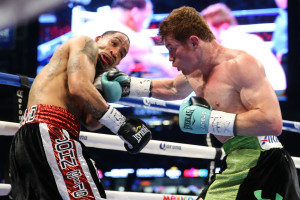 Record: 45-1-1, 32 KOs
Age: 25
Height: 5'9″
Reach: 70.5″
Ranking: #4 Contender at Middleweight
Best Wins: SD Erislandy Lara, UD Austin Trout, KO3 James Kirkland
[/tab][/tabs]
Canelo vs. Cotto Preview & Analysis
A lot of numbers stand out as you start looking at this fight: In Canelo's favor, there's the 10 year age gap between the two and his 2-inch height and 3.5-inch reach advantage. In Cotto's favor is  that catchweight his team successfully got installed for this match, 155 lbs.
Even though Cotto has been up at "middleweight" while Canelo has been down at junior middleweight, it's no secret that Canelo is the larger of the two, and has been having issues cutting down to 154 lbs. He'll get an extra pound to work with here, but won't be able to capitalize fully on his strength and size advantage as he would have been able to do should they have fought at the full division limit.
It's not just the age for Cotto though, it's the mileage. Yes, he's been absolutely rejuvenated under the guidance of Freddie Roach in his two fight stint in and around middleweight, stopping Sergio Martinez and Daniel Geale. However, you can't erase those miles, and they were tough, treacherous ones, suffered largely in two stoppage defeats,via the lightning quick attack of a peak Manny Pacquiao, and the concrete-padded illegal hand wraps of Antonio Margarito.
Certainly, Roach will have some tricks in store for this fight. But how effective will they be in deterring Canelo, and if they are effective, for how long? Enough to win a decision by a wide margin? Enough to make this a 50-50 fight, with Canelo likely closing strong down the stretch? Or enough merely to delay the onslaught dished out by a younger, stronger, bigger and highly skilled fighter?
Cotto's boxing has always been an underrated skill. When he both sticks his jab, and uses it to setup and unleash the left hook, he's incredibly dangerous offensively. He can cut off the ring against a defeating foe, or circle around it to keep away when he pleases. But he can be physically broken down, as most all fighters can be. An issue arises for him in that Canelo has never had that happen to him. He's confident Cotto won't be able to do it, while conversely, he's confident he can take Cotto down that similar path.
Cotto vs. Canelo Prediction
Making this fight an issue of savvy vs. strength is overly simplistic. Yet, it's fundamental to the way matters unfold. Cotto will need to create doubt in Canelo's mind, reminding him just enough of his woeful one-sided loss to the vastly more skilled Floyd Mayweather.
Cotto is no Mayweather, but he will look to keep him guessing — a lead left hook here, a double hook to the body there, luring him in before setting up a power shot, and always staying behind the jab. Canelo will need to simply bypass all of that, use his superior size, and force his way inside. He'll need to punish Cotto when he gets him back against the ropes, and force a high work rate as much as possible.
To answer the question of whether Cotto, and the tricks he's deploying from Roach, will be effective, and for how long, I believe it's the last option presented. It'll be enough to start strong, and offer Canelo some early surprises. But it won't be enough to keep Canelo away for good, and the strategy will begin to fall away as Canelo begins to land and do damage.
Expect excitement and good two way action. As the tides turn against him, Cotto will do what he has always done, fight back even harder. That though will be his undoing, as it will afford Canelo the chance to unload.
Prediction: Canelo TKO11 Cotto