One is a talented fighter who is leading a renaissance of sorts when it comes to the sweet science in the "City of Brotherly Love."  The other, while not nearly as heralded at this stage in his career, is one of the best lesser-known one-punch knockout artists in the sport today.  Youthful exhuberence meets crushing experience and power as part of the Pacquiao-Brqdley undercard this Saturday night in Las Vegas.
When: June 9, 2012
Where: MGM Grand Arena, Las Vegas, NV
Undercard: This bout is actually considered the co-feature of a full evening of fights, culminating with Pacquiao-Bradley as the headliner.  The PPV televised undercard also includes Jorge Arce vs. Jesus Rojas and Guillermo Rigondeaux vs. Teon Kennedy.
The Pugs and The Prize
Mike "Machine Gun" Jones (26-0, 19 KOs)

Height: 5′ 11″
Nationality: U.S.A
Age: 29
Fighting out of: Philadelphia, PA
Stance:  Orthodox

Randall "The Knockout King" Bailey ( 42-7, 36 KOs)

Height: 5′ 9″
Nationality: U.S.A.
Age: 37
Fighting out of: Opa-Locka, FL
Stance: Orthodox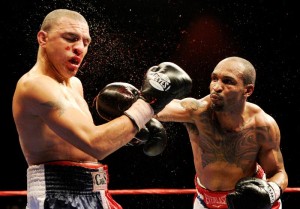 The vacant IBF welterweight title is on the line.  A win would be easily one of the biggest in the career of Randall Bailey and should finally bring some modicum of limelight to the proclaimed "Knockout King." Jones is looking for his his most prestigious major professional title and elevation into the national picture.
Jones vs. Bailey Preview
Jones enters the bout undefeated, with an impressive 19 knockouts to his name with his last stoppage coming via a second-round TKO of Raul Munoz in 2010 in South Philadelphia.  Bailey's last five fights have been something more of a mixed bag, going 3-1 with one no decision and only one knockout. "M.J" is currently ProBoxing-Fans.com's #9 ranked Welterweight, with Bailey currently occupying the #10 position.
The Analysis
Although both men have punching power, this fight is probably better viewed as speed versus strength.  Jones has the ability to knock an opponent out,  but his greatest asset in this matchup will be his foot quickness and propensity to turn defense into offense.  The expectation is that Jones will use his reach to keep Bailey at bay and dictate the pace of the fight.  His counter will be a crushing series of hooks and numerous three and four punch combinations.  If the opportunity to land the knockout presents itself, rest assured he'll take his shot.
In the other corner is the calculated,  stalking patience of Bailey who will be thinking knockout all night.  Despite being in excellent condition,  it's not clear how long Bailey's 37-year-old legs will carry him Saturday night.  If Jones withstands the early round onslaught, the tide quickly will turn in "M.J's" favor.
Jones vs. Bailey Prediction
This may be the most entertaining fight on the card come Saturday night.  It truly could go either way, as is the case in any match where either, or both, fighters have bona fide knockout ability.  Jones is going to try and make this fight into a boxing match, which is smart.  He's quicker and more athletic than Bailey which will serve him well in the later rounds.  He relies a little to heavily on forcing combinations,  which the veteran Bailey will be looking for to turn into huge offense.  Jones will be most effective when he can cut off the ring and force Bailey to defend the jab.  It'll open Bailey up more to the hook and win him some rounds.
Let's just call it as it is: Bailey's going to be looking for the knockout from the opening bell until the fight ends and that's exactly what makes this a fun watch.  He follows his jab with one of the truest and fiercest straight rights in the sport.  Jones will have to guard diligently throughout, because Bailey doesn't require much room to operate.
Int he end,  Jones' ability and skill should allow him to win enough rounds–and avoid a very public nap–to capture the title and emerge victorious.  In the battle of big punchers,  it will end up being the most elusive that wins the strap.
Prediction:  Jones by unanimous decision