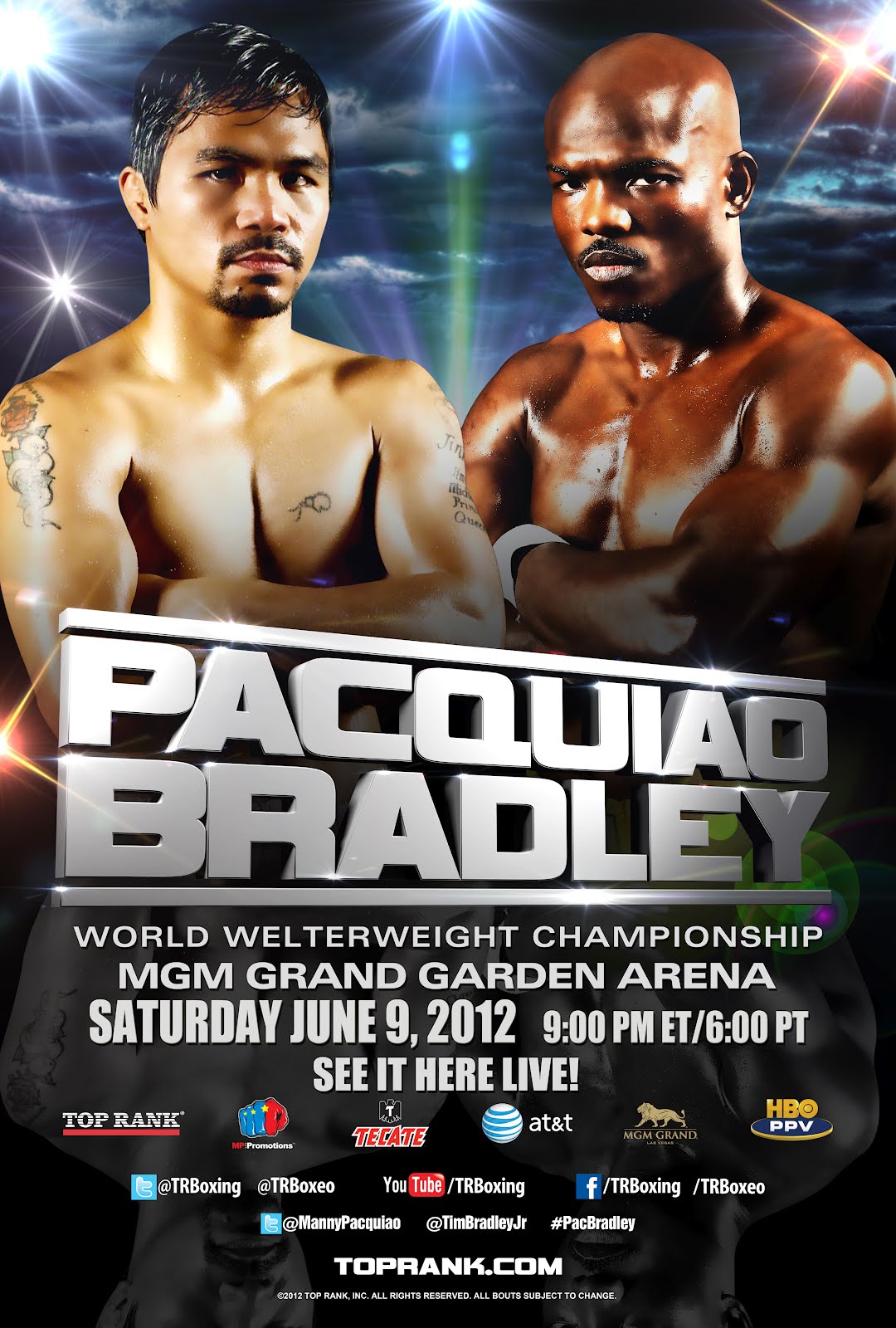 Staff picks: Manny Pacquiao vs. Timothy Bradley Fight Predictions
It has become a time honored tradition. When a big fight is around the corner, the team at ProBoxing-Fans.com all chimes in with their official picks and predictions on how the bout will play out. Right here, we have a collection of all of our official Pacquiao vs. Bradley predictions. The consensus seems to be: tough fight, but guess who we're picking anyway? Nevertheless, take a look at all of our Pacquiao-Bradley picks and predictions and see what we're expecting for Saturday night.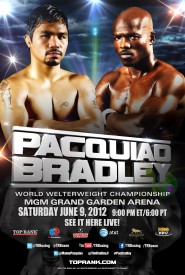 Scott Levinson: Pacquiao finally gets a young unbeaten opponent in Bradley. While Bradley's energy, physical strength, and overall devotion to his craft will give Manny problems, his lack of big-fight experience could hurt him. And Bradley has never faced anyone with this kind of offensive potential. I don't think he will handle Manny's offense as well as some recent Pacquiao opponents have. With 12 knockouts in 28 wins, Bradley's power deficit will also not help his cause.
I see a dogged performance by Bradley that starts falling flat around the ninth round. Pacquiao's greater speed, power, and offensive imagination will begin to take over. I think Bradley has enough wherewithal to get to the final bell, but just barely. Pacquiao wins by unanimous decision.
Pacquiao vs. Bradley Prediction: Pacquiao by UD
Rich Thomas: For years, I have maintained that the blueprint for beating Manny Pacquiao has been well-established by Juan Manuel Marquez – rugged, hard-fisted, aggressive counter-punching. The problem with that blueprint is that few men have the power, durability, skill and poise to carry it off.
Ostensibly, Timothy Bradley is a slick boxer-puncher with the skills to befuddle Pacman, at least for a time. The problem is that while Desert Storm has fought some pretty good guys, his best opponents are all boxer-punchers with the emphasis on the boxer part, much like Bradley himself. In Lamont Peterson and Devon Alexander, Bradley had the luxury of beating other guys at his own game. Pacman is a lightning-fast, hard-hitting swarmer, and Bradley has never seen such top quality aggression. It might upset his poise and leave Bradley befuddled.

Pacquiao vs. Bradley Prediction: Manny Pacquiao TKO11
Frank Ingiosi: Not sure whether it's the unusually high amount of concerning chatter coming from the Pacquiao camp, or, the light in which Timothy Bradley is being presented each week on "24/7," but this fight doesn't feeel as much of a lock for Manny as I had originally thought.  Consider me another casualty of the HBO marketing giant.  I do, however, still believe that Pacquiao will win the fight, despite Bradley's best efforts.  But, this time around I'm not getting the feeling that Manny will enter the ring as the overwhelming psychological favorite.  Bradley does not seem intimidated at all by Manny, and Manny doesn't have the look of a focused and primed warrior.  I'm going to hedge and say that Pacquiao wins this one by split decision, looking better than his win over Marquez, but not quite as dominant as days past.
Pacquiao vs. Bradley Prediction: Pacquiao by SD
Jake Emen: I swore years ago to never pick against Timothy Bradley. I'd love to pick him here. I think he has what it takes to be gritty enough, sturdy enough and strong willed enough to pull out the victory, and as he has been shouting to all listeners, shock the world. As a betting man, I couldn't pass on Bradley as a 4 or 5-1 underdog. My heart says Bradley. I want to go out on that limb. But… all of this said, I don't think this is the day Pacquiao's reign comes to a crashing halt. He'll pull out the win here. He'll have to work hard to do it, but he'll do it.
[Read Jake's full preview & prediction here]
Pacquiao vs. Bradley Prediction: Pacquiao by UD
Edward Fu: Manny Pacquaio, even if he may be past his prime, is still the faster and stronger fighter of the two. Manny's hand speed, in addition to his phenomenal strength in both hands, will prove to be a big problem as Bradley comes forward, head first, with his swinging punches. Yes, Bradley has heart and will fight until he has nothing left, but we remember how easily he tumbled to the canvas in his fight with Kendall Holt and Manny will try to do the same. For Bradley to win, he will need to turn this fight into an ugly one. However, in my opinion, Manny will just be too quick for Bradley to handle and will take the fight within 8 rounds.
Pacquiao vs. Bradley Prediction: Pacquaio TKO 8 Bradley
Blair Newman: For me, Manny Pacquiao's last two performances have given a false impression of where he is in his career at this point in time. Shane Mosley was unwilling to engage, while Juan Manuel Marquez is just a bad style match-up for Manny. Tim Bradley does have fast hands, and indeed I expect his straight right, which coincidentally worked effectively against other southpaws such as Junior Witter and Devon Alexander, to be very dangerous against Pacquiao.
However, I feel Bradley is too wide with his punches and can be reckless when on the attack. I expect to see Bradley box patiently from the outside to start with and win his share of the early rounds doing so, catching Pacquiao moving in. As the fight goes on, however, I see Pacquiao consistently tagging an increasingly open and aggressive Bradley. Bradley has a good chin, so this won't be a blitzkrieg, but he can be hurt and I predict Pacquiao to force the stoppage late on.
Pacquiao vs. Bradley Prediction: Manny Pacquiao TKO 10
Pacquiao vs. Bradley Predictions Official Tally:
Manny Pacquiao: 6 (Three by decision, three by stoppage)
Timothy Bradley: 0
Thanks for checking out our official picks and Pacquiao vs. Bradley predictions. Remember, on Saturday night, we're your home base, and we'll have you covered with your nonstop Pacquiao vs. Bradley results & round by round updates.