In a battle of unbeaten featherweight prospects, Mikey Garcia completely outclassed Matt Remillard, leading to Remillard's corner waving off the contest after the 10th round. The 9th and 10th had seen Remillard take a prolonged and vicious beating, and it seemed that there had been a few obvious points for the referee to interject and stop the affair, although he never did. So the corner took matters into their own hands and saved their fighter in-between sessions.
Nick Charles called the fight, and provided a great source of inspiration… if you're not moved by the way this guy has handled his health crisis, then you just haven't been paying enough attention. Remillard started the fight off strongly, and landed a few solid body shots onGarcia. But whenever he advanced and landed something which made an impact, Garcia answered back emphatically, at one point unleashing a string of several dozen unanswered blows, started by three or four left hooks back-to-back-to-back.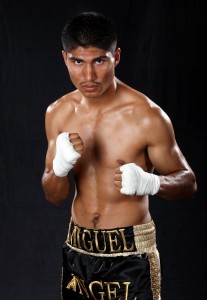 Remillard continued to have a few moments in the early stanzas but it was becoming more clear as time went on that the two fighters were just cut from a different cloth. Remillard was good, Garcia was just a level – or two or three – better. He had quicker hands, a much more complete and smoother offensive arsenal, and much heavier blows as well. The difference in power punching wasn't just seen in the physical impact of the shots, but you could audibly here the difference, and see from one punch to the next how much of a gap there was between the two fighters' power.
By the end 0f the 8th Remillard appeared to be badly hurt, and somewhat resigned. He was still trying to be competitive, but he wasn't able to get anything done.  In the 9th he went down twice, the second time from a huge left hook which implanted him to the canvas. But he rose to his feet by the count of 7 and the bell ended the round.
The 10th was more of the same as Garcia poured it on. He was aggressive but waited for his opportunities to come to him instead of being overly reckless. Remillard was sent down but it was ruled a push. Remillard then got pinned against the ropes and it seemed like the referee should have and could have called it off. He didn't, and finally Remillard got sent down from a right, getting up before the count of 9. For some reason the referee still didn't wave off the bout, and Garcia obliged by continuing to pour it on until the bell rang. Remillard's corner then gave their signal to end the bout and it was waved off.
A very impressive showing for hot prospect Miguel Angel Garcia. Remillard is a good fighter, but it was palpable to anyone watching the bout that Garcia was just that much better.