Mosley vs. Mora Undercard Features Hot Prospects Saul Alvarez & Victor Ortiz in Exciting Bouts

On September 18, Shane Mosley vs. Sergio Mora won't be the only fight that will be heating up the Staples Center. There are a few notable undercard bouts that will be sure to make this a night of boxing to remember.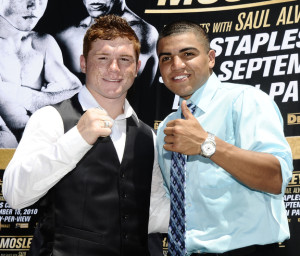 In one featured undercard, former world champion and gutsy veteran Carlos Baldomir will take on up and coming Mexican fighter Saul Alvarez in what will be a true test for the young Alvarez. In the other fight, Victor Ortiz will take on another former world champion in Vivian Harris. This is a great night of boxing to coincide with the Mexican Independence Day Bicentennial celebration.
Alvarez vs. Baldomir
Saul "Canelo" Alvarez
33-0-1 (25 KO's)
Tlajomulco de Zuniga, Jalisco, Mexico
Height: 5'9"
Reach: 71"
Last 5 Fights: Alvarez is on the rise and ready to prove himself, and his last 5 fights are further proof that he's ready for a big test. Out of his last 5 fights (which are all wins), he has scored solid knockout victories over Luciano Leonel Cuello, Jose Miguel Cotto and Brian Camechis.
Carlos "Tata" Baldomir
45-12-6 (14 KO's)
Santa Fe, Argentina
Height: 5'7"
Reach: 68"
Last 5 Fights: Carlos Baldomir is nearing the end of his illustrious career and his latest results prove that he is a tough contender, but is soon to be ousted by the up and coming generation. He has recent wins over sub par opponents such as Jairo Jesus Siris and Luciano Perez, but he also has lopsided losses to Vernon Forrest and Floyd Mayweather Junior. 2006 was clearly Baldomir's year, as he defeated both the late Arturo Gatti and Zab Judah.
Alvarez vs. Baldomir Preview
Alvarez has already tallied 33 wins in his career, and he is only 20 years old! He is establishing himself as a solid welterweight contender. All he needs is a fight against a tough, battle proven veteran with solid boxing skills, a belt on his resume and a dogged will to win. Baldomir is playing this role in this fight and I think this a good choice for an opponent for Alvarez.
Is Alvarez Ready for the Big Time? Baldomir has defeated the likes of Zab Judah and Arturo Gatti and has survived 12 rounds with Floyd Mayweather Jr. and Vernon Forrest so clearly; Baldomir has seen it all in the ring in terms of talent. If Alvarez can dispatch of Baldomir, then he is ready for his shot. I feel as if Alvarez will use his superior reach and patience to frustrate Baldomir who is known for a fearless style, not so much for his power (which he lacks), but for his will to win and his ability to outlast and drain his opponent.
Alvarez's inexperience at the top: For a 20 year old kid, Alvarez sure has a massive following and a great deal of ring experience. However, he does not have experience fighting someone as seasoned as Baldomir. With all Baldomir has seen in his career, he has proven that he knows how to take a punch, fight while hurt and grind out gutsy battles. Alvarez has not proven this yet and if Baldomir can continue moving forward and not backing down, he may be able to hurt Alvarez and possibly even capitalize on this.
Alvarez is well aware of the magnitude of this fight and will definitely have a grueling training camp in an effort to prepare. This is a solid 2010 for Alvarez, so expect him to come out looking fresh. This fight will go the distance, but Alvarez will take the decision. I see Baldomir eking out a few middle rounds where he thrives, but in the end, Alvarez's youth and skill will be too much for the aging Baldomir.
Prediction: Alvarez by Unanimous Decision
Ortiz vs. Harris
"Vicious" Victor Ortiz
27-2-1 (21 KO's)
Oxnard, California
Height: 5'9"
Reach: 70"
Last 5 Fights: Ortiz has put together a series of solid wins, including a decision over Nate Campbell in which he had Campbell down,  a tough TKO victory over Hector Alatorre, and a win against the veteran Antonio Diaz. His last loss came back in June of 2009 when he was yet another fighter destroyed by Marcos Maidana. It is obvious that the young Ortiz will be a great talent in the boxing world and a win against fellow "Vicious" Vivian Harris will make him an even more highly regarded and highly touted prospect.
"Vicious" Vivian Harris
29-4-1 (19 KO's)
Georgetown, Guyana
Height: 5'11"
Reach: 74"
Last 5 Fights: Harris has had an interesting series of fights leading up to this one, including a TKO loss to the undefeated Lucas Martin Matthysse, a no contest, a decisive victory over the inexperienced Octavio Narvaez and a KO loss vs. Junior Witter in a bout that was a WBC Light Welterweight Title Eliminator. Harris's best days are behind him but he will still be a tough opponent for Ortiz.
Ortiz vs. Harris Preview
In this fight, Victor Ortiz will get a chance to further establish himself as one of the most highly touted up and coming fighters in the decision. He will be doing so against a fighter in Vivian Harris who is still hungry and still at a point in his career where he can reach the top again. In this battle of the fighters nicknamed "Vicious", Ortiz wants to put his skills on display and keep gaining more recognition, and Harris wants to put himself back into the mix for a title shot. A place he once was back in the early 2000's.
One More Level to Advance: I see this fight as another stepping-stone for Ortiz. Yes, Harris is a tough fighter who has a great history in the ring and packs a solid punch, but I feel that if Ortiz wins this fight, he will be able to step up and take tougher fights, possibly a rematch against Maidana, a fight vs. Juan Urango or even the likes of Timothy Bradley or Amir Khan. The Light Welterweight division is a division that is chock full of talent and after a win over a fighter such as Nate Campbell and a gutsy showing against Maidana, he knows he can hang in there with the big boys if given more chances.
Physical Match up: Harris has the height advantage by 2 inches and a reach advantage by a staggering four inches. Combine this with his powerful punch and it would look as if this fight would easily go Harris' way, but Ortiz is a skilled boxer and will not allow himself to be a victim of Harris' range. Yes, Harris has the potential to possibly hurt Ortiz. He is strong, rangy and battle tested, but he is clearly past his prime and in looking at his recent fights, he has not been impressive as of late and has not fought very often either.
This will most likely be a one sided affair. Ortiz will press the action and will make lots of connections against the overmatched Harris, utilizing a series of flurries. After this fight against Harris, Ortiz will be even more primed for the big time.
Prediction: Ortiz by 5th round TKO