Manny Pacquiao vs. Juan Manuel Marquez III is now only two weeks away, I find I have decidedly mixed feelings about this fight. On the one hand, it is a rubber match I have been anticipating for years. The fight is a clash between the sports undisputed international superstar, Pacquiao, and the reigning King of Mexican Boxing, Marquez. Finally, I am lucky enough to be in Mexico for this bout. While Pacquiao vs. Marquez III will be staged at the MGM Grand in Las Vegas, I am excited by the prospect of watching such a high-profile Marquez fight with a Mexican audience.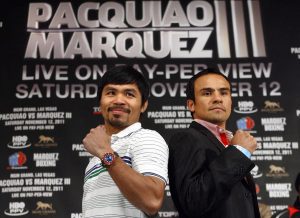 The first two bouts, staged in 2004 and 2008 respectively, were extremely close fights that saw Marquez wind up with one draw and one loss. Although Pacquiao's rabid fans are forever denying it, either bout could have easily been scored as a win for Marquez (indeed, I scored the 2008 rematch as a Marquez win). Yet I cannot escape the gut feeling that this rubber match is taking place too late for Marquez.
Much has changed between these two men over the last three years. Marquez has become the world's top lightweight, but is 38 years old and has slowed by about half a step. During the same period, Pacquiao has come into his prime and grown into a solid super lightweight and arguably world's top welterweight (Pacquiao fights superbly at welterweight, but is still small for the division, a fact borne out by his fight night weights). In other words, the gap between the two fighters has grown over the last few years. Although I have no doubt Marquez will be motivated as never before and will make what might be his supreme effort to overcome Pacquiao, I fear this fight has come too late for him.
The dance between Marquez and Pacquiao is in some ways reminiscent of the Ali-Frazier trilogy, as the competitive edge in both rivalries have experienced an ebb and flow. While I think too much has been made of Muhammad Ali's rustiness going into his first bout with Joe Frazier in 1971 (the man had fought Jerry Quarry and Oscar Bonavena during 1970), he was clearly fighting in a style better suited to a tireless man in his early 20s, rather than a bigger man in his late 20s. By contrast, Frazier was at the peak of his prowess, and therefore beat Ali cleanly. For the 1974 rematch, Frazier had slid somewhat due to wear and tear, while Ali has transitioned into his second career stride. Ali therefore defeated Frazier cleanly. By the 1975 Thrilla in Manilla, Ali had lost a step while Frazier was still in the same condition as in 1974. The result of that bout was a grinding, closely-matched battle of attrition that ruined both men.
Pacquiao and Marquez have gone through a similar dance. When they met in 2004, both fighters were not yet in their prime. Pacquiao was savage, but raw. While Marquez was more polished, he was also the most avoided featherweight on the planet, and therefore lacked big fight experience. The result was a bout that Marquez, who had a clear edge in skill and poise, took control over and would have won had he not been overcome in the 1st Round and sent crashing to the canvas three times in a row. Had either man opened the fight with more caution, Marquez would have bagged their first encounter.
In 2008, Marquez had come into his prime. Pacquiao, on the other hand, had spent the intervening years treading water against faded versions of Erik Morales and Marco Antonio Barrera. If it were not for the fact that Manny Pacquiao was already becoming a major international sports star (as evidenced by the fact that the 2008 rematch with Marquez set a new record for PPV buys in a sub-welterweight fight), he would have beaten Pacquiao that night. Roughly half of all experts and journalists polled thought Marquez won the bout by a margin of one or two rounds, and a substantial portion of those who did not declared the fight a Draw.
Now the pendulum has swung away from Marquez. This might prove to be the most competitive bout Pacquiao has seen since his last bout with Marquez, but even so this bout has the same dynamics as Muhammad Ali vs. Joe Frazier II: Marquez has declined a little, while Pacquiao has improved. So, while I eagerly await the 12th, I expect the results to be bittersweet.