Fight Preview: Donaire vs. Nishioka
In a hardcore boxing fan's delight, PFP stalwart Nonito Donaire takes on longtime 122-pound standout Toshiaki Nishioka of Japan at the Home Depot Center on October 13. Any argument as to who is the world's best junior featherweight comes down to three men–Donaire, Nishioka, and Guillermo Rigondeaux. The winner of this fight will become the de-facto top dog at 122. Rigondeaux will still be there with a claim, but in terms of ring accomplishments, Donaire and Nishioka are already ahead of the Cuban star and a win here puts one of them clearly at the pinnacle of the division.
Date: October 13, 2012
Site: Home Depot Center in Carson, California
Titles: IBF/WBO 122-Pound Championships
Nonito Donaire, 29-1 (18 KOs), San Leandro/Philippines
vs.
Toshiaki Nishioka, 39-4-3 (24 KOs), Tokyo, Japan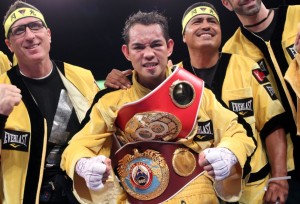 Fans have to like this fight. If this match-up seems unambitious on the part of Donaire, that's only because you are sleeping on Nishioka. The southpaw is on a run of 8 straight title-fight wins and hasn't tasted defeat in over 8 years. Like many standout Japanese fighters, he has operated under the radar of most western fight fans. Through attrition, he has emerged as one of the better Japanese champions to come around in recent years.
Whereas most Japanese champions ply their trade on home turf, Nishioka stands out. He beat Rafael Marquez at the MGM in Vegas and in perhaps his biggest win–starched current featherweight beltholder Jhonny Gonzalez in 3 rounds in Mexico. So he's proven he can travel and he will have to do it again when he comes to south LA on October 13 to take on the well-supported Nonito Donaire in this high-stakes match-up.
—> How would Nonito Donaire do against the top 10 bantamweights in boxing history?
Time may prove me wrong, but I'm not terribly excited about Donaire's career course. I think he has bided too much time since beating Vic Darchinyan over 5 years ago. In addition, the division-jumping and his career progression in general has been a bit rudderless.
Nonito has put together some nice wins over current flyweight champ Hernan Marquez and Fernando Montiel in a 2011 bantamweight unification. I just can't help but think he squandered a little bit of his prime by fighting inferior competition and that he's been jumping divisions just for the sake of it.
Like Pacquiao, Donaire has his sights set on conquering multiple divisions. This is already the 4th division where he has achieved world title honors. I think he may have hit a wall. It seems like he could still make 118 and hearing him talk about moving up even more doesn't sit right. It's just that 122 is a bit dangerous–a division with some diamonds-in-the-rough like Nishioka that offer Donaire a high-risk/low-reward type of dynamic. Nishioka is a legit guy, but not very well-known. Hats off to Donaire for taking a fight like that, with most top fighters trying to fight guys whose name value outweighs their actual merit.
With all the parallels to Pacquiao, it's interesting that it is actually Nishioka who more resembles the Filipino superstar in the ring. Like Manny, Nishioka is a southpaw. The swashbuckling Japanese star's best punch is the straight left, which he is able to lash out with great power and extension. Ask Jhonny Gonzalez.
With a fighter who relies on sharpness as much as Nishioka, it is troubling that he will have been inactive for over a year by the time he climbs into the ring against Donaire. The old battler is now 36 and is the oldest-ever Japanese world champion. I noticed a slight ebb in his powers in his last outing against a thoroughly-spent Marquez. Donaire might be catching him at the right time. Nishioka has been on the world-class circuit for over a dozen years. Is he still close enough to the peak of his powers to give Donaire a stiff challenge?
With Donaire boxing from an orthodox stance and Nishioka being a southpaw, both men should be able to land their straight power shots. Nishioka's left might be better than Donaire's straight right. They match up evenly in size, with Nishioka holding a slight 1-inch height advantage. Donaire had size working in his behalf at 112 and 115, but is now facing guys who are even a little bigger than him. Against Vasquez, Jr. and Mathebula in his two other 122-pound appearances, Donaire's power didn't seem to resonate as well as it did at lighter weights.
Donaire vs. Nishioka Prediction
One thing keeps popping into my head when trying to pick a winner and it's Donaire's ability to step up his game in big fights. Against Darchinyan and Montiel, he rendered all analysis moot with his show-stopping power. Nishioka hasn't been stopped since his 2nd pro fight over 17 years ago, so Donaire might have to bank on his skills. Watching Donaire struggle offensively against southpaw Omar Narvaez, one wonders how it will go over against Nishioka, even though the Japanese's offensive-minded approach should give Donaire more opportunities.
In any event, expect to see two top guys at their best. Sometimes at 122, we get classics and maybe we're due for another. One should expect a violent fight with a lot of offense. I see Nishioka being able to land that straight left, which will lead to some buckled knees and maybe even a knockdown or two. The rounds Nishioka takes will be very clear. In the other rounds, Donaire will edge Nishioka with his superior all-around skills and ring generalship.
Considering the site, Nishioka will have to go above and beyond to secure a decision. I don't see it happening. Donaire will put enough rounds in the bag, overcome a crisis or two, and cross the finish line with his nose ahead.
Prediction: Nonito Donaire wins by majority decision.
Comments
comments