How would the Filipino Flash perform against the best of the best at 118 & 122 lbs?
Nonito Donaire is one of the best and most explosive boxers in the game today. At ProBoxing-Fans.com, we have him ranked as the number 5 pound for pound boxer in the world, and some may even have him pegged a few notches higher.
Since losing the second fight of his professional career, Donaire has proven to be unstoppable, winning titles across four divisions. Currently, he's campaigning at super bantamweight, and for what it's worth, he already holds two of the four major straps in that class. In October, he'll have a chance to make it three of four, as he meets Toshiaki Nishioka.
However, Donaire has only been at bantamweight or above for five fights thus far in his career. Therefore, as he isn't firmly established historically in either division, we figured we'd put him up against some of the best from both. Would he be able to hold up against the top bantamweights and super bantamweights in boxing's history? In this piece, we'll do our best to provide the answer to that question, putting him up against five each of the best 118- and 122-pounders in history.
Two quick notes:
The selected fighters aren't necessarily the top 5 in each division. They are a selected group, focusing more often than not on modern era fighters, and fighters presenting different styles and challenges.
Toshiaki Nishioka is ranked at #9 on our top 10 super bantamweight list — no need for a fantasy fight there, we'll see it in October.
—> Check out the complete lists of the top 10 bantamweights of all-time, and the top 10 super bantamweights of all-time
Donaire vs. 5 of Boxing's Best Bantamweights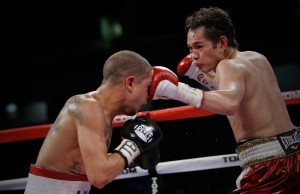 Carlos Zarate: Zarate had some of the most crushing knockout power in history. We don't really know much about Donaire's chin, but we do know that he doesn't always do great at avoiding incoming fire. He might just let his guard down against opponents when he knows he can get away with it, or he may have a problem defending himself properly when he truly needs to. As opposed to many others on this list though, Zarate's best days were squarely at 118 lbs, so at least Donaire isn't going up against a future lightweight champion. While Donaire's athleticism gives him an edge, I bet Zarate catches him, and puts the hurt on him when he does.

Zarate wins via TKO
Eder Jofre: In 78 fights, Jofre only lost twice, to one man, and was never stopped. Therefore, I'd say Donaire would have to win a decision against him. The problem is, I don't see him being able to consistently win rounds against Jofre. In addition, Jofre could certainly turn the lights out on the Filipino Flash as well if given the chance. I think Jofre is too well-rounded, and even if Donaire got off to a fast start, Jofre would figure him out before the night was done.

Jofre wins via decision
Manuel Ortiz: Ortiz isn't a fighter to write off, however, Donaire would come into this bout with an edge in size, power and speed. That helps him here, although he'd have no shot at stopping Ortiz, who was never kayoed in 131 bouts — he lost once due to a fight being stopped on cuts, that's it. Even so, Donaire has enough tools in the kit to dictate the pace and distance of this fight, and land the cleaner blows.

Donaire wins via decision
Ruben Olivares: Donaire better not let himself get caught here, that's for sure, or else he'd end up as one of the 75 or so knockout wins on the lengthy ledger of Ruben Olivares. This could end up as a very rough and tumble fight, and I think Olivares would be better equipped for that sort of contest.

Olivares wins via TKO
Panama Al Brown: This is a terrible stylistic match-up for the Filipino Flash. Brown is 5'11" and has a 8-inch reach advantage. Oh yea, he was never stopped in 168 freakin' fights. Pretty spectacular. I just can't watch Nonito Donaire vs. Jeffrey Mathebula, and then think that he has any sort of a chance against the Panamanian legend.

Brown wins via decision
Donaire vs. 5 of Boxing's Best Super Bantamweights
Wilfredo Gomez: Gomez was as dominant of a fighter and a champion as you're ever going to find, in any weight class. Amongst a seemingly endless string of defenses was his crushing 5th round TKO win over a 52-0 Zarate. All of his title wins at 122 lbs were by stoppage. Donaire isn't escaping that fate. Again, there is nothing that says Donaire has a bad chin. But the evidence we have says he can be hit, and Gomez is just another guy you can't afford to do that against.

Gomez wins via TKO
Marco Antonio Barrera: The losses to Junior Jones notwithstanding, 122 pounds was Barrera's best weight. How good was the Baby Faced Assassin when that nickname was actually the perfect description of who he was? Donaire doesn't have the unbridled aggression that a peak Pacquiao did, which worked so very well against Barrera – albeit at featherweight – nor would his power deter MAB either. I like Barrera to take over this fight by the mid rounds, either bringing home a decision or scoring a late stoppage victory.

Barrera wins via decision
Erik Morales: I'll make this one quick. Morales is too damn tough, too damn talented and too damn big for Donaire. Donaire would have to try to play keep away and win a decision, or else El Terrible lays the hammer down. Even so, Morales would be the one doing damage if Donaire adopted that tactic, which means at best he'd make it to the final bell and drop the bout on the scorecards.

Morales wins via decision
Israel Vazquez: This would be such a fun fight. Vicious left hooks being exchanged from the opening bell, fighters hitting the deck. Vazquez is usually the prototypical fighter you wouldn't want to trade hooks with – don't hook with a hooker, ya know – but Donaire's left hook is likely a bit quicker and more explosive. Vazquez is never out until he's really out, so it's a good thing Donaire is a fantastic finisher when he has his man hurt. He better not get overconfident in those exchanges though, or else the tides would be turned.

Donaire wins via TKO
Wilfredo Vazquez: Will the father get revenge for the son? He's certainly a more accomplished fighter than Jr., which would make this another fantastic contest. Donaire would need to be much more disciplined here than he was when he met the progeny, but I think he'd acknowledge that from the get go and respond accordingly. Donaire gets by on his athleticism and size here.

Donaire wins via decision
Results: Donaire vs. the Best Bantams/Super Bantams in History
3 wins (2 decisions, 1 stoppage)
7 losses (4 decisions, 3 stoppages)
Be sure to chime in below with your thoughts and let us known if you agree or disagree with how the Filipino Flash would do in these mythological boxing fantasy matches with some of the best boxers ever.