The Filipino Flash Climbs to Super Bantamweight and Faces Ex-Titlist Vazquez Jr:
On February 4, Nonito Donaire makes his first voyage into the waters of the 122-pound division by taking on recently deposed titlist Wilfredo Vazquez, Jr. With titles at 112, 115, and 118, Donaire looks to add another belt to his collection as he continues jumping weight classes. And listening closely to Donaire's team talk about their man's future, their planned stay at 122 won't take very long, with their eyes already set on the featherweight division.
Donaire has entrenched himself in the top 5 of the pound-for-pound lists. He is on an incredible run that began almost 5 years ago when he shocked unbeaten Vic Darchinyan with a brutal knockout. Since then, he has barely been challenged. Will Vazquez, Jr. be able to succeed where so many others have failed? Or will he merely be another speed-bump for Donaire as he continues accumulating accolades?
Date: February 4, 2012
Site: Alamodome in San Antonio, Texas
Title: Vacant WBO Super BAntamweight Title: 12 Rounds
Donaire vs. Vazquez Jr. By the Numbers
Donaire: Just turned 29 a few months ago and is presumably in his physical prime. The southpaw's record sits at 27-1 (18), with his only loss a 5-round decision setback in his 2nd fight back in 2001. Standing a little under 5'6" with a 68-inch reach, Donaire's size figures to be less of an attribute as he continues rising in weight.
Vazquez, Jr.: Two years younger than Donaire at 27. Stands the same height as Donaire, with a 2-inch reach disadvantage. Whereas this is Donaire's 122-pound debut, Vazquez, Jr. has fought his entire career at 122-126. The son of the great Puerto Rican legend Wilfredo Vazquez, "WVII" has racked up an impressive record of 21-1-1 (18).
Previous Outing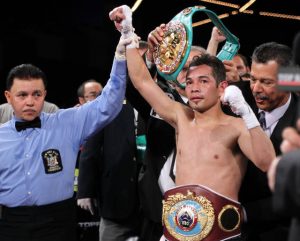 Donaire: Easily repelled the challenge of unbeaten longtime 112 and 115-pound titlist Omar Narvaez via unanimous decision. Not much of a fight, due to the extremely defensive tactics of Narvaez, Donaire was not pushed as he took what he could en route to an easy 12-round decision.
Vazquez, Jr.: In late-October, Vazquez, Jr. scored a much-needed tune-up win over well-spent Roberto Leyva. With only one win since 2008, Leyva was not much competition, falling in 3 rounds. Coming off a disastrous knockout loss in his previous outing to heavy underdog Jorge Arce, at least he won't enter this bout with defeat being his last ring memory.
Body of Work
Donaire: Zoomed into the picture with a gigantic upset KO of Vic Darchinyan almost 5 years ago. Some were dismayed at the lack of acceleration in Donaire's career, with a series of mundane match-ups, but the Filipino Flash exploded again in 2011, with the knockout of the year over Fernando Montiel. Will now be fighting just after beating Omar Narvaez a little over 3 months ago.
A lot of of Donaire's fights in the past several years seemed very easy, which speaks to both his unambitious matchmaking and the level of Donaire's class. Against Hernan Marquez, who would go on the win a title, he played with different stances and experimented, virtually toying with the big-punching Mexican. During Donaire's time at the top, he has barely been touched. With a pair of one-punch highlight reel knockouts in his two biggest fights, he has positioned himself well to take over the PFP rankings when the 30-somethings on the list step off or lose.
Vazquez, Jr.: WVII hasn't compiled a bad resume, but in retrospect, it probably shouldn't have been enough to warrant him being such a big favorite over the experienced, albeit aging, Arce in May of 2011. Still, credit is due for a young fighter who didn't seem particularly special in the early-going of his career. With no amateur experience, he looked decidedly ordinary to anyone who saw his 2007 draw with 9-5-2 Jesus Cardenas. At the time, I would have laid long odds against him ever winning a title.
But Vazquez learned as he went and after several years working diligently at his craft, he rounded out into a good boxer-puncher. Scoring a trio of consecutive knockouts against fringe world-class types Marvin Sonsona, Zsolt Bedak, and Ivan Hernandez, he looked a vastly superior fighter from the one of several years ago. And he looked decent in spots against Arce in defeat, flooring the Mexican vet and being even on the cards before falling in the final round.
Questions, Issues, and Problems
Donaire: Is he simply on another level? Watching him toy with guys like Sydorenko and Marquez, how will Vazquez be able to hang with the hard-hitting Filipino? Despite this technically being for a world title, is it in fact a tune-up, as Donaire gets his bearings in a new weight class? With his last 5 opponents coming against the diminutive group of Manuel Vargas, Hernan Marquez, Volodymyr Sydorenko, Fernando Montiel, and Omar Narvaez, how will Donaire fare as he faces bigger fighters?
Vazquez, Jr: This is not a bad spot for the young Puerto Rican puncher. No one is expecting him to win, but if he does, it's a cure-all for his defeat to Arce, as he will be in a better spot than he was before losing. In addition, he is in a type of fight where he can just relax and let it flow. Sometimes, when fighters are in situations like this, they can thrive. Against Arce, he was on the televised portion of the Pacquiao-Mosley card–his first big stage. Undefeated and heavily-favored, he was in a completely different headspace than he will be for this shot.
Then again, is he simply over his head? There's a lot of different ways to paint his loss to Arce, but the bottom line is he got stopped by a fighter who really seemed to be over the hill. Maybe Arce's deterioration was overstated, but there is no getting away from the fact that WVII was not as good people thought he would be. If he catches a complacent Donaire, will he be able to capitalize? Can his energetic style steal rounds from Donaire if he starts slow? Will his chin and stamina hold up against Donaire where it failed against Arce? A natural and robust 122-pounder, will he be able to use his size against Donaire, who has faced a lot of smallish fighters in his run to the top?
Donaire vs. Vazquez Jr. Prediction
You always have to reserve a little doubt in fights like this. Wilfredo Vazquez, Jr. could have his Lamont Peterson moment and give a less-than-peak Donaire a fight beyond what he was counting on. But in today's watered-down era of "world titles," WVII essentially ranks no more than a bottom-half top-ten contender, despite being a former titleholder. Donaire, meanwhile is a special type of talent who is one of the best fighters in the world at any weight.
Donaire figures to be challenged as he continues his rise in weight, but not here. Look for Donaire to be on-point, respectful of his opponent's size and strength. After a short feeling-out process, Donaire will begin zeroing in with the power shots and Vazquez will soon be out of his element. Look for some well-placed hooks to get the ball rolling downhill for Donaire, who will waste no time in closing escrow.
Prediction: Nonito Donaire wins by 5th-round knockout.
Comments
comments