Arce Upsets Vazquez Jr. & Shocks the Boxing World:
I have to say: I had this guy figured all wrong. If in 2009, you said Jorge Arce would be a 122-pound titleholder in 2011, I would have said you were stark raving mad. It appeared he had a good run, but that the years of wars had added up on his odometer. In 2007, he was soundly outboxed by Cristian Mijares in a fight he was supposed to win. It was his first loss since 1999, when he lost to Hall of Famer Michael Carbajal—just to illustrate how long Arce's been around the scene.
5 straight wins followed the loss to Mijares, to position Arce for a shot at 115-pound kingpin Vic Darchinyan. The hard-hitting Armenian gave Arce a beating that night. "Travieso" was hardly competitive. Any questions about whether or not he was past his peak seemed to be answered when he was dominated 2 fights later by mid-thirties Simphiwe Nongqayi, a fighter without a recognizable name on his resume.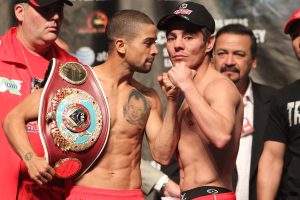 Before fighting Vazquez, Jr. last Saturday, Arce had gone unbeaten in 5 fights since the loss to Nongqayi. Most of us sensed it was clever matchmaking, rather than any kind of resurgence, that accounted for Arce's unbeaten streak. Even within that streak was a troubling hometown draw with dormant ex-flyweight titlist Lorenzo Parra—a once good fighter whose peak was so far in the past that you needed binoculars to see it.
The notion that Arce was finished was a justifiable one. Despite being only 31, he had a championship resume that stretched well into the 90s. Against tough competition at 115 pounds, he had not even managed to be moderately competitive. So it is understandable that his chances were scarcely fancied against a young and rising titleholder 2 full weight classes above where Arce seemed to hit a wall.
In defense of myself, I wasn't the only one who had written off Arce. Even the oddsmakers, who get big bucks for their appraisal of talent, had Arce as a big underdog. But I still feel like I missed something. Erik Morales' gutsy performance should have cued me, but I didn't learn. I need to get it through my thick head that certain warriors can do quite well when they are not in their prime. The youthful exuberance, the bounce, and the energy might be gone, but that's when other things kick into overdrive: pride, warrior-mentality, experience, and mental toughness.
Arce showed those qualities in spades on Saturday. Surprisingly competitive, Arce still needed to do something in the 12th round to secure the belt. He was even on two cards and way behind on the other. His performance up to that point was a pleasant surprise and he was coming off a big 11th round. But for him to re-double his efforts in the final round and steamroll Vazquez, Jr. like a possessed animal was simply incredible.
I want to avoid becoming hyperbolic about this triumph. Wilfredo Vazquez, Jr. was not the best 122-pounder in the world. You could even say he was fortunate to parlay a big name and a few useful wins into a world title belt. But to now call the merit of Vazquez, Jr. into question is a chicken doo-doo maneuver that I dislike greatly when applied to other fighters. The fact is, as the opening bell sounded, Vazquez was considered a good young champion, while Arce was the wounded warrior fighting out of his best weight class, as the staggering odds against him will attest.
So I don't want to hear about how Vazquez, Jr. wasn't much to begin with. If that were so clear, you'd be too busy counting your money after cashing in on the ignorance of the oddsmakers, but you didn't do that. Most of us didn't—it just didn't seem possible. If this year has taught us anything, it's that we might need to at least slightly retool the way we perceive fighters. The people "in the know" have had an incredibly poor year in this regard.
Fighters considered washed-up are putting forth signature performances. Gigantic underdogs are shocking big favorites with styles that are kryptonite to the heavily favored fighter on an alarmingly regular basis. Underdog players are cleaning up this year and you can bet the people setting these lines have received a stern talking-to in light of what had to be some tough nights for the sportsbooks in recent months.
Jorge Arce was written off, seemingly on a ceremonial final lap of a long career. I stand corrected. "Travieso" showed that certain fighters can retain qualities that don't necessarily show up on paper. A clinical breakdown of the fight didn't favor Arce, who seemed to be up against it in a big way. What the analysis failed to take into account was Arce's internal attributes. Point blank—I was as wrong as it gets. My apologies.
Comments
comments