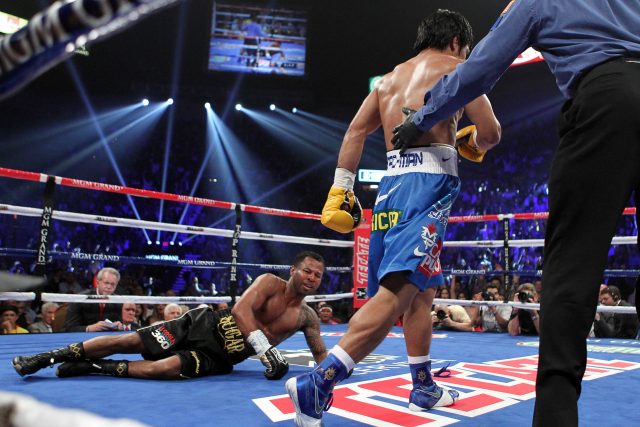 On the first Saturday of May, boxing's top thoroughbred, global superstar and Filipino Congressman, Manny Pacquiao, won a resounding 12-round decision over Shane Mosley to retain his WBO welterweight title in the main event of a four-fight telecast of the big Showtime PPV. You can check out our full round by round results of the entire PPV, but below, you can find a quick recap of the results, official fight pictures, quotes from the post-fight presser, and much more.
Pacquiao vs. Mosley Fight Pictures
The one-sided victory before 16,412 at the sold-out MGM Grand Garden Arena was the 14th in a row for Pacquiao, of General Santos City, Philippines. An eight-division world champion, Pacquiao (53-3-2, 38 KOs) was victorious by the scores of 120-107, 120-108 and 119-108.
Three division champion Mosley, of Pomona, Calif., dropped to 46-7-1 with 39 KOs.
In other bouts on the telecast, Jorge Arce (57-6-2, 43 KOs), of Los Mochis, México, became the first Mexican boxer in history to win four world titles in four weight divisions when he scored an upset 12th-round TKO over huge favorite and defending WBO junior featherweight champion Wilfredo Vazquez Jr. (20-1-1, 17 KOs), of Bayamon, Puerto Rico, comebacking former world middleweight champion Kelly "The Ghost" Pavlik (37-2, 32 KOs), of Youngstown, Ohio, scored a majority decision over previously undefeated Alfonso "El Tigre" Lopez (21-1, 16 KOs), of Cut and Shoot, Texas, in a super middleweight scrap; and Mike Alvarado, of Denver, Colo., improved to 30-0 with 22 KOs with a third-round TKO over "Sugar" Ray Narh (25-2, 21 KOs) of Accra, Ghana, in a scheduled 10-round super lightweight match.
Pacquiao was the aggressor throughout. Each boxer registered a knockdown; Pacquiao dropped Mosley with a solid left hand in the third round. Mosley got credit for a knockdown in the 11th, but replays showed that southpaw Pacquiao went down from a push."We tried our best,'' said Pacquiao, who is universally recognized as boxing's No. 1 pound-for-pound boxer. "We both gave it our best effort. My legs tightened up during the fight. I couldn't move. It's the same thing that happened to me against (Juan Manuel) Marquez. It's been happening to me more lately.
"Mosley is not slow. He's fast and I had to be cautious of his counter-punch.''
Regarding a possible fight with Floyd Mayweather, Pacman said, "For me, I don't care about that fight. I am satisfied with everything that I have done in boxing. I want to fight because the people want the fight.''
Mosley, who has never been knocked out and is one of the great lightweight champions of all time, had nothing but praise for Pacquiao afterward.
"You can't blame age,'' said Mosley, who, at 39, is seven years older than Pacquiao. "Manny is an exceptional fighter. He truly is the pound-for-pound king. He has speed and power that I have never felt before."It's amazing. He's cut from my cloth so I had to box tonight.
"He surprised me with that power, with that knockdown. That's the most legitimate knockdown on me in a long time.''
The crowd-pleasing Arce, a former world champion at 108, 115, 118 and now 122 pounds, was ahead by five points on one of the scorecards and even on the two others going into the 12th round of what had been an action-packed, fast-paced bout before it was stopped at 0:55 when Vazquez's corner threw in the towel.
"I knew I could knock him out and I did,'' Arce said. "My heart is too big. He's a good, young champion with a big punch but my experience and my heart was too much for him.
"There was no other way than to bring the fight to him. I fought like a true Mexican warrior. I won it for Mexico. Now my name will forever be mentioned when you speak of Mexican fighters.''
Vazquez was upset that the fight did not continue.
"I was fine,'' he said. "They should have never stopped this fight. I feel that I would rather get knocked out and end up on the canvas than having it stopped the way it did. My father stopped it. He never should have.''
Pavlik, making his first start since losing his WBC and WBO middleweight titles to Sergio Martinez on April 17, 2010, was triumphant by the scores of 99-91, 98-92 and 95-95. There were no knockdowns."I had ring rust, but I did win the fight,'' Pavlik said. "I don't know what happened on that one scorecard but I did win the fight.''
Trainer Jack Loew was proud of his charge. "We had two wins tonight,'' he said. "The first win was going up the steps, walking in the ring and competing after all the rehabs and everything he had been through. The second win was getting the win itself.
"There was definitely ring rust. That was obvious.''Lopez felt he deserved better.
"At the worst I definitely think I deserved at least a draw,'' he said. "I think I connected with a lot more shots than he did. I knew the rounds were going to be hard to score but low blows affected me and I got tired at the end.''
Alvarado was ahead on all the scorecards by 30-27 twice and 29-28 when a weakened Narh could not answer the bell for the fourth round.
"I was sick all night and throwing up,'' Narh said. "I think I got sick after eating something after the weigh-in. I tried to get through it because I didn't want to cancel the fight, but I had no legs and no snap on my punches.''
Said Alvarado: "I was just getting started. I think he took the easy way out. After the first round I told my trainer 'he doesn't want to fight.' He knew he didn't belong in the ring with me.''
The PPV telecast will re-air as follows:
DAY                                                CHANNEL
Saturday, May 14 at 10 p.m. ET/PT SHOWTIME