ProBoxing-Fans.com is excited to present the inaugural edition of our new weekly Wednesday mailbag, "On the Canvas". Rich Thomas, a featured columnist for the site, and longtime boxing aficionado throughout the Internet community, will be handling the mailbag each and every week. You can send in your mailbag questions here, mailbag (AT) www.proboxing-fans.com. No topic is off limits, and you'll get the down and dirty, inside scoop like you can't find anywhere else. Check out the first edition and then get those questions sent in to keep it rolling in the weeks to come!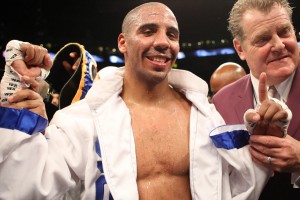 With the Super Six on the verge of collapsing, is Lucian Bute vs. Andre Ward the new fight to make at 168 lbs? – John E.
It is the fight to make, but I doubt we will see it unless HBO drags a wheelbarrow full of cash and dumps it on Bute's doorstep. I would be very surprised to see Bute agree to fight Ward unless he were offered so much money that refusal wasn't an option, a career-defining, all-time high payday. Assuming a 50-50 purse split, Ward vs. Bute simply isn't worth that much. Bute is pursuing the tried-and-tested path of fighting "Bottom 5 of the Top 10",  and is either very lucky or very clever, because I think the only reason his bouts are broadcast on HBO is because Showtime has all the other "name" super middleweights tied up in the tournament. So long as he can make decent paydays for low risk, he will never pursue a big showdown. Bute might go after Carl Froch, but not a dangerous jack of all trades like Ward.
A lot of people are excited about Hopkins facing Jean Pascal, but what do you think about him suddenly interested in fighting Pascal, when he never wanted a piece of Chad Dawson? – Steve S.
Hopkins probably thought Dawson's youth and size was a bad match for his current, Archie Moore-like style. If Dawson had won the fight, but simply looked bad, B-Hop might have become suddenly enthusiastic about a date with "Bad" Chad. Now he doesn't have to, and no doubt the ageless wonder sees something in the smaller Jean Pascal that he can sink his hooks into. He may or may not be correct in that analysis. Pascal is smaller than Dawson, but he is quick, a good worker, and can take a punch. I find it hard to bet against the judgment of the master (and I'm not), but Hopkins really should avoid guys with the combination of speed and energy if he wants to keep stretching out his career.
If you were commissioner with total control of the sport, what 3 things would you do immediately in order to improve the sport of boxing? – Carlos R.

1) Abolish/consolidate the alphabet soups. Folding up the WBA, WBC, IBF and WBO and having only one world title per division would make boxing much easier for the casual fan to follow.
2) Establish a proper pension and disability fund for boxers. It might not be able to pay much, but at least it would be something.
3) Tell Dana White he can shut the f*ck up or meet me on truly neutral ground. I am sick to death of White crowing whenever a UFC fighter beats a boxer, since it doesn't mean anything other than a grappler can indeed beat a striker most of the time under rules specifically designed to favor grappling.
Give the names of a few fighters who will be at or near the top of the pound-for-pound rankings five years from now. – Eric from Chi-town
The two I am watching closely are Demetrius Andrade and Matt Korobov. Both of these former Olympians are improving rapidly, and both should become serious contenders in their divisions in less than two years, with world titles and big fights to follow. Another two or three years after that, and I would be very surprised if one or both were not solid fixtures on the P4P list. Add to Briton James DeGale into the mixture, and the current crop of middleweights should be looking very carefully over their shoulder.
Send in your questions for next week's mailbag and keep checking back every week for another edition of On the Canvas.