"I want to be involved in the domestic scene by the end of the year, 1000%, so if it's Carly Skelly I'll definitely be up for that for the Commonwealth title."
Ellie Scotney told the media during a Zoom call ahead of her third professional bout this weekend on the undercard to Lewis Ritson vs Jeremias Ponce in Newcastle, where the super bantamweight will experience fighting in front of fans for the first time in the paid ranks.
"[I'm] massively [excited], it's my first fight in front of a crowd for a long time, even as an amateur. I cant wait!
"I think [the crowd will] play a massive part, it'll probably scare me a little bit – especially the Geordies," Scotney jokes. "It'll play a massive part and I just can't wait to get going again."
Having had a successful amateur career winning the 2017 Elite national amateur title at 57kg and the English Title at Youth level, having entered after only four amateur bouts, Ellie was fancied for a GB Olympic qualifying place for Tokyo 2020 before deciding to pursue her pro career where she has signed a managerial deal with Adam Booth.
Scotney was last seen in the ring in March defeating Mailys Gangloff, and will now look to emerge victorious when she faces Vanesa Caballero, an opponent she was meant to face instead of Gangloff in March, at the Eagles Community Arena.
"I was meant to box her before so I know who she's boxed and I've watched her a few times. I know she'll be coming to give it a good go and coming to win.
"She's not an idiot, and I think she's going to offer a different type of fight than Mailys did.
"I think every opponent is going to bring something different and I've got to be the person to answer those and that's what makes me so excited about the boxing."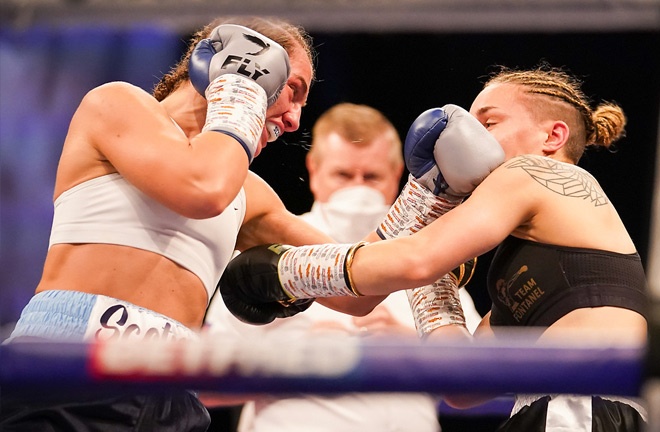 On paper Gangloff was the better opponent and since losing in London she has gone on to win the French title. However impressive that seems, Scotney is very critical at her performance.
"To be honest my last performance, I wasn't too impressed with so I took a lot from that, it was a great learning fight. It's nice to hear that stuff, [praise on social media,] but I've got an awful lot of work to do.
"I think every boxer is because we want to get it right and to get it right it's such a hard thing to do because there's always so much you can add. I think being a boxer you're always going to aim to get better and better out of yourself.
"Looking back she was tough and she's gone on now to become the French champion and stopped her opponent.
"She was relentless and I learnt a lot from those six rounds and I am hoping to add what I learnt in that fight into this fight and it will put me in good stead.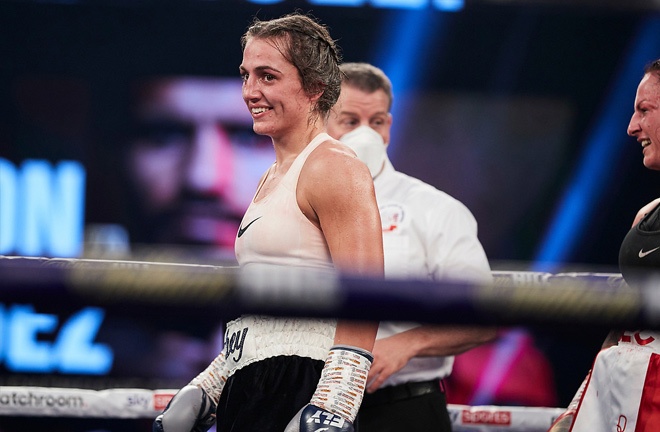 "I'm hoping to show something different to what I've shown in my past performances. I just like boxing because I feel like you can express character and I'm looking forward to that."
This weekend's card will be the last Matchroom show on Sky Sports after they recently announced they will be moving over to DAZN streaming platform.
Scotney has seen her profile rise through her social media in a generation where everything seems to be moving to digital platforms as the Catford puncher jests, "we'll be chipped soon!"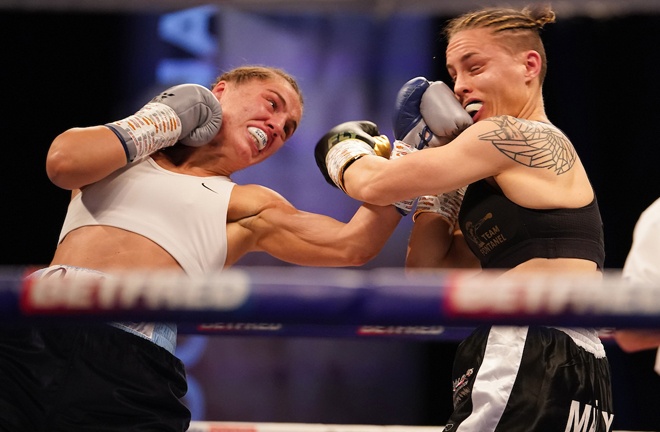 With women's boxing gaining momentum on Sky Sports in Britain where does the switch leave the likes of Katie Taylor, Terri Harper and of course Scotney herself?
"I think at first it's going to be a big change and it'll be a selective audience but as the boxing will grow so will DAZN so hopefully it'll be an exciting couple of years and it'll grow from strength to strength. I'm looking forward to being a part of it. 
"Game. Changed," laughed the 23-year-old.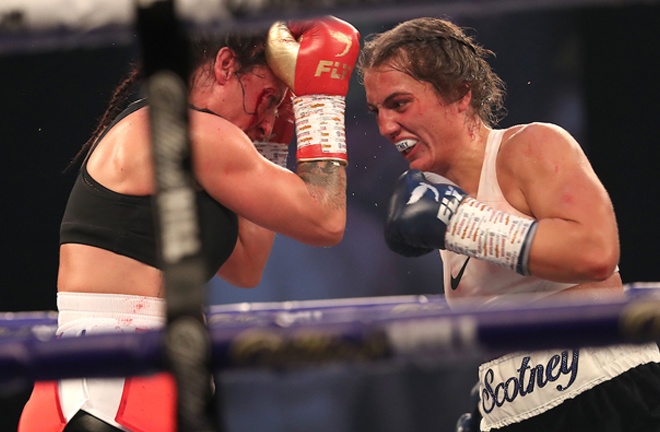 So what's next for the undefeated fighter? This year, Fight Camp, next year, World titles?
"God willing this all goes well then I should be out again in the Fight Camp so I can't wait.
"Everybody wants to build a legacy and I feel like that is a part of boxing and if I was to be a part of that then that would be massive.
"I just make sure I'm turning up to the gym and putting the work in. When Adam [Booth] says this is what's what I've just got to make sure I'm ready and I've got to keep working towards that."
Watch the full media Zoom call with Ellie Scotney here: