Today's Pacquiao vs. Mayweather Overkill Update
Sometimes it seems like Floyd Mayweather simply can't leave well enough alone. Finally, after two years, the vast majority of public opinion swayed in his favor regarding the potential dream fight against Manny Pacquiao. By calling Pacquiao out, and then making it public knowledge that he called Pacquiao to speak to him on the phone, and all the while continuing to hammer the point across in the media, it seemed like Mayweather was coming out as the good guy.
Now though, we hear that he no longer is willing to accept a 50/50 split of the revenue, instantly killing his newfound karma. According to a Fightnews report on what Pacquiao said in a recent discussion, Mayweather's latest offer to him was for a 60-40 money split.
Pay-Per-View Sales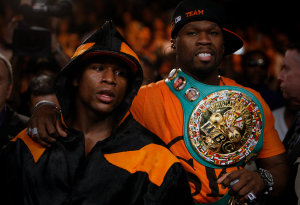 Now, if you're going to break down which fighter brings more money to the table, Mayweather has a superior track record in terms of pay-per-view sales, which ultimately would bring home the lion's share of the revenue for this bout.
Mayweather's fights against Oscar De La Hoya, and Shane Mosley, are the top two non heavyweight PPVs of all-time, and the De La Hoya fight, with 2.45 million sales, is the all-time number 1. (Mayweather also has two other fights over 1 million in PPV sales – his fights against Victor Ortiz and Juan Manuel Marquez).
Meanwhile, Top Rank has taken to not reporting Pacquiao's PPV sales as of late – a clear sign that they aren't living up to that kind of lofty standard.
You can be damn sure that if Pacquiao's recent pay-per-views against Mosley, Antonio Margarito and Marquez sold as much, or more, than Mayweather has in his top performances, we would all know about it. Loud and clear. ASAP.
In that regard, Mayweather has a legit claim to saying he wants a larger slice of the pie.
Bargaining Chips
Still, 60-40 just doesn't seem feasible. A fight like this, in today's boxing landscape, is going to come down to splitting the money up equally, or offering some form of higher guarantees against lower upsides on pay-per-view sales, or other such economic, small print fine-tuning. It's just the way it's going to have to be.
Now, Mayweather isn't dumb – he's actually quite the astute businessman.
Therefore, what boxing fans have to hope for in this scenario, is that Mayweather's demand for a 60-40 share of the revenue is only the latest bargaining chip in this ongoing, ridiculous saga. By raising his demands financially, he could then come back down – as long as Pacquiao agrees to May 5th at the MGM Grand.
Meanwhile, Team Pacquiao, led by Bob Arum and Michael Koncz, are sticking to their story that they need a later date in May, and they need the proposed outdoor stadium, saying that it could produce as much as $30 million more in revenue.
The pricing that would be necessary to produce that much more revenue isn't feasible though, whatsoever, as Kevin Iole points out. Let's not forget either, that the largest paid gate in boxing history, was once again, the Oscar-Floyd fight, which raked in $18.4 million in ticket sales… at the MGM Grand…. on May 5th.
Not to mention that the outdoor stadium may not even be built in time.
Solutions
Team Pacquiao can remove themselves from their stance on an outdoor stadium and a later date in May, and agree to May 5th at the MGM Grand, the weekend and location of the most lucrative boxing match of all-time, one that happened to include Mr. Mayweather.
Mayweather reverts to a 50-50 revenue share. (Or the fighters could put their money where their mouths are, and split the purse 45-45, with the winner taking home the remaining 10%).
Pacquiao gets his choice of gloves. Mayweather gets his drug testing. Blah blah blah.
Fans get to see Manny Pacquiao and Floyd Mayweather fight.
Any takers?