Manny Pacquiao vs. Juan Manuel Marquez 4: 24-7 Episode 1 Recap
On Saturday evening, the first episode of the new Pacquiao vs. Marquez 24/7 series debuted, giving fight fans across the globe a fantastic preview of the fourth fight to come between these two warriors. As always, we were on hand to see how it all played out.
Right here, take a look at the complete breakdown and Pacquiao-Marquez 24 7 episode 1 recap.
To begin Pacquiao vs. Marquez 24-7 episode 1, promoter Bob Arum talks about what it takes to be a great rivalry. You need close contests and excitement, and you need great fighters. He mentions Ali vs. Frazier, and Gatti vs. Ward, and then talks about the fights we're dealing with now: Manny Pacquiao vs. Juan Manuel Marquez.
While a trilogy typically settles a series, in this case, three fights and 36 rounds simply hasn't been enough. Each man and his fans begins that they won all of the previous bouts, and now, they need to finish the saga once and for all.
The show starts for good in Beverly Hills, in September, for one of the pre-fight press conferences. They both have uncertainty over what has happened in the past. For Pacquiao, they are dedicated to stopping the fight, and trainer Freddie Roach feels the same way.
It was almost a decade ago when they met for the first time. We see both Pacquiao and Marquez, and their teams, watching a replay of the first fight, particularly that crazy three-knockdown first round. They're all analyzing what happened and what it all meant, and how it went down.
We're treated to Roach, Larry Merchant and the fighters themselves discussing that pivotal first round and their epic initial encounter, as well as all the rounds that followed. The outcome and the scoring controversy only add to the mystique of the fight, and it all was the result of Marquez surviving those three knockdowns, and the ref letting the fight go on through that ordeal.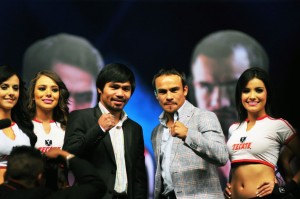 Now we're done with the past, and Pacquiao vs. Marquez 24 7 episode 1 brings us to the NYC presser for the 4th fight. Roach talks about how they'll need a new twist for this fight and series, as they've been there so many times before.
It's the 4th fight not only between Pacquiao and Marquez, but also between Roach and Nacho Beristain. They have the utmost respect for one another, but it's a rivalry all on its own, and they each want to beat the other guy in there.
Now we take a look back at the 2nd fight between Pacquiao and Marquez. Marquez came out strong and controlled the action, then Pacquiao took control by scoring a big knockdown and hurting the Mexican warrior.
The back and forth battle continued, and Pacquiao gets cut. It's interesting to see all of the people's takes on who is winning which round. And right after Pacquiao got cut, Marquez got cut, and badly. The fight then turned to the scorecards, and Pacquiao took home the very narrow Split Decision.
As we move to the next press conference, in Mexico City, the fighters arrived to a packed arena via helicopter. We then correspondingly look to the next fight in the series, the third battle from last November. Pacquiao was a ridiculous 9-1 underdog, but yet, people in Pacquiao's camp are now saying he was never well prepared for that fight due to personal and marital issues.
Marquez seemed to win the fight on many scorecards, however, that's not the way it was to be. Marquez laid off in the 12th round, and Pacquiao took the 12th as a result, and it made a difference in the decision, as Pacquiao won a Majority Decision.
Now we're back to the Mexico City presser, and Merchant talks about how both men are champions. They have a different kind of will, skill and desire. Pacquiao leaves to the Philippines, and then will head back to LA for training camp. Marquez stays in Mexico City, close to his family and his fans.
But after three fights and 36 rounds, there's still so much left up for grabs. The 4th fight is next, and it was the only solution. Thanks for checking out our recap of the show, and on fight night, be sure to come back for our Pacquiao vs. Marquez 4 results.
Comments
comments