The third episode of Pacquiao-Marquez 24/7 debuted on Saturday evening, with the Manny Pacquiao vs. Juan Manuel Marquez fight now just a week away. With fight night rapidly approaching, it means peaking in training before heading out to begin fight week activities and readying oneself for the bout itself. Check out a full recap of Pacquiao Marquez 24-7 episode 3 right here.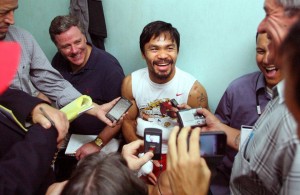 Before the new action got started, we took a look at what happened in the previous week's episode. Pacquiao was picking up the intensity of his sparring, to the detriment of his sparring partners, while Marquez was working with his new strength and conditioning coach to improve his body and his training.
Now at the start of 24/7 Pacquiao-Marquez episode 3, Marquez is getting inducted into a walk of fame and gets met with huge star status, getting his photo taken, mingling with fans and signing autographs.
On November 12th, be sure to check out our live Pacquiao vs. Marquez results and round by round.
At the Romanza Gym, Marquez isn't doing any boxing in the gym, he's doing strength and conditioning drills designed to boost his power and his fast twitch muscles. For Marquez, it's a new approach, but it's one that he feels happy with, and one that he feels is paying off.
Then, Marquez goes to a hyperbaric chamber, which he says is like recharging his batteries even if he goes in feeling dead and tired. He's been doing it for four years, and it has become a part of his career and life, and he can't fight without it at this point.
Now, we switch to Team Pacquiao in Hollywood in Pacquiao-Marquez 24/7 episode 3. Pacquiao is hard at work with the mitts, training with Freddie Roach, and he seems fired up, intense and in fully focused and prepared already. At this point, it's week 9 of his 10 week training camp, and there are a few distractions in camp for once. We have a Halloween surprise, with a woman dressed up as Pacquiao hanging out ringside while he does his work.
Down the street, you'll find the Pacquiao merchandise and tattoo shop, and where better of a place for Pacquiao himself to hang out. Today, team member Buboy is getting a meteor tattoo on his forearm, joining the rest of the team which already has it.
Pacquiao says it's like a team signal or mark for Team Pacquiao, and it's because his power and his strikes come like a meteor. Buboy talks on camera about how blessed he is to be in this situation like this today, and how he never would have dreamed it.
Back to Mexico City, and it's one of the final days of sparring for Marquez prior to the fight. He's still pushing hard though, and then after that he heads to the speed bag, where yet again, he busts the bag and forces it to be repaired. Who better to take that task on than the guy who got Juan Manuel and his brother Rafael into boxing when they were children.
It was he who took Marquez and his brother to Nacho Beristain. Today, Rojas remains a character in the gym, and a "trainer emeritus" of sorts, doling out advice, sharing stories and more.
Alfredo Angulo is also at the gym today, and of course, he was in action the night that Pacquiao-Maruqez 24-7 episode 3 debuted, Saturday, November 5th. Angulo talks about training there and benefiting from Beristain's experience. Marquez talks about their schedule and both men agree that it doesn't hinder their own training or schedules in any negative way.
We're in Oxnard, CA now, and David Rodela is waiting to head to the Wild Card to spar. He's in his new home, which happened to have been purchased with large thanks to Manny Pacquiao, who cut him a check when he found out he had gotten married, and it was good for a down payment on his new home.
At the gym, he takes his turn with Ray Beltran and Jamie Kavanagh sparring with Pacquiao, and they also find ways to amuse one another in the process, such as when Beltran tries to enter the ring with a motorcycle helmet. Each of the sparring partners tries to utilize a different style, and a different facet of Marquez's game, whether it's counter-punching, aggressiveness or resilience. Rodela thinks Pacquiao is ready and the fight won't go past the sixth round.
Back in Mexico, Beristain is at home, and he's watching some fight footage of Pacquiao, and his previous encounters with his charge. He says that his training has been going great, and Marquez not only looks sharp and fast, but also stronger, more explosive and more solid.
Then it's media day for Marquez, and he's swamped at the gym, talking to reporters, being interviewed by the likes of Ines Sainz, and more. But Marquez isn't the only attraction, his strength and conditioning coach is in the spotlight thanks to some details which have been exposed about him such as various names and aliases, and his involvement with the BALCO related case for performance enhancing drugs.
He cooperated with a witness and got off without having to go to jail. Marquez though isn't worried about it and he says he would take any test, and the coach talks about working with him, and how he's clean with nothing to hide, and on down the line from there.
Reacting to this news, Pacquiao's strength coach Alex Ariza isn't the least bit concerned. He says they all will take the standard tests, and there's nothing that Marquez could do which would give him a better chance. He also feels like Pacquiao is approaching this fight differently than every other fight in the past. Roach agrees, saying that he has some fire in him, an edge, that he hasn't seen in a long time.
Pacquiao talks about how Marquez's belief and statements that he had won previously have motivated him, and he has to prove to everyone what the real story is. Roach says he believes in him, he's confident in him, and that's why he makes so many bold statements. "Manny Pacquiao is a machine… and that machine will execute."
His whole team is with him as usual, splitting an apartment complex of sorts. We see him surrounded by seemingly dozens of people as he hangs out, they all joke, he sings and plays the guitar, they play darts, and so forth. He talks about how it's good for him and it keeps him from being lonely, and it keeps his spirits high.
Pacquiao and Marquez stand alone in that ring, but they each have whole teams around them helping them to get the job done. Sparring partners, coaches, mentors, friends, family and more all factor into the end result. And with that 24-7 Pacquiao vs. Marquez episode 3 wraps up.
—–
Thanks for checking out our Pacquiao vs. Marquez 24/7 episode 3 recap and keep on tuning back in with ProBoxing-Fans.com for more updates on the big fight, just one week away from this evening.