Top Rank has sent an official proposal that would lead to Manny Pacquiao vs. Juan Manuel Marquez III being made in October of this year. The deal is of course dependent on Pacquiao defeating Shane Mosley when the two fighters meet in several weeks, on May 7th. More details on the deal can be found on this ESPN report.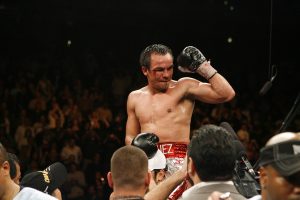 The Pacquiao vs. Marquez bout would be for Pacquiao's WBO welterweight title, which means that Marquez would once again be jumping all the way up to welterweight, although he fared so poorly there against Floyd Mayweather. The proposed contest would also come with a rematch clause, which means if Marquez finds a way to win the third encounter, there would be a guarantee of a fourth bout as well.
The proposal for Pacquiao vs. Marquez III is interesting for many reasons. One, it's coming out now ahead of the Pacquiao vs. Mosley contest, and opponents and in-the-ring incidents tend to have a way to mess up these best laid plans.
Two, it was presented to Marquez directly, but Golden Boy also was sent the deal, because they have the right to match any offers for Marquez through 2012. Golden Boy had Marquez under contract through this past February, and that was one of the major reasons why Marquez did not get his trilogy with Pacquiao for this May. Mosley cut his ties with Golden Boy, and he was the one that got the fight signed.
Golden Boy has been trying to re-sign Marquez to a new deal. The starting point for that new deal would have been a July bout against junior welterweight titleholder Zab Judah. Marquez turned that down and has been sitting idly by, surely waiting for his opportunity to meet Pacquiao.
It might be here for him now, although much is left unknown. We'll have to wait until May 7th to see how the Pacquiao vs. Mosley results turn out, and that will be able to paint a clearer picture on the proceedings. Also interesting is that this completely bypasses any potential showdown between Pacquiao and Floyd Mayweather until at least the beginning of 2012, if not later then that.