The long quest for Pacquiao's next opponent is coming to an end. On December 8th, Manny Pacquiao will meet his old rival Juan Manuel Marquez once again, extending their series to a fourth encounter. The fight will be held at the MGM Grand in Las Vegas, Nevada, as opposed to previous rumors which had pegged the fight as landing in Mexico City. There are just a few lingering details to be worked out, and then it looks like we'll Pacquiao-Marquez IV in December.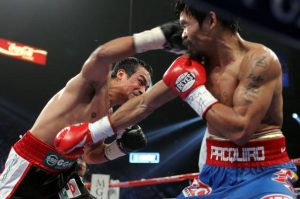 Pacquiao vs. Marquez IV is the better and more intriguing option than a rematch between Pacquiao and Timothy Bradley, who controversially won a decision against the 8-division champion in June. However, it's still not exactly the most compelling fight out there, and it just seems retread and tired at this point.
Maybe my stance will change by the time the fight rolls around, but at this point I'm simply having a hard time getting excited for this bout. Hell, even putting the fight in a venue in Mexico City would have made the event a somewhat unique spectacle. But instead, it's back to Vegas, to fight a guy for the fourth time.
I'd honestly rather see Pacquiao fight anybody new, even if he blows him out of the water, then to just continue watching the tires spin. Yes, Pacquiao and Marquez always put on an exciting and dramatic fight, so at least there's that. But I just otherwise don't see much to this match.
Over the past few years, there hasn't been much to be excited about – I certainly never bought into any of the bogus hype around matches against Joshua Clottey, Antonio Margarito or Shane Mosley. I was amped for the third Marquez fight, and Pacquiao was expected to more or less dominate, but he couldn't get the job done.
There's fresh blood out there. Andre Berto. Danny Garcia. Robert Guerrero. Brandon Rios. Lucas Matthysse. But instead, let's just pencil him right in for the MGM Grand again, against an opponent he has already fought.
The whole thing just reeks of Bob Arum and Top Rank being on complete auto pilot. Why even bother to try something new? Why even bother to satisfy the fans? I mean, we are watching Pacquiao's career wind down here, and one of the most accomplished fighters of all-time seems set to slowly fizzle out rather than try to continue making a splash.