It looks as if Top Rank and Bob Arum are getting close to finalizing Manny Pacquiao's next fight. Let's call it The Hunt for Red November – a fighter and his team on a secretive quest to get in the ring for what will be a bloody battle this November 10th. Depending on whom you want to believe, Miguel Cotto may be leading the pack right now (in which case, the fight could actually be moved to December 1st, but I digress).
Other sources are indicating that Timothy Bradley is the man in charge, while at one point it seemed as if it was Juan Manuel Marquez. We know that – apparently since Top Rank has completely run out of ideas, creativity or the ability and desire to find somebody else – that it was just these three rematches which would have a shot as Pacquiao's next fight. So who's it going to be?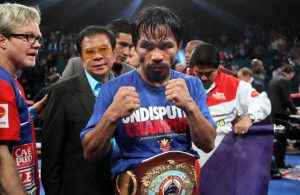 UPDATE: Cotto now set to face Austin Trout; Pacquiao likely looking to Bradley
The Cotto fight would likely be slotted at a 150 lbs catchweight. The first fight between Cotto and Pacquiao was at a 144 lbs catchweight. Considering that Cotto has been competing as a full junior middleweight, and has struggled in the past with cutting weight, I don't know why his team would accept another catchweight bout. Especially coming off a tough loss.
Surely, it's the biggest payday out there for Cotto. But he could sell out Madison Square Garden on December 1st on his own, and then hope to be in position to face Saul "Canelo" Alvarez in 2013 in a big money clash that won't require a catchweight.
But if Pacquiao vs. Cotto II does get green-lighted, then that leaves Timothy Bradley and Juan Manuel Marquez without opponents for the fall. And they just may end up finding one another. A Bradley vs. Marquez clash would definitely be worth checking out, and it would put the winner in the clear "next" position for Pacquiao.
Meanwhile, when you look around the division, there's a lot of action right now. The winner of the Devon Alexander vs. Randall Bailey fight will be in good position to try to land a bigger dance partner, and Andre Berto has been cleared to fight in California. Floyd Mayweather is out of jail and has been mum about his next move, Kell Brook is lurking out there, Paulie Malignaggi has a title strap and a defense coming, and Josesito Lopez is challenging Canelo and then will likely return to welterweight. Everything is humming along right now in and around the welterweight ranks, and there will be many intriguing bouts to be made over the next year.
But for The Hunt for Red November, it's looking like Cotto may be the man in line to get his rematch. I don't think it's the best move for him, but clearly he has revenge on his mind, and would like to double dip on those comeback rematch wins in front of his faithful fans at MSG after his successful turn last fall against Antonio Margarito.