Manny Pacquiao and Juan Manuel Marquez will face each other for the fourth time on December 8 at the MGM Grand in Las Vegas. In reaching a fourth match-up, Pacquiao and Marquez are now in pretty prestigious company — their series brings to mind the four epic bouts between Sanny Saddler and Willie Pep.
Saddler ended his career with a record of 144-16-2, with 103 KOs, and Pep ended up with a ridiculous 229-11-1 record, 65 KOs.  Yes, you read those stats correctly.  Ring Magazine ranks Saddler the fifth greatest puncher of all time, while Pep is undoubtedly the greatest featherweight boxer of all-time.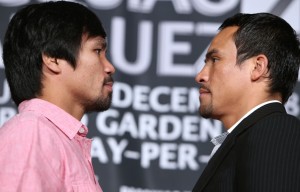 Sandy won the Featherweight Championship when he kayoed Willie in their first encounter in 1948.  In Ring Magazine's 1949 Fight of the Year, Pep regained the title, only to lose it back to Saddler in 1950.  Saddler beat Pep for a third time in their fourth and final bout, which took place in 1951.
And like lions they fought.  In Saddler-Pep I, Saddler stunningly kayoed Pep, who was in the midst of an unparalleled stretch of dominance,  in the fourth round.  He had a God-given left jab, he was the stronger of the two, and his punches were heavier.  And they needed to be, given Pep's superb defensive maneuvers.
In their second (and most brutal) fight, Pep regained his belt via 15-round decision.  In the third of their see-saw matches, Saddler once again became  champ when Pep, who had dislocated his shoulder in the seventh round, was unable to answer the bell at the eighth.  And it hadn't helped that Saddler, a — let's say — innovative fighter, had used the laces of his gloves to rake Pep's face and eyes for many of the previous rounds.
Saddler-Pep IV was likely one of the dirtiest championship fights in boxing history.  It ended, but not until the referee himself had gotten involved in the quasi-wrestling match, in the ninth round when Pep couldn't continue due to a bad cut over his right eye.
These boyos are well worth remembering.  The Saddler-Pep tetralogy was head and shoulders above what Pacquiao and Marquez have managed to supply thus far, particularly due to the unsavory and unclear outcomes of a Draw, a Split Decision and a Majority Decision.
The comparisons between Pacquiao and Marquez, and Saddler and Pep, extend beyond the quality of the fighters involved and the number of fights, of course. Marquez, like Pep, is the matador in the series, whereas Pacquiao, like Saddler before him, is the hard-punching aggressor.
Pacquiao-Marquez I took place eight years ago.  The Filipino, forever the aggressor, knocked his opponent down three times in the first round.  The always gutsy Marquez rallied and brought forth his characteristically superlative defense to counter Pacquiao's strategy and tactics.  But the fight was close — too close to call, apparently, and was declared a draw.
The 2008 rematch was at least equally hard-fought, with the Mexican more aggressive than he had been the first time.  But Pacquiao knocked Marquez to the mat with a left hook in the third round, and was given the nod. Pacquiao-Marquez III took place in November of last year.  Pacman was awarded a highly controversial Majority Decision. Undeservedly? Perhaps.
But the fact remains that Pacquiao threw and landed more punches, and that's a reasonable and sensible factor and criterion in a fight that was otherwise pretty much of a draw.  Still, some would argue that Pacquiao got poetic justice when Timothy Bradley was (outrageously) declared the winner of their bout earlier this year.
Perhaps the fourth time's a charm.  The Filipino and his Mexican challenger know that the fans consider their first three matches disappointingly inconclusive.  Both men understand full well that a win by KO is needed and expected.
"I want to erase the doubt of the last three fights," says Pacquiao.  "I want to knock him out."  Marquez feels the same way, though he expresses himself somewhat more obliquely:  "I have to take it out of the judges' hands this time."
Regardless of the outcome, will there be a Pacquiao-Marquez V?  How 'bout VI?  Impossible?  Tell that to Sugar Ray Robinson and Jake LaMotta.
And speaking of Sugar Ray, Manny and Juan Manuel should enter the squared circle on December 8 with the words of the best fighter of all time ringing in their ears:  "Every move you make starts with your heart."