Paul "The Punisher" Williams, the southpaw considered by many as one of the most feared and ducked boxers of the decade due to his enormous 6'2″ frame and high work rate, was involved in a shocking motorcycle accident two weeks ago. The accident left him crippled, paralyzed from the waist down. Not only does it end his boxing career, but it also perhaps leaves him unable to walk again. Williams was in preparation to fight Saul Alvarez in September.
Despite the accident, the spinal surgery, and the intensive recovery process that will needed, 'The Punisher" seems to be in very high spirits. He even hopes to be able to walk sometime soon.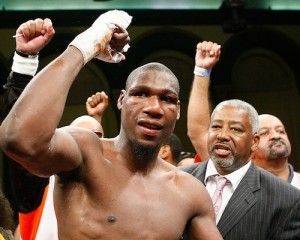 Perhaps, his fighting spirit in the hospital can be attributed to his endless wars inside the ring.
Williams had a successful career, securing big wins over the likes of Winky Wright, Antonio Margarito, Carlos Quintana and current middleweight champion Sergio Martinez. However, many big-name fighters were known to 'duck' Williams, rather than meet the unique challenge which he presented.
Williams was a talented fighter, and he had potential to be great, but he never fought enough 'big' enough opponents to secure him a place in the realm of the 'great' boxing champions. Right as he was prepared to break out as a bigger star, his career in the ring began taking a turn for the worse.
It is sad to know that many boxing fans remember Williams for his worst moments in the ring. For being wholly undeserving of his win against Erislandy Lara, in a fight where many people thought he could have been badly injured. In addition, for being on the receiving end of the 2010 Knockout of the Year, delivered by Sergio Martinez in their rematch.
What we should remember instead is the first fight Williams and Martinez had. Specifically, the explosive first round of that fight, as it featured both fighters being knocked down in the same round. Additionally, that fight displayed Paul Williams at his best, landing great punches both to the body and head.
Williams not only was talented in the ring, but fought in an all-action style which typically made him a fighter that was particularly exciting to watch. He threw a lot of punches, and yes, he got hit with a lot of them too.
His abnormally long reach and high activity made him an extremely awkward and tough opponent to fight. To begin his career, 13 out of Williams' first 14 fights ended in knockouts, and his final career record stands at 41 wins (27 KOs) with only 2 losses.
Unfortunately, there are many "ifs" in Paul Williams' career. If only he fought Kelly Pavlik. If only he fought 'Sugar' Shane Mosley. If only he fought Floyd Mayweather. If only he hadn't gotten into a motorcycle accident. If only things were to have gone his way, I believe that Williams could've have been a remarkable and all-time 'great' champion.
But then again, making a remarkable recovery and one day being able to walk again – or simply taking this accident head on and keeping his spirits high while embarking on an entirely changed life – would be a more inspiring story than anything he ever did in the ring.