The life of Paul Williams has taken a tragic turn following a motorcycle crash over Memorial Day weekend which has left him paralyzed from the waist down. Williams was flung from his motorcycle some 65 feet in the air, and severed his spinal cord as he hit the ground. He was returning from his brother's bachelor party at 7am and was driving at about 75 miles per hour when, according to Williams, he swerved to avoid a car whose driver was talking on his cellphone.
Williams had just agreed to a huge fight in September, a match against Saul Canelo Alvarez. Now though, not only is his boxing career over, according to his manager, he'll never walk again.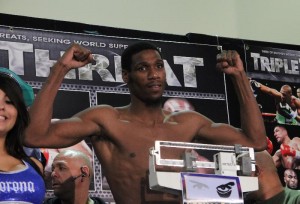 In an article on NYDailyNews.com, Williams' manager George Peterson is quoted as saying:
"He was doing about 75 mph on the motorcycle. When he came down, he came down on his back and when he came down on his back, of course he severed his spinal cord. He's paralyzed from the waist down. In terms of him walking again… that will never happen."
Williams doesn't seem quite so resigned to that fate, however. In a Sports Illustrated article, Peterson says that Williams still believes he will one day fight again.
That seems unlikely.
On Wednesday, Williams will undergo surgery, at which point more will be known about his condition and his future. He or his team will make another statement at that time.
Our thoughts and best wishes go to Williams and his family.