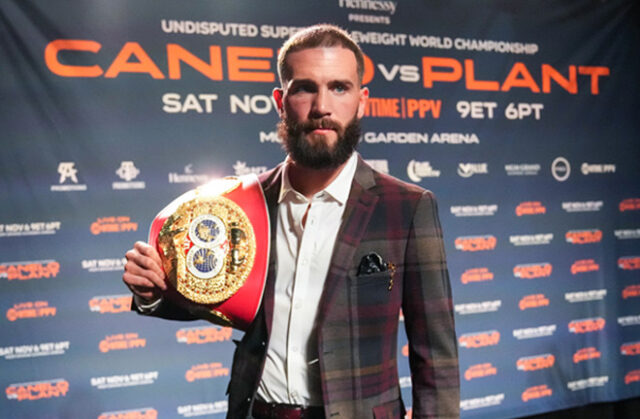 IBF titlist, Caleb Plant says he has no concerns of being on the wrong end of a contentious decision when he faces Canelo Alvarez for the undisputed super middleweight championship in Las Vegas on Saturday.
Canelo (56-1-2, 38 KOs) and Plant (21-0, 12 KOs) had a far more cordial final press conference on Wednesday after coming to blows at their first press conference in Beverly Hills in September, but were denied a customary face-off because of the scuffle.
Alvarez, the unified WBA 'super', WBA and WBO champion is the bookies favourites to become the first undisputed 168lb champion in history at the MGM Grand Garden Arena, however 'Sweethands', who has made three defences of his title is confident he will stun the Mexican great.
"There's not much time left and not much left to say," the 29-year-old said during Wednesday's press conference.
"Leading up to this fight, Canelo said that the Mexicans don't f*** around. That's good to know, because where I'm from, we don't f*** around either.
"Make sure you tune-in Saturday night. You're going to see the first undisputed super middleweight champion ever in this sport. This is history and you're looking at him. His name is Caleb Plant.
"It wasn't my intention to get under Canelo's skin at the first press conference. I think the media makes more of it than we do. We've both been in worse scuffles than that. When the bell rings, it's completely different.
"I'm someone who likes to focus on what's in front of me. Until recently, Canelo wasn't in my weight division, so I didn't think much about fighting him. Once he came in the division, I knew that it would be a huge mega fight and here we are."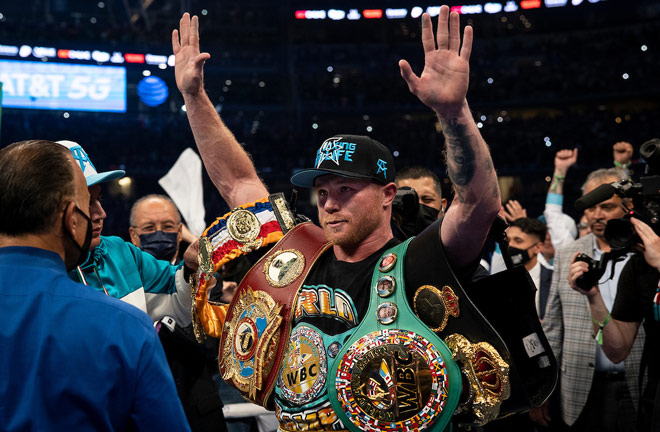 Plant sustained a cut after their heated first face-off which he said was due to a scratch from his sunglasses, however the scarring below his eye is visible.
Canelo is on a run of 15 fights unbeaten since a sole loss to Floyd Mayweather Jr, retiring then-WBO champion, Billy Joe Saunders after eight rounds in Texas in May.
Despite his dominant form and earning rightful status as the pound-for-pound number one, the 31-year-old has had some contentious results, notably his split decision win over Erislandy Lara in 2014 and his split decision draw with Gennady Golovkin in 2017.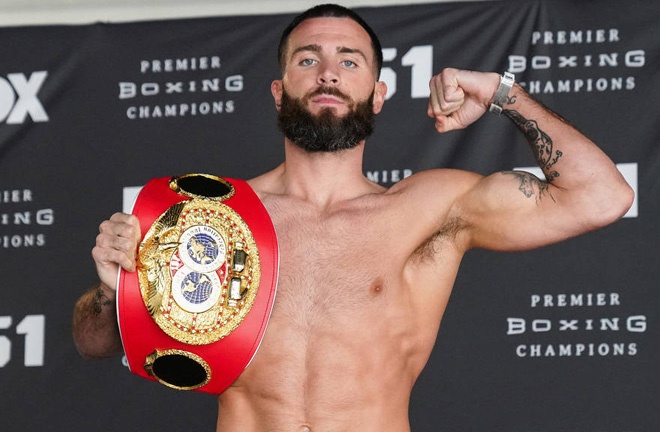 His rival referred to those fights in the press conference, but maintained that he was not apprehensive of a controversial decision from the judging panel of Dave Moretti, Patricia Morse Jarman and Steve Weisfeld, appointed by the Nevada State Athletic Commission, should the bout go the distance.
"Canelo's had multiple close fights," Plant said.
"But I believe the right people are in place to make the right decision Saturday night. All I can focus on is the game plan and the job that needs to be done.
View this post on Instagram
"People are going to say what they're going to say. But I get the final say and I can't wait to prove everything in the ring. I can't focus on what other people say about me. If I listened to the doubters, I wouldn't even be here.
"I've been the underdog before. It's a place I like to be. I like people rooting against me. It gives me extra motivation, but when you're fighting for undisputed status, you don't need much more motivation than that.
"Make sure you tune-in. This isn't just the biggest fight of the year, but you're tuning in to witness history when I get crowned the undisputed super middleweight champion."