It's time for another update to our top 20 pound for pound rankings! It's been a few months since we've last made an update, but after the Floyd Mayweather vs. Canelo Alvarez and Danny Garcia vs. Lucas Matthysse fights, it's certainly time to overhaul the list. Clearly, Floyd Mayweather retains his spot as the number 1 pound for pound fighter in the world.
But what happens to everybody else? Take a look below to see the latest updates to our boxing pound for pound list!
—>Continue to our top 20 boxing pound for pound list!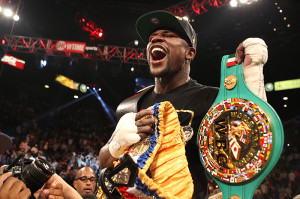 Mayweather has long been the reigning number 1 pound for pound fighter in the world, and that position was only further enhanced with his dominant victory over Canelo Alvarez. Previously, we had Canelo rated in the top 15. So how far does he drop down after losing a pretty one-sided fight against Mayweather?
As for Garcia vs. Matthysse, we had the undefeated Danny "Swift" Garcia rated in the top 20. After proving his critics and the doubters wrong yet again, he certainly deserves to climb higher up. But how high? Is he good enough to be one of the top 10 pound for pound fighters in the world?
[Also See: Mayweather vs. Canelo photo gallery & Garcia vs. Matthysse photo gallery]
There have been plenty of other big fights over the past few months too, of course. So the latest list reflects all of those bouts and catches us up since our last update to the list in May. There's lots of change, with Abner Mares suffering that shocking first round knockout loss, and many other fighters on the move as well.
So enjoy our latest update to the boxing pound for pound rankings and keep on checking back with us for more news and coverage right here at ProBoxing-Fans.com! We'll have plenty more on the Mayweather vs. Canelo Alvarez results, and as always, feel free to chime in with your thoughts in the comments.