-Pick Khan vs. Maidana Correctly & Win a Free Pair of Punching Mitts-
ProBoxing-Fans.com is back with another fantastic contest for boxing fans. Make your prediction on the Amir Khan vs. Marcos Maidana fight, and have a chance to win a FREE pair of punching mitts from our sponsor, BoxingDepot.com. It's that easy!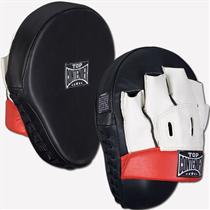 Last month, our contest was for a free pair of Everlast gloves, and we had hundreds of fans participating by joining up on our Facebook page. Thanks! That worked out so well, that we're back at it this month with a new, different contest for all of you fans and boxing heads to get in on.
Pick the winner of the Khan vs. Maidana fight dead-on, and you can win a FREE pair of punching mitts! Who is going to win, and how's it going to happen? If you give the closest answer, you win.
Contest Rules & Details
Khan vs. Maidana is held on December 11th. All picks need to be in before the fight time that day.
Submit your prediction on this post in the comments section, email it to us, or leave your prediction on our Facebook page. Make sure we find it, if it's somewhere obscure and we don't see it, it can't be counted after the fact.

BE SPECIFIC!

You can't say "Khan by UD" or "Maidana by KO" if you want to win!

If you're choosing a decision, you need to give all three judges' scorecards;
and if you're picking a stoppage, you have to give the round and the way it goes down.

The single closest and most dead-on prediction wins the

FREE

pair of punching mitts.
You can check out the punching mitts you can win here! They are perfect for both beginners and those with plenty of experience inside the boxing gym. They are the Panther Target Mitts with 1.5 inches of absorbing padding, and they retail at $45-$55.
Pass the word onto your friends, and let's get as many people in on this as possible! It's another way for us to give back to you- our readers and all fans of the sport. Good luck, submit your Khan vs. Maidana prediction, and get your chance to win the free punching mitts!