Much to the dismay of hardcore Roy Jones fans, several weeks ago I posed the question of whether Andre Ward was greater than RJJ. That question takes on renewed interest and important in the wake of Andre Ward's stoppage win over light heavyweight champ Chad Dawson, as Ward's victory puts him clearly on the path to eclipsing Roy Jones.
Ward TKOs "Bad" Chad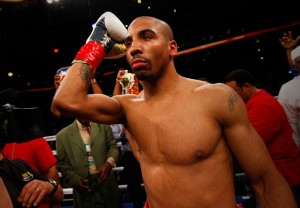 Only one factor mitigates the importance of Ward's 10th Round TKO win over Chad Dawson, the WBC 175 lbs champion and divisional top dog, namely that Dawson had to come down in weight for the fight. Although Dawson isn't a huge light heavyweight, and he did not point the finger of blame to making 168 lbs for his performance on Saturday, dropping the extra seven pounds had to take something out of Bad Chad. That something might have made the difference between the late stoppage and surviving the fight.
Even so, two things stand out about Ward's win. Foremost is that Ward did to Dawson what Ward does to everyone: adapt to and take away his opponent's best attributes. Dawson had no tactical answers for Ward, so it is hard to imagine the outcome being substantially different if the fight had been for Dawson's WBC belt instead of Ward's pair of super middleweight titles.
Also, even assuming Dawson wasn't 100% Saturday night, he did not look anything like the drained, noticeably lethargic James Toney on that fateful night in 1994 when Roy Jones totally out-classed him. Some pundits are comparing Ward's win over Dawson to Jones' win over Toney; I say the Ward win was even more impressive, because Dawson was a much greater physical threat than the weight-weakened, cheeseburger-loving 1994 version of Toney, and unlike Toney, Dawson didn't see the final bell.
Comparing Ward and Jones
The comparison between Ward and Jones is an interesting one, because while both men make/made scoring big wins look easy, only Ward has made a practice of seeking out the best guys available.
One of the great things about the super middleweight division since the early 1990s is that the weight class has produced a consistently good crop of world class talent. Talent-wise, I think the era of Jones, Toney, Eubank and Benn is about on the same level as the modern era of Ward, Froch, Kessler and Bute. There were plenty of world class and fringe contenders in both periods. The difference is that the only world class guy Jones fought was Toney, who was already past his best, and a couple of fringe contenders (Malinga, Lucas). By contrast, Ward has gone halfway to cleaning out the division.
Adding insult to injury is the plain fact that the light heavyweight division is stronger today than it was during Jones' late 1990s and early '00s run. The prime 175-pound RJJ feasted on the likes of a faded Virgil Hill, a blown-up Reggie Johnson, and a limited Lou Del Valle. Modern contenders like Jean Pascal, Tavoris Cloud and Nathan Cleverly are as good or better than that crowd, with Chad Dawson standing a notch above that.
In beating Dawson, Andre Ward made a clear and striking statement for his legacy. All he needs to do now is go up to 175, claim two or three belts, and he has eclipsed Jones' record in that fighter's two main weight classes.
A Heavyweight Title?
The sole thing the denizens of Jonestown have left to use for Kool Aid in their "Roy Jones is the greatest ever" cult is Jones' heavyweight title. I've already seen them crowing "Ha ha! Ward can't possibly beat a Klitschko, so he can't claim a heavyweight title!" on fan forums. Don't be too sure about that.
While it is true that Ward wouldn't stand a chance against either Klitschko brother, Ward is 28 and Klitschko the Younger is 36. All Ward needs to do is busy himself at 168 and 175, continue improving, and wait a few years. By then, the Klitschko brothers will have retired and left the heavyweight picture in pieces. Andre Ward could easily find an opening to square off with Tomasz Adamek, Eddie Chambers, Bryant Jennings, Alexander Povetkin or any of the non-giant class of heavyweights. It isn't inconceivable that where Roy Jones once went, Andre Ward can go and do even better.