I guess I'd be preaching to the converted when it comes to the subject of 'interim', 'regular' and 'super' champion status. We all despise it and even feel ripped off by it. Right? Right. So if that's how we feel, imagine how the athlete who has been through that ridiculousness, and comes out the other side a World Champion, must feel.
I am a past boxing official, and was a diehard fan, who once preached all that was good about the sport to anyone who would listen. But now I feel compelled to bring to the forefront all that is wrong with boxing, and I do it in the hope that it may spur on change. Yes, I'm a dreamer.
Boxing has always had its problems, but the real absurd thing is that in all other walks of life, problems are usually addressed and attempts are made to overcome them — but not in boxing. In boxing, they make more, which is the case with 'interim' and 'regular' champions. One could easily think that the WBC, WBA, IBF and to an extent the WBO are actively campaigning to drive fans away, to destroy boxing, because it's about the only thing they have been doing successfully.
Have you heard of Chris John? How bout Sergio Martinez? Well of course you have if you've logged onto ProBoxing-fans.com, it means you're a boxing fan. Thanks for hangin in there. Here at the site, we'll tell it how we see it, we don't mind throwing a few punches. Hopefully I can throw a few in this perspective of the following breakdowns.
Chris John and the WBA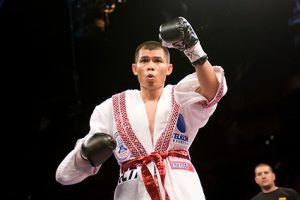 Chris John, WBA Featherweight Champion, 46-0-2-22 KO with 14 defenses, no not 15, I don't count his time as an 'interim' champion, which ironically he once was. He defeated Juan Manuel Marquez in 2006 by unanimous decision in his fourth defense, an impressive feat as we all know Marquez' prowess.
His quest from then on should be well known, especially since boxing is starved of worthy champions. Instead, Yuriorkis Gamboa seems to get all the limelight as 'interim' champion, and then the regular champion, and now the "super" champion, which John is also classified as.
Instead of seeing a battle between these two individuals ranked as "super champions" within the same division, by the same organization, they each coexist as separate entities. John vs Gamboa should have happened for the fans, and John should have received the better than usual payday it would have generated, which is what he deserved for being a proven World Champion, THE World Champion in the division.
It's not unusual for the WBA to glorify up to three champions in a division, which they've done at Featherweight, as well as Super Welterweight – Miguel Cotto, Austin Trout and Anthony Mundine. I recently read this statement on the subject from WBA chief Gilberto Mendoza – "Without any doubt the most criticized topic of the organization. While our goal is to increase boxing popularity and give more opportunities."
Wonder if his chest was puffed out with pride when he said that? What he really meant by opportunities was for the WBA to make more money from sanctioning fees. I'm preaching to the converted right? You all know this.
If the WBA sincerely wanted to give boxers opportunities and increase popularity (yeah, I'm a dreamer) they would obviously go back to declaring, get this, just one champion per division. Then, ensure that the Champion is matched with the top name guys exclusively. This gives the champ nice paydays against legitimate contenders, and the challenger his opportunity to become Champion. And FANS get opportunities to see credible bouts! Do this consistently and the fans may part with a little bit more of their hard earned money, and if that happens boxers will receive a bit more too.
Sergio Martinez and the WBC
Sergio Martinez, undeniably THE Middleweight Champion, is perhaps the most left-for-dead World Champion I can recollect! Check out this quote from Jose Sulaiman:
"I have always been in the corner of all the boxers of the world. They are my greatest heroes and, good or bad, I will always be in their corner." There are so many, but here's one more – "The WBC has been looking for many years to eradicate the abuse of boxers and manage our sport with rule, order and impartiality."
Yeah? Mr. Sulaiman is talking the talking but failining miserably when it comes to walking the walk.
Recently I was glad to see Sergio had had enough and wanted to set the record straight on the situation with the WBC – Martinez stated that he never agreed to step aside and allow Chavez-Rubio to take place before he faces Chavez and he wanted them to honor their decision for a bout between him and Julio Cesar Chavez Jr., whom he called a coward. He has been treated like an inconvenient customer, not THE World Champion. He merely represents sanctioning fees, nothing more. Give us your money and leave us in peace!
Sure, Martinez vs. Macklin is a worthy match up, but without knowing what the Champion's purse is, I'd bet it's nowhere near what he'd be seeing for a duel with Chavez. The irony is Chavez is probably making less against Rubio also. And guess what? The fan misses out again too.
It would be unfair of me not to mention Timothy Bradley here either, he has had his WBC title ridiculously taken from him too, on two occasions! And who has that title now? Erik Morales. Think he'd beat Bradley? Wow, I heard that "NO" all the way over here in Australia! Don't you think Bradley represented the quality of your title WBC?
And geez, excuse me but it doesn't look very "impartial" that Mexican boxers have walked into these stripped WBC championships.
Finally, here's some advice for the WBC and WBA and all boxing sanctioning bodies and organizations – the sport of boxing is bigger and better than both of you, your organizations could shrivel up and die, boxing will survive without you. But take away the fans and it's gone, and that's what you're doing more than anything else.