It's time for another boxing rankings overhaul! Over the past month, the sport has seen all kinds of action, with big-name fighters, high profile fights, and exciting finishes. Just a few of the performances which have had people talking include Mikey Garcia's domination of Juan Manuel Lopez, Gennady Golovkin's crushing bodyshot KO against Matthew Macklin, and Adrien Broner's jump to welterweight, where he took home a split decision against hometown fighter Paulie Malignaggi.
With all of these fights over and done with, let's get back to our top 10 divisional rankings. Take a look.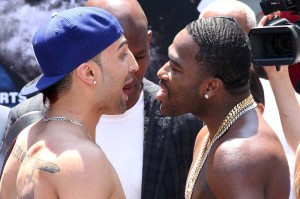 As mentioned, Mikey Garcia dominated JuanMa Lopez. But he also didn't make weight, and appears set to move up to 130 lbs instead. Where does he belong in that mostly open weight class?
Meanwhile, Golovkin absolutely blew past Macklin. But does he deserve to blow past the division's long-reigning kingpin, Sergio Martinez, in the top 10 rankings?
And where does Adrien Broner get slotted in at welterweight after his debut in that division?
Of course, there's the small matter of Chad Dawson being blown out of the water by Adonis Stevenson at light heavyweight, as well.
Just a few of the fights, fighter and questions we have been considering. Be sure to take a look at all of our updated rankings and keep on checking back for more boxing news, rumors and updates all day, every day.
Don't forget to chime in with your thoughts on our rankings below.