After more than three years away from the ring, Ricky Hatton (45-2, 32 KOs) will face Vyacheslav Senchenko (32-1, 21 KOs) on November 24 in Hatton's hometown of Manchester.
Senchenko, 35, is coming off his sole defeat — a 9th round TKO loss againstPaulie Malignaggi this past April — while Hatton, who'll turn 34 in a few days, last fought in May 2009 when he was kayoed by Manny Pacquiao in the second round.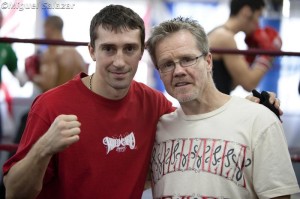 One-time WBA champ Senchenko is anything but a nice-and-easy-does-it for Hatton, former light welterweight and welterweight world champion.  This, despite the fact that Hatton was victorious over the only man to defeat the tough Ukrainian — Hatton TKO'd Malignaggi in the 11th round of their 2008 match.
After all, Senchenko hasn't spent the past three years guzzling beer and snorting coke, as has Hatton (though it's worth noting that he's only had five fights over the three-year period).  But if the rugged Brit is back in shape, he'll prove a worthy opponent — the only man to beat him, besides Pacquiao, was Floyd Mayweather Jr. in 2007.
Historically, ring comebacks are inadvisable, though there are exceptions.  Sugar Ray Robinson retired from the ring the year following his successful attempt at taking back the middleweight crown from Randy Turpin.  He returned three years later to win the title from Carl "Bobo" Olson.
He continued to fight, beating guys like Gene Fullmer and Carmen Basilio along the way, for another 10 years.  Still, fighters who return, particularly after a lengthy hiatus, often regret it.  Joe Louis lost his first fight, following a two-year absence, to Ezzard Charles in 1950.  He was TKO'd by Rocky Marciano in the final bout of his professional career in 1951.  And Hatton ain't Louis…never mind Robinson.
Hatton's return to the ring is a mistake, and it's likely Senchenko will best him.  If so, Hatton should call it a day — and mean it.
But a Hatton win over Senchenko will likely lead to a rematch between Hatton and Malignaggi next year, as long as Malignaggi takes care of business as expected and beats Pablo Cesar Cano on October 20.  And if Hatton scores a win over Malignaggi…well, he'll have pulled a Robinson out of his hat.
Comments
comments