Seated amongst the rowdy fans at the Oracle Arena on Saturday night, it seemed as if everyone in the building was screaming "S.O.G! S.OG!" after Andre Ward decisively beat 'Bad' Chad Dawson. It will be a sight never to be forgotten in Oakland for decades to come.
Even before the fight had started, fans of Oakland's very own Andre 'S.O.G' Ward were chanting his name, expecting this bout to be one of the biggest fights of the year. And what an excellent fight it was.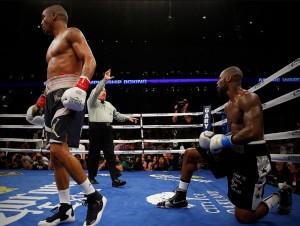 As the opening bell sounded, both men seemed a little anxious, feeling out his opponent in the first two rounds. Dawson actually opened up the fight quicker than usual, and felt the need to pressure Ward right from the start, constantly coming forward and closing up the space between them.
However, in the third and fourth rounds, Ward managed to find his groove through his remarkable footwork, knocking down Chad Dawson once in each round. Ward's devastating right hook seemed to connect numerous times on Dawson's cheek, as suddenly he was showing signs of power we're not accustomed to seeing from him.
For the rest of the fight, Ward dominated Dawson in every aspect of the game. He was the quicker puncher, a footwork specialist and a defensive movement king in this bout.
In the tenth round, Ward threw an amazing barrage of punches at Dawson, which decisively ended the fight in exciting fashion. Of course, we must not forget the fighting spirit Chad Dawson brought to the fight. Even after two knockdowns, Dawson was able to continue fighting and while he wasn't successful, he did continue to give it his all.
What was key in Wards' arsenal on Saturday night though, was not just his strength or his speed, but rather his explosive jab. Ward was able to effectively use his jab to take away much of Dawson's game. Additionally, he was able to use his jab to set up many combinations as well as use it as a defensive maneuver to keep Dawson out of his way. To me, the jab was the reason why Ward had been so successful throughout his rise from Olympic gold medalist to one of today's top professional fighters.
The still undefeated WBC and WBA champion Andre 'S.O.G.' Ward has still much of his career ahead of him. He has already fought and beat many great opponents such as Carl Froch, Mikkel Kessler, and now Chad Dawson. It will be quite exciting over the coming years to see what else Ward can accomplish and add to his already stellar legacy.