Live Amir Khan – Marcos Maidana Results & Round by Round; and Victor Ortiz vs. Lamont Peterson Results & Round by Round:
This weekend is perhaps the best of the entire year for boxing fans and included amongst the action is the HBO all junior welterweight card, headlined by the clash of styles in the Amir Khan vs. Marcos Maidana bout. Also on the card is another intriguing 140 lbs contest, Victor Ortiz vs. Lamont Peterson. The entire HBO card will by covered live on our Twitter page, where you can find live Khan vs. Maidana results, round by round scoring, commentary and more, including coverage of the Ortiz vs. Peterson bout too.


——> Visit, bookmark & follow ProBoxing-Fans.com on Twitter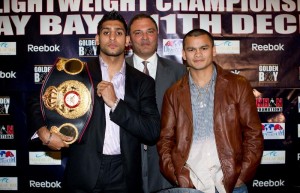 The Khan vs. Maidana results will be extremely interesting, because the styles of the two combatants is so different. Khan uses his size and boxing to stay on the outside of his opponents and stay safe, while unleashing his own varied offensive attack. Maidana is all pressure and comes forward at full steam the entire time. He packs real power in his punches too, and so the theory is of course that either Khan outboxes Maidana or Maidana KO's Khan, and fans are torn between which will end up happening.
Ortiz vs. Peterson is also interesting, because both men have tried and failed at the upper reaches of the division. Ortiz was the super prospect who Maidana knocked out, and Peterson got dominated by Timothy Bradley. The winner is right back into the title mix and will likely get another big fight in the near future, against a top 5 guy at junior welterweight.
Besides checking out our live round by round and Khan vs. Maidana results on Twitter, you can also get in on the fun before the fight starts, by making your prediction on the fight. If you predict the fight correctly, you have a chance to win a free pair of punching mitts. Leave a comment on that post and get entered for your chance to win!
Remember to follow us on Twitter so you can get all of the round by round updates and full Ortiz vs. Peterson and Khan vs. Maidana results.