The Super Six Semifinals kick off on Saturday, May 14th, when Andre Ward squares off against Arthur Abraham, with his WBA Super Middleweight title on the line. It's an intriguing bout that offers many questions… Will Ward continue his dominance of the tournament? Will Abraham find a way to get back to top form? ProBoxing-Fans.com will be on hand, live at ringside, so on fight night you can find Ward vs. Abraham results, round by round updates and full coverage of the event right here. Check it all out and see how the semifinals for the Super Six gets underway.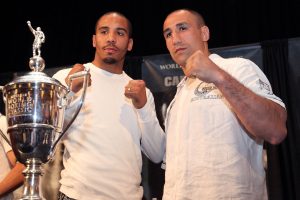 Ward vs. Abraham Results
Ward Beats Abraham!!!
Andre Ward moves into the finals after a lopsided 12-round decision over Arthur Abraham.
Round one sees Ward trying to establish his reach, with Abraham foreshadowing that he might be taking more offensive risks in this bout. Fairly even round.
By the second, the fight began to take shape and somewhat predictably so. Abraham marched forward behind his tough-to-penetrate high guard, while Ward moved and looked for opportunities to score.
Ward continued to put rounds in the bag by virtue of his more vouminous punching. Abraham goes through looooong periods of inactivity  during the rounds, making it hard to win rounds, especially against a fighter looking to pile up points.
Ward's jab was impressive, setting up everything in his arsenal. The jab opened up avenues to the body, which Ward whacked with impunity at times. Many of the bodyshots made enough impact to make a noise that reverberated through the arena.
Ward continued to lash out with quick shots in the middle wrounds, as Abraham was at his most chippy during clinches. Sometimes, he would heave himself into Ward and try to make a dent, but by the 7th or 8th round, even his fans seemed to sense it wasn't going to be their man's night.
Ward, 23-0 (13 KOs) wasn't necessarily dazzling, but with so much at stake, he was understandably prudent in his approach. He didn't take many risks, but he didn't exactly run either. As the fight approached the latter rounds, it began to take on a monotonous rhythm. Ward would alternate between uncompeeling and moderately interesting as he stuck Abraham with the jab and pounded his flanks.
Even though a stoppage seemed within reach in the final 3 rounds, Ward knew it would be tough. He strafed Abraham with good combos in the 10th and 11th. Abraham fired back from time to time, but not nearly enough–as what seems to be the case with him during this entire tournament.
Sure, Abraham, 32-3 (26 KOs) attempted to land a few knockout blows, but he was wholly disappointing. You'd think a guy complaining about neutral judges would make more of an actual attempt to win rounds. He was the placid brawler, while Ward was the prudent boxer–a combination that doesn't normally make for great fights and this was no exception.
The scores of 120-108, 118-110, and 118-111 underscored Ward's dominance. He next faces the winner of the Carl Froch-Glen Johnson semifinal bout coming up in a few weeks.
Chris Arreola vs. Nagy Aguilera
Chris Arreola, visibly thinner at 234, took out Nagy Aguilera in the third round, after a fusillade of blows crashed home, leaving Aguilera in deep peril.
Arreola, at his lightest in 4 years (Ironically, since he was last in this building) was able to bring a high workrate to the table today, something that could be a cause for concern for fellow heavyweights should Arreola continue to get in this kind of shape for fights. Aguilera tried to give Arreola some movement, but "The Nightmare" was having none of it, pitting his foe against the ropes whenever he could. The time was 1:58.
It is no coincidence that two of Arreola's better outings in the past several years were when he weighed his lowest (in the 230's). It enables him to carry a good workrate round-to-round without fear of petering out in the latter rounds. When you compare how well Chris did here to how badly he looked against Manuel Quezada (a similar caliber of opponent to Aguilera) weighing in the 250's not long ago, the difference is obvious.
Here's hoping this is a sign of good things in the future. An in-shape Chris Arreola is a handful for any heavyweight, with the possible exception of the Klitschko brothers.
More Undercard & Event Notes
Here are some results, with more details to come.
Armen Ovespyan KO 1 Arturo Brambilla
Ovespyan, 147.75, Armenialanded a big left to the head to deposit Arturo Brambilla, 149.5 onto the mat emphatically for the TKO win at 2:44. After an 8-3 start, Brambilla has won only 1 of his last 13. Ovespyan goes to 11-1 (9 KOs). He lost his pro debut.
Dominick Britsch KO 5 Delray Raines
Britsch, an Ulli Wegner-trained prospect at super middleweight dropped Arkansas trialhorse Delray Raines 4 times,  the last one coming in the 5th for the TKO win. Britsch, 168, looked good in his second stateside appearance running his record to 22-0 (8 KOs), while Raines falls to 18-10-1 (13 KOs).
Shawn Estrada KO 1 Joseph Fuller
Estrada sported an 8 pound weight advantage against the 166-pound Joseph Fuller. It was an unnecessary advantage against a foe he had all the other edges against to begin with. He looked 2 weight classes bigger than the poor 7-2-1 Rhode Island product. Predictably, he stopped Fuller in the first round–this one the product of a big left hook that really scrambles Fuller's brains.
Nothing against Estrada, who is undoubtedly a top rpsopect. But at 26 and with an Olympic pedigree, he should be facing tougher opposition. He is now only 12-0 (11 KOs), so one shouldn't be too demanding, but it's a fine line. It's fair to saythose making his matches are playing it too safe.
Matthew Villanueva KO 1 Frank Gutierrez
Good-looking bantamweight prospect Villanueva, 117, unloaded on 2-10-2 Frank Gutierrez until finally landing a fusillade of blows that deposited Gutierrez on his back at 2:56 to move to 6-0 (6 KOs).
Javier Molina W 4 Danny Figueroa
2008 U.S. Olympian Javier Molina usewd superior speed and skills to win a mundane 4-rounder over game midwesterner Danny Figueroa, now 3-2. Molina showed a good hook to the body moving to 6-0 (4 KOs).
Thanks for checking out our live Ward vs. Abraham results and round by round as the Super Six semis get underway. Keep on tuning in with ProBoxing-Fans.com for all of the best boxing news coverage on the web.<
Comments
comments