Fight Preview & Pick: "Canelo" Alvarez vs. Austin Trout
On April 20 at the Alamodome, champions Saul Alvarez and Austin Trout meet in a high-stakes 154-pound unification bout. Canelo and Trout are the clear top two dogs at this weight, with a combined record of 67-0-1. Team Alvarez was hoping to be fighting Miguel Cotto in this spot, but Trout upset the plans in December with a clear decision over the future Hall of Famer. Instead, Canelo gets Trout, who is probably a higher risk match-up.
Date: April 20, 2013
Site: Alamodome, San Antonio, Texas
Weight Class: WBC Super Welterweight Title: 12 Rounds
Saul Alvarez, 41-0-1 (30 KOs), Jalisco, Mexico, WBC Super Welterweight Champion
Vs.
Austin Trout, 26-0 (14 KOs), Las Cruces, New Mexico
—> Buy Canelo vs. Trout tickets online here!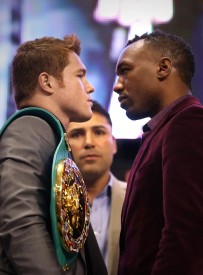 Trout is a tough customer. It was obvious he had talent, but in his win against Cotto, he showed some of the intangibles you look for in champions–toughness, durability, and a champion's fighting spirit. Beating Cotto showed he has what it takes to be at the top level. Trout was an underdog against Cotto. While it now looks like Cotto has hit a wall after a long and grueling career, nothing should detract from Trout's victory.
This is probably Alvarez' toughest fight. There may be a bigger name or two on his ledger, but in Trout he is facing a 27-year old undefeated fighter in his prime who is coming off his best win and should riding high.
He is still only 22, but his maturity in the ring and his resume make him young only in age. He's been taking these tiny steps during his gradual rise up the boxing ladder. He has knocked out 4 of his last 5 opponents and seems as ready as ever to try upper-class opposition like Trout.
Canelo is not great in any one particular area. He's very good at just about everything. He can be easy to reach at times, but he can take a punch. He hits hard with both hands. He always showed talent, but in the past years, he is becoming more formidable mentally. He thinks well in the ring, is able to set a guy up, and is generally becoming more cerebral in the ring. He knows where to put the punches.
Trout is a southpaw, but that might not help him as much as anticipated. Against Cotto, Trout was facing a fighter whose left hook was far and away his best weapon. While the left is probably Alvarez' best punch, his right hand is robust and carries a lot of clout. That's a always a good punch to have in your arsenal against a lefty. Sometimes, that left to the body is more available when facing a lefty, whose right side will be closer. But the advantages in openings of facing of an opposite-handed fighter also apply to Trout.
Trout is really tricky. He mixes up his attack and has a lot of fakery in his game, which throws off opponents. He also has an entire arsenal, whereas other lefties sometimes have a missing link or two in their repertoires. His straight left power shot is thrown well and he mixes up his shots very nicely. He is good at establishing the distance in which he wants to engage. His win over Cotto showed that the skills he showed for years at a lower level translated very well against a far higher notch of fighter.
Against Alvarez, however, Trout is facing a big name whose best years are ahead of him. Alvarez will be sharper and fresher than Cotto. So while Trout's win over Cotto was big and showed he belongs in rarefied air at 154, this fight is a different kettle of fish. Then again, what if Trout is one of those great fighters who just hasn't had a chance to show it yet? He's not a fighter that captures the public's attention like Canelo, but that's often not a fair gauge of the true merit of a fighter.
One still has to hold out the possibility that Trout is one of those diamonds-in-the-rough fighters that has just flown under everyone's radar. Some more charismatic fighters like Canelo get to be superstars before scoring the truly big wins. Guys like Trout have to actually score those big wins before everyone knows how good they are.
Who's to say he isn't one of those guys? He sort of fits into the profile of low-key greats–a less-than-captivating southpaw style, no real hype or publicity, a hometown that is tucked away far from a major media center, and the fact that no one seemed to go out of their way to escort him to this position. He had to fight to get here.
Canelo vs. Trout Prediction
I would like Trout's chances a lot better against any other 154-pounder in the world. Several fights ago, Alvarez may have been too unseasoned for the thoughtful approach and resourcefulness of Trout. Over the past few years, however, Alvarez has rounded into form and is ready to start notching the kind of wins befitting his near-superstar status.
The bigger Canelo will be able to time Trout with big shots. His punches will stand out among the exchanges. I see a competitive and well-matched fight where both men have their moments. In the end, the more punishing work of Canelo will be enough for him to win by a head at the wire.
Prediction: Saul "Canelo" Alvarez by unanimous decision.