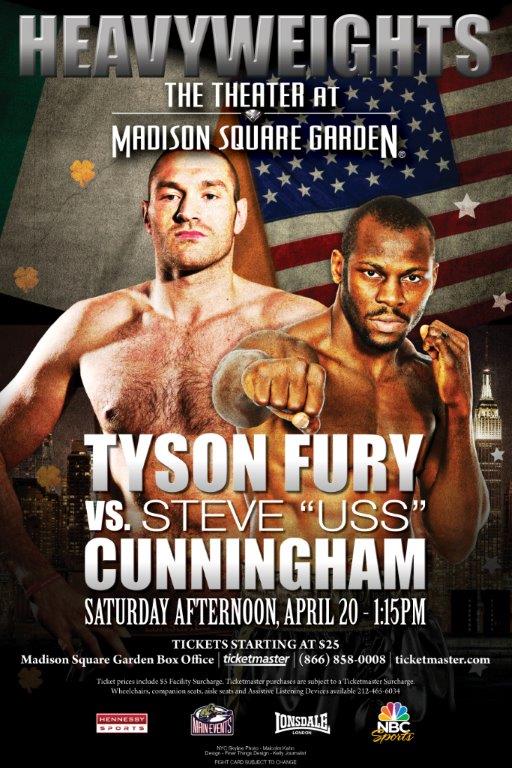 Britain's other rising heavyweight contender, Tyson Fury, is taking on veteran American cruiserweight Steve "U.S.S" Cunningham on April 20 in Madison Square Garden, a fight calculated to take him up to the next level by raising his profile with the American audience. However, in the wake of the shocking knockout defeat of his fellow Briton David Price at the hands of Tony Thompson, it's worth pulling back and asking if Fury isn't making a huge mistake.
Fury and Price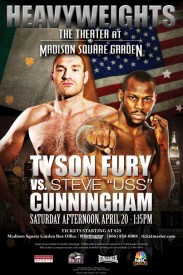 Superficially, Tyson Fury has a lot in common with David Price. Both are in their 20s, both come from distinguished amateur backgrounds, both are big super heavyweights, and both are British.
That is where the comparison ends. When David Price tangled with Tony Thompson, the Tiger was his first step up from journeymen opponents. Fury, on the other hand, made that leap in 2011, when he fought and beat Dereck Chisora. In a clash of the undefeateds, Fury handily outpointed Del Boy for the British and Commonwealth heavyweight titles. So Fury is not nearly as inexperienced as Price was.
Also, the two men have fundamentally different personalities in the ring. Fury has a more rough-and-tumble, physical approach than Price, who fights from a stand-up, Continental style more akin to that of Wladimir Klitschko. Ironically, that leaves Fury more open to counters, but at the same time leaves him better prepared for unexpected adversity because his combat method is scrappy by nature.
Thompson and Cunningham
The other way to look at whether Tyson vs. Cunningham is another Thompson vs. Price is to look at the other side of those dance cards. If Fury and Price are more different than they are alike, Thompson and Cunningham are from different planets.
Tony Thompson was going into the David Price fight as an extremely and universally underestimated boxer. For years, his management's strategy was to protect Thompson and preserve him for big payday clashes with Wladimir Klitschko, who dismantled him. As a result, the only world class opponent Thompson had ever fought was Klitschko, which left observers unable to properly assess his merits.
Price went in cocky, and as a result left himself open to the kind of early knockout that can happen to anyone who chooses to blunder into it. Price isn't a bad boxer, but he was incautious, and Thompson was good enough to capitalize on his opportunity.
Steve "U.S.S." Cunningham, on the other hand, is very well-understood. A top cruiserweight, and a fairly big cruiser at that, Cunningham is a very good boxer, but one with merely average pop. Most worrisome for a clash with a big, powerful guy like Fury is that his chin was merely average for a world class cruiserweight as well.
Fury has never fought a world class boxer like Cunningham, but Cunningham has never come even close to taking on a big, powerful heavyweight like Fury. Cunningham could befuddle Fury, but Fury can definitely (and easily) hurt Cunningham if he connects.
No Comparison
Ultimately, I think the Fury vs. Cunningham/Thompson vs. Price comparison isn't real, and based on superficiality. Just because one fight was Upset of the Year material doesn't mean that every fight that looks even remotely like it is set for an upset either.
That isn't to say that Cunningham isn't a live opponent. He poses some serious risks for Fury. Having said that, however, automatically disqualifies the bout from the "shocking upset" category, doesn't it?