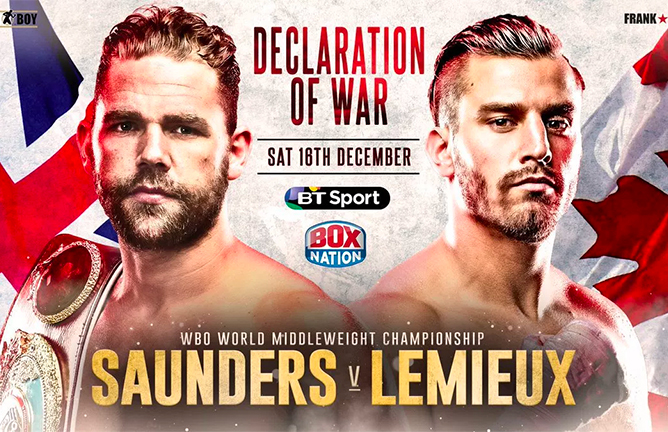 Billy Joe Saunders takes on David Lemieux this Saturday night as he defends his WBO World Middleweight title in Canada, live on BoxNation.
Saunders, 28, won the title in December 2015 against Andy Lee and has defended his title on two occasions since, a decision win over Artur Akavov and then defeating Willie Monroe Jr over twelve rounds. Saunders is undefeated in 25 fights with 12 KO's.
Canadian born David Lemieux, 28, became the IBF champion in 2015, beating Hassan N'Dam N'Jikam and went on to face Gennady Golovkin, who defeated Lemieux via an eight round stoppage. Lemieux has fought four times since, defeating Glen Tapia, Cristian Fabian Rios, Curtis Stevens and Marcos Reyes, most recently. Lemieux will be hoping to become the WBO champion for the second time in his career. Lemieux has had 38 fights, with 3 losses and 33 KO's.
Saunders spoke of his opponent, Lemieux, and said, "Firstly, I'd like to thank Golden Boy Promotions for putting the show on," said Saunders. "Lemieux looks good against 'B level' fighters, but he is now getting in the ring with someone who is far more superior and slick than anyone he has ever been in with. I don't just want the dog meat that Golovkin has left behind. I want the dog himself, and when I come through this fight I will have him. He is a mandatory and we've agreed to a deal to go over to foreign soil and get it on. I have a lot of friends in Canada, and I'll be bringing a lot of supporters over to Canada from the UK. It has all the makings of a good fight. I'm expecting a good, clean, fair decision."
Lemieux is confident he can defeat Saunders and give him his first loss of his career. It's time to be world champion again," Lemieux said. "Saunders is about to get destroyed. I'm going to be extremely ready for this fight and I'm going to inflict a lot of pain on Saunders. His 0 must go.'"
Saunders wants to defeat Lemieux and go on to take on Canelo Alvarez, and is confident his plan will come together.
"When I win the fight, I would love to fight Canelo next. He is the one you have to beat to get recognised at this level. He is a global superstar. I don't want another Golovkin-Canelo result like last time. Listen, I will come to Canada to spank David Lemieux, I will then go to Las Vegas or Mexico or wherever they want to be in a fight against Canelo."
Who do you see winning this fight? And would either fighter be good enough to take on Canelo? Give us your thoughts!