Middleweight champ Sergio Martinez hasn't fought before a hometown crowd in Argentina for more than a decade. From 2002 to 2006, he centered his career in Spain, before ultimately moving it to the United States. When Maravilla faces Martin Murray in Buenos Aires on April 27, it will be a homecoming long in the making.
In addition to the king coming home angle, this fight has another peculiarly Argentine dimension. The people of Argentina haven't forgotten the 1982 Falklands War, so if Martinez's homecoming weren't enough, the idea of modern Argentina's greatest sports champion squaring off with a contender from Great Britain is sure to stir up plenty of nationalist fervor. Murray is truly traveling into enemy territory for this one.
Martin Murray (25-0-1, 11 KOs)
6'0″ tall, 30 years old
British
Former Commonwealth Middleweight Champion
Murray is a solid, busy fighter coming from a respectable amateur background, who combines volume punching with good technique. Although rugged, he is not exactly a puncher, and when he hurts his opponents it comes from grinding them down or overwhelming them, and not cracking them open.
His two noteworthy fights were a close, contested Draw against veteran champ Felix Sturm and by stopping Jorge Navarro in six, Murray became the Interim (fake) WBA Middleweight Champion. Although Navarro was undefeated, given that he was 12-0 it's hard to make much of that fight.
Sergio Martinez (50-2-2, 28 KOs)
5'10" tall, 75″ reach, 38 years old, southpaw
Argentine
Current WBC Middleweight Champion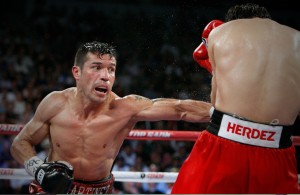 Martinez is the #5 pound-for-pound fighter in the world right now. He is renowned for his slick, southpaw defensive footwork, which enables to carry his arms low and befuddle his opponents with blisteringly quick volume punching. For going on five years now, Maravilla has fought nothing but top shelf opponents, making him a fan favorite throughout the sport.
Martinez vs. Murray Preview & Analysis

Now that he has solidified his place as the only middleweight world champion wearing the WBC's green strap (for the time being, anyway), Martinez has only two related question marks hanging over him. After dominating Julio Cesar Chavez, Jr. for 11 rounds, he got clocked in the 12th and final stanza of that fight. Seriously clocked. Clocked so badly it raises the question of if his chin wasn't permanently dented.
That is one question mark hovering over this fight. The other is Martinez's age, which compounds the dented chin question. At 38, one has to wonder how much longer Martinez is going to have the legs and gas tank for his high energy style of combat.
In terms of style, both Murray and Martinez rely on busyness in the ring, and I can easily see the Argentine beating the Briton at that game. Martinez is faster, probably hits harder, and is undoubtedly the more poised and confident of the two.
The Briton will face the added difficulty of keeping Martinez from pitching sharp counters at him if he should try to do his usual and throw 80+ punches per round. Add to that the difficulty Murray will have trying to find a highly mobile southpaw like Martinez, and one has a hard time seeing Murray getting any traction with his usual game plan.
Martinez vs. Murray Prediction
Murray has two interlocking paths to victory in this fight. One is to hope that Martinez suffers from a damaged chin, keep pitching leather, and count on the odds that one punch will eventually push his button. The other is to make Martinez work hard in the hope that he exhausts his legs or runs out of gas more generally.
On the surface, that's a good pair of game plans because if one doesn't work, the other should, right? Wrong. Martinez showed no signs of getting old against Chavez, so there is little realistic hope that his legs or lungs will give way in April. Also, the more Murray throws, the more counters he will catch in return.
Murray isn't a banger like Chavez, and I don't see him having the artillery to knock Martinez senseless, not unless his bell really was badly dented by Chavez. Add to that how pumped up Martinez will be by an adoring hometown crowd…
Basically, I see Murray getting shut down. The more he works, the more he'll suffer for it, and he'd have to be chiseled from stone to persevere the kind of hurt Martinez will put down on him for 12 Rounds.
Prediction: Sergio Martinez KO10 Martin Murray
Comments
comments