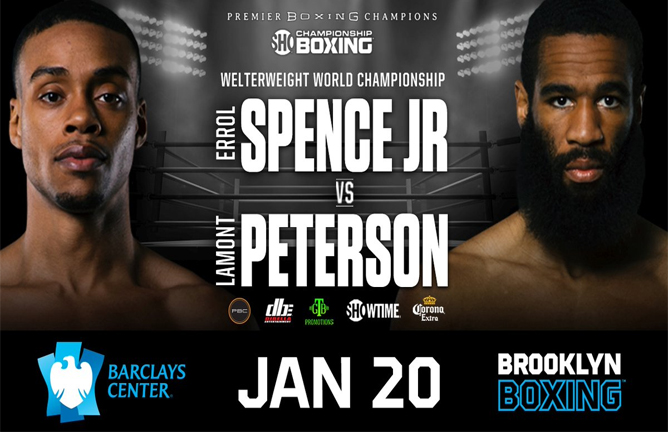 On the 20th January at the Barclays Center in Brooklyn, New York, one of the best and high ranked fighters, IBF welterweight champion Errol Spence Jr. (22-0, 19 KOs) will defend his belt against former 140lb champion Lamont Peterson (35-3-1, 17 KOs).
This will be Spence's first title defense after defeating former Champion Kell Brook last May, and while Spence has been out of action for 8 months, he has stated he's going to fight 3 times in 2018, and this fight can possibly be the first of a blockbuster year for the young champ in the eyes of the public.
Spence is viewed as the best fighter in the 147lb division by a lot of boxing fans and at worse, number two behind unified champion Keith Thurman. Coming into the fight he's going to have a lot of weight on his shoulders to impress, especially with Thurman making his return early this year as well. Meanwhile, Lamont Peterson hasn't fought in 11 months since his win over David Avanesyan last year in February. Peterson is coming off a 2-fight winning streak in beating David Avanesyan and Felix Diaz. While he didn't look particularly impressive in either of those bouts, he did enough to win the decisions.
Peterson isn't viewed as a step up for Spence from the Brook fight, however he's demonstrated through his career to be a game opponent. Also Peterson is a different type of fighter than Brook, as he's more willing to stand in the pocket and trade body shots with Spence, which should make the fight fun to watch. While Spence is the betting favorite coming in, this for sure won't be a cake walk.
The past few years the welterweight division has reigned king of boxing with Mayweather, Pacquiao, Cotto, Mosley etc, delivering top PPV fans for both die hard and casual fans to enjoy. As the new era is being ushered in to the spotlight, Errol Spence is atop of that list in my eyes as the next welterweight to carry the crown of greatness. He has the technical skills, the speed, the power and the charisma to deliver on those expectations. Meanwhile, Lamont Peterson has been looking to regain his footing as not just a respected fighter in the division but one of the top fighters. Boxing is off to a great start in a few weeks.
Fight Prediction coming week of the fight!