Arthur Abraham dethroned Robert Stieglitz on Saturday night, capturing a title strap in the super middleweight division in his third attempt. He's finally a two-division champion, whereas Stieglitz's journey at the top of the division seems basically complete. As such, it's time to go back to the top 10, and update our super middleweight division rankings. Take a look below.
—-> Updated super middleweight division rankings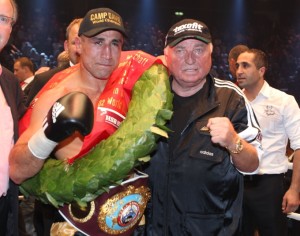 Abraham had a strong performance against Stieglitz, although that wasn't unexpected. Stieglitz had picked up a title and was able to hold onto for a stretch, and he deserved respect as such, but he was never a true threat to be a top dog in the division.
As for Abraham, we've already seen him in there against the likes of Andre Ward and Carl Froch, and he failed both of those tests pretty resoundingly. With his huge fan base in Germany, he won't need to step right in there with either of those guys in order to make good money. So expect a string of mediocre type title defenses until perhaps a big fight if put together at some point down the road.
Either way, the win has to move King Arthur back towards the top half of the super middleweight division. With his poor performance in the Super Six, we at times had him removed from our top 10, and since then, he has been hovering near the bottom. But he has a title belt around his waist once again.
Of course, we'll be hearing more from the fighters at 168 lbs in just a few weeks, when Andre Ward welcomes the challenge of light heavyweight number 1 Chad Dawson. After Ward vs. Dawson, we'll get a clearer sense of the future of the division, and what's also next for guys like Abraham, and the other guys in that next tier, like Adonis Stevenson, Edwin Rodriguez, George Groves and Don George.