Who do the other Super Six Fighters Think Will Win The Upcoming Mikkel Kessler vs. Carl Froch Bout?
The four Super Six combatants not participating in the Kessler vs. Froch bout have weighed in with their thoughts about Saturday night's winner. After a full slate of bouts from round 1 and the preceding bout from Stage 2, all of the fighters are staring to get more familiar with one another and each man's strengths and weaknesses. With that in mind, Andre Ward, Andre Dirrell, Arthur Abraham and Allan Green have all made their Froch vs. Kessler picks.
Entering the second of three Group Stage 2 matches in the Super Six World Boxing Classic on SHOWTIME, hometown fighters are 4-0 in the tournament. Froch, who is in a three-way tie for second place with two points, can overtake Abraham for the top spot on the tournament scoreboard with a "W".  Kessler, who has zero points, is desperate for a win and to keep his chances alive in the tournament.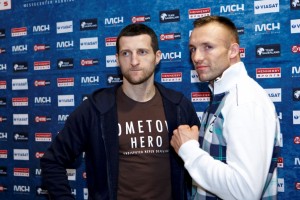 Ward picks Kessler for several reasons.  Said Ward, "(Mikkel Kessler) is too skillful, too polished and has too many tools in the toolkit for Carl Froch to overcome.  He's very motivated coming off his loss to me, and has the chance to regain a world title with a win over Froch. He has a new trainer and seems refreshed and rejuvenated and has proven in the past that he can come back after being defeated to win a world championship. Froch is a tough customer and will give everything he has. It will definitely be a tough match-up for Kessler, but at the end of the night Mikkel Kessler will get his hand raised.''
Green said, "I'm going with Froch. I think he is more confident right now. I think Kessler may be a tad bit quicker, but I think Froch is slicker and he has more options so he will win this fight.''
Germany's Abraham, the tournament leader with 3 points, envisions a tough, exciting, make-or-break fight for Kessler.  "I think Kessler will win,'' Abraham said. "This basically is his last chance. His career and his future – at least in the Super Six – are on the line. It would be a huge surprise if someone of his class would be eliminated that early. As my teammate, I do, of course hope he will beat Froch – although it will be a very tough and exciting fight. All Super Six fighters are very strong, so I look forward to an exciting evening in Herning."
Dirrell expects an extremely tight fight.  Said Dirrell, "Mikkel Kessler will win by majority decision.  He's a very smart boxer with great ability. Despite his loss to Ward, he has had a lot of success against Europeans and that will be the case again in his fight with Froch.''
That's three for Mikkel Kessler, and one for Carl Froch. We'll see how it plays out on Saturday night and if any of the other Super Six guys nailed their predictions.