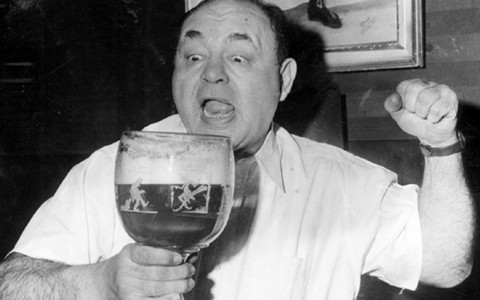 It's difficult not to have a soft spot for heavyweight Tony Galento (80-26-5, 57 KOs), who fought from 1928 to 1944.  He was a real character.  His training diet consisted of hot dogs, spaghetti and meatballs, and oceans of beer.  But "Galento the Great", as biographer Joseph G. Donovan called him, was anything but a clown.
Short and fat, yes, but he was a powerful dockyard brawler with one of the best left hooks in the business.  He used it to knock Joe Louis off his feet in their championship bout.  Though the "Brown Bomber" beat him, of course, Galento took out some outstanding competition, including Al Ettore (in the eighth), Nathan Mann (in the second), and Lou Nova (in the 14th).  The latter was among the dirtiest fights in the history of the sport, Nova almost losing an eye to Galento's relentless gouging.
There's no shortage of stories concerning the roly-poly New Jersey barman.  Legend has it, for instance, that he consumed 50 or more hot dogs immediately prior to his bout with tough and able Arthur De Kuh.  Despite his unorthodox pre-fight meal, the "Jersey Nightstick" kayoed his opponent in the fourth.
Or Galento's behavior on meeting Noel Coward at New York's legendary Stork Club.  When told that Coward was a famous English playwright, Galento introduced himself with a "Hiya, pally, in-deedy."  Upon meeting Orson Welles the same evening — "So you're the guy with dem Martians, eh?  I kin knock dem all out!"  He had the same reaction to Shakespeare, whom he believed a "foreign heavyweight".
But my favorite story — perhaps because so emblematic of the man and the fighter, as well as of the times — concerns what was known as the "Beef Trust" heavyweight tournament.
When Galento was 21, he took on three successive opponents at Detroit's Olympia Stadium on the night of May 1, 1931.  Granted, no one would ever mistake palookas Joe Brian, Frankie Kitts, and Paul Thurman for Ettore, Mann, or Nova.  Still, three fights in one night is one for the books, especially given that Galento is purported to have quenched his thirst with beer between bouts.
Brian was kayoed in the first, as was Kitts, while Thurman was beaten on points.  These were just three of the 14 consecutive wins, 12 by KO, that Galento scored from June of the previous year.
Three bouts in one night — a far cry from, say, Guillermo Rigondeaux's 11 fights in three years.  Or Floyd Mayweather Jr.'s sole fight this year.
It's true that years sometimes separated the old-time championship matches.  Following his September 1923 win over Luis Angel Firpo, for example, Jack Dempsey didn't fight again (avoiding Harry Wills) until he lost the title to Gene Tunney three years later.  The fact remains, however, that vintage boxers, regardless of division, often had careers of between 100 and 200 fights — sometimes more.
Jimmy Wilde, 144; Panama Al Brown, 164; Willie Pep, 241; Kid Chocolate, 151; Ike Williams, 155; Tony Canzoneri, 171; Henry Armstrong, 181; Sugar Ray Robinson, 200; Archie Moore, 219; Sam Langford, 256….
I can think of only a few recent fighters who have had comparable stats — Roberto Duran, had 119 fights, Julio Cesar Chavez Sr. had 115, Jose Luis Ramirez had 111. But that's three amongst hundreds, and those guys have been retired for quite some time.
As for Galento — he had 111.  But that's not the only reason I have a gold star next to his name.  It's also because he's the one who had three fights in one night.