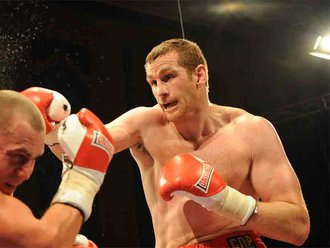 David Price smashed Audley Harrison on Saturday at the Echo Arena in Liverpool, in a fight which was available to fans in the United States on WealthTV. Price got Harrison hurt in the 1st round with a chopping right hand, and then pinned Harrison on the ropes, opening up his full arsenal and leaving him crumbling to the canvas in an u unconscious heap as the referee rushed in to call off the action.
Price vs. Harrison Fight Video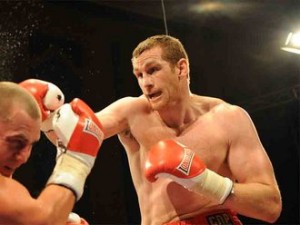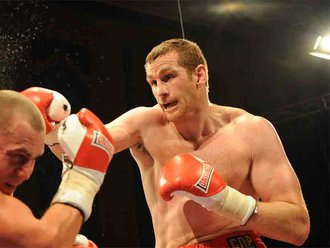 While some folks had optimism for Price vs. Harrison to be a meaningful fight, and a legitimate test for the undefeated British hope of the heavyweight division, it's hard to fathom that anybody bought into the hype surrounding the match. Price vs. Harrison was always a mismatch, and while predicting a 1st round knockout is hard, this fight seemed like the whitewash it was when it was put together.
Now, don't get me wrong… it's not as bad as the fradulent Alexander Povetkin "title" defense against Hasim Rahman. That was complete garbage.
Harrison's mock-nickname may indeed be "Fraudley", but he's an experienced veteran for a fighter on his way up to fight. So that's fine if you accept it at face value: Price is getting a high profile opportunity against somebody who, while he could theoretically provide a challenge, will logistically get crushed. That's OK, I suppose. That's how young fighters are built.
But that's not what was sold, or what many fans ended up believing. They took Price vs. Harrison to be a real challenge, a great clash of fighters at different stages of their careers. They must have missed Harrison's embarrassing 3rd round TKO loss to David Haye two years ago, and then must have been absent as he fought just once since then, against an outclassed Ali Adams. They must have forgotten an entire career filled with unfulfilled promises and untapped potential, losses to mediocre fighters and a failure to ever register a legitimate top level victory.
Ultimately, David Price did what he was supposed to do, and while I didn't think he'd end the matter in two minutes, I never thought Harrison was a worthwhile opponent in terms of selling a real showdown. So let's not overreact to the Price vs. Harrison results, Price still needs quite some time before he's truly ready to take on the Klitschkos.