-Weekly Boxing Betting Odds & Analysis: The Boxing Bankroll-
Last week went OK with the Boxing Bankroll, where we bet on boxing with the week's match-ups and see if we can help everyone make some cash. We made a couple bucks. Had the Hasegawa-Burgos fight, the under in Berto-Hernandez. Carl Froch's win was about as easy as it can be for an underdog pick. It wasn't even close. That's all good stuff.


Sign up with Bodog to bet on boxing and receive a 10% cash bonus when you make your first deposit!
Trying to time the demise of Juan Manuel Marquez might be a long and costly endeavor. Everything points to the fact that he should be at least starting to head down the proverbial peak that awaits all boxers, but it didn't happen on Saturday. Katsidis gave it a good run for a decided underdog. Things were looking good in the 3rd round. That knockdown looked to be of a fight-changing variety, but Marquez has powers of recovery that might be unmatched in modern times.
Still, a winning week is always good, so let's see what is on tap for this weekend.
Starting Bankroll: $1000
Current Bankroll: $1067.50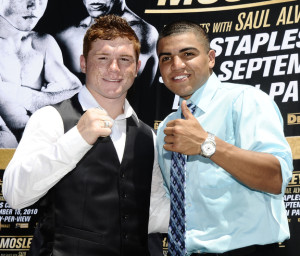 Fight #1: Saul Alvarez vs. Lovemore N'dou
Alvarez vs. N'dou Odds: Saul Alvarez (-1600), Lovemore N'dou (+800)
Over/Under: Over 9.5 (-120), Under 9.5 (-120)
Thoughts and Pick: Alvarez is looking to cap off a big 2010. N'dou deserves respect—he is an underrated and classy veteran campaigner who has always acquitted himself well. It's just that N'dou is no more of a junior middleweight than Alvarez is a light heavyweight. He is still a useful fighter, but looks to out of his element here, being brought in to lose. Not much value in betting Alvarez here, but I see an inside-the-distance win.
Bet: $24 on the under to win $20.
Fight #2: Nonito Donaire vs. Wladimir Sidorenko
Preliminary Donaire vs. Sidorenko Odds: Nonito Donaire (-1200), Vladimir Sidorenko (+700)
Over/Under: Under 10.5 (+110), Over 10.5 (-140)
Thoughts and Pick: Word is that Donaire will fight Montiel early next year. No time for play here. Sidorenko has a nice resume and record, but seems a good 3 years outside of his window. Maybe Donaire wants to make a statement. He feels he is the best, but other bantamweights are being featured in much more high-profile bouts. This might give way to an irritated Donaire who is no mood for a full fight.
Bet: $20 on the under to win $22.
Fight #3: Humberto Soto vs. Urbano Antillon
Preliminary Soto vs. Antillon Odds: Humberto Soto (-350), Urbano Antillon (+250)
Over/Under: TBA
Thoughts and Pick: Interesting fight. Antillon is a big question mark. He looked good a few years ago, but a loss to Miguel Acosta put it in perspective. Acosta, however, is not a bad fighter, so maybe one loss in a decade is no big deal. Soto is a warrior and a hard fighter. It's just that he might be fraying at the edges after so many wars. In his last 3 fights, he seemed a bit flat. In his last defense, against an utterly anonymous challenger, he only squeaked home by a few points. Time might be ticking. I'd prefer to pick a challenger who was a bit more fresh and chipper, but I think Antillon gives him a run for his money. Let's go with an upset pick.
Bet: $20 on Urbano Antillon to win $50
Thanks for checking out the Boxing Bankroll, your weekly source for boxing betting odds, analysis, tips and advice on all of the best action of the week. Tune back in next week to see how we did, and how much you can bring in for yourself when you bet on boxing online. Don't forget: Sign up for a 10% bonus to bet on boxing with Bodog!