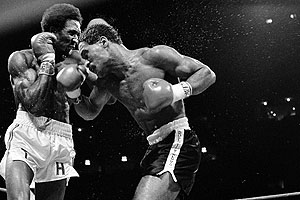 The Top Teenage Fighters in Boxing History
Every now and then, a teenage phenom is able to break through the ranks of professional boxing, becoming not just a prospect to watch in the future, but a full-fleged champion and world-beater. Today, stars such as Saul "Canelo" Alvarez and Adrien "The Problem" Broner are each in their early 20s, and enjoying amazing success at a young age. Even so, they're long in the tooth compared to the greatest teenage boxers of all-time.
Wilfred Benitez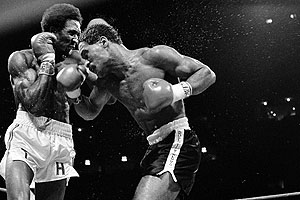 "El Radar" winning a world title at17 years old is one of those things that still amazes you no matter how many times you hear it. He didn't just beat anyone, either. By beating Antonio "Kid Pambele" Cervantes, a 122-fight veteran, he beat a guy who was probably the best 140-pounder ever up until that point. To illustrate that Cervantes was still effective, he later regained the title and registered 6 more defenses.
The WBA Junior Welterweight Champion, still 17, defended the title with a unanimous decision of 25-2-1 Emiliano Villa. After turning 18, Benitez knocked 35-1-1 Tony Petronelli out, before drawing with savvy Harold Weston in a non-title tilt. He knocked out tough Ray Guerrero in the 15th round, before fighting the ultra-talented future champion Bruce Curry twice.
Their first fight was ultra-controversial, a 10-round affair scored on a round-basis, where Benitez kept his title despite suffering 3 knockdowns. Still only 19, Benitez rebounded nicely and beat Curry 3 months later. In his final bout as a teenager, he stopped welterweight contender Randy Shields after 6 rounds in August 1978.
Before he even turned 20, he was 35-0-1 and a seasoned champion. He just missed sneaking in a great win, when he beat Carlos Palomino for the Welterweight Championship, which was won a few months after turning 20. Even so, his accomplishments at such a young age still evoke awe all these years later.
Tony Canzoneri
Still 17, Canzoneri was 27-0-3 and already a hot attraction in New York City–the world capital of boxing at the time. His teenage record was 50-5-7–having fought a tough roster of contenders and champions. At the tender age of 18, he beat Johnny Dundee for the Featherweight Title. At 19, he notched wins over Hall of Famers like bantamweight great Bud Taylor and Benny Bass. A few months before his 20th birthday, he was an ex-champion, with some great legacy-building wins that lied ahead.
Ben Villaflor
One of the greatest Filipino fighters of all time, Villaflor compiled a 46-4-3 record–and that's just before he turned 20! As a teenager, he split his time between fighting in the Philippines and Hawaii, already a top attraction and contender while still a teenager. A series of knockouts over veteran fighters led to a WBA 130-pound title shot against reigning champion Alfredo Marcano. Villaflor won by unanimous decision.
The reigning teenage world champion made his first defense in Hawaii–a 15-round draw against Argentine standout Victor Echegaray. He had the unique ability to call himself a 50+ fight veteran and defending world champion while still in his teens. Villaflor would end up becoming one of the all-time great junior lightweights.
Pipino Cuevas
Cuevas, the former longtime WBA Welterweight Champion, didn't come up with a lot of hoopla. The 18-year old lost a 10-rounder to Andy Price in 1976 to drop to 15-6. He somehow booked a title fight against tough WBA champ Angel Espada. He showed what he could do with his wrecking-ball left hook by blowing out Espada in two rounds in a big upset.
He blossomed into a teenage phenom who compiled a highlight reel of one destructive knockout after the next. A violent puncher, Pipino defended Shoji Tsujimoto in Tokyo, Miguel Campanino in Mexico, and Clyde Gray in LA. He didn't just win–he destroyed. While still in his teens, he won a rematch by knockout over Espada. Before his 20's had even started, he could boast of a world title, four successful defenses, and a reputation as perhaps the hardest hitter in the sport.