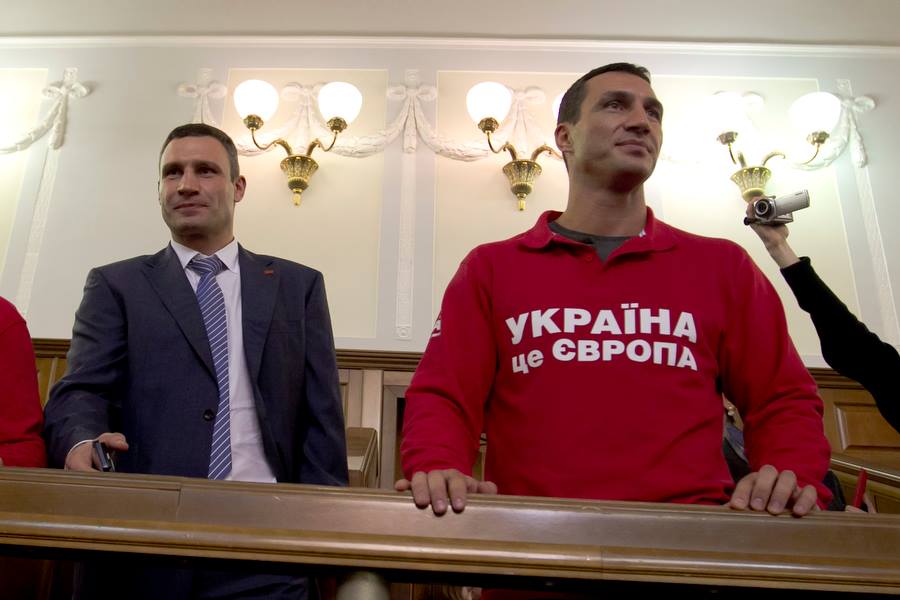 Vitali's Ukrainian Politics & Retirement, & Wladimir's Future Absence All Add Weight to Klitschko Documentary:
Sebastian Denhardt's Klitschko came out in 2011, but it's only in the last few years that the course of events have given the documentary real strength. Since then, Vitali Klitschko formally left the ring and entered an even more dangerous fight in the streets and halls of power in Kiev, one getting more headlines than anything he ever did in his championship career.
Since the film came out, Wladimir Klitschko beat David Haye for the WBA title, and in so doing finally, firmly established himself as the consensus World Heavyweight Champion. Klitschko the Younger is also in the last couple of years of his stellar career, making such a retrospective more in order than it was when it was actually made. Finally, Emmanuel Steward passed away, making his appearances in the film poignant reminders for any admirers (including me).
The documentary is a polished production, focusing on two main themes: the childhood and young adult years of the Klitschko brothers, and the obstacles they had to overcome in their eventual rise to dominate the heavyweight division. The former paints a captivating picture of the brothers growing up in an intimate Soviet military family, moving from post to post, experiencing Chernobyl, becoming serious amateur competitors in first kickboxing and then boxing, their early visits to "hostile territory" in the United States, and their eventual move to Germany to start a pro career. This is competent biopic territory, giving the viewer a solid grounding in who these boys were and where they came from.
The second half dwells on the well-documented stumbles in the Klitschkos' career: Vitali throwing his shoulder out against Chris Byrd, and being labeled a coward; Wladimir getting knocked out by Corrie Sanders and Lamon Brewster. If the movie has a serious hole in it, that would be the scant notice paid to Wladimir's 1998 loss to Ross Puritty.
Even so, this part of the film has the meat and potatoes any boxing fan could want, enhanced by interview footage with Chris Byrd, Lamon Brewster, Lennox Lewis, Emmanuel Steward, Dan Rafael, and Larry Merchant. Brewster, and Byrd in particular, come across as particularly engaging, and as true gentlemen of the sport. This part examines Vitali's injuries, and how the brutal loss to Lennox Lewis erased his forfeit to Byrd; it also looks at the necessary transition in Wladimir's style that turned him from a slugger into a master of controlling space and pace, and thereby set the stage for the featured 2005 clash with Sam Peter, a fight that began Klitschko's unbroken run of wins.
With Wladimir Klitschko fighting the likes of Alexander Povetkin and Alex Lepai, setting the stage for his career endgame, boxing fans must face facts that a world without the Klitschko brothers is right around the corner. Since most boxing fans likely haven't seen Klitschko, nothing could serve as a better reminder that we'll miss them when both of them hang up the gloves than sitting down to watch this movie.