The Ten Greatest Mexican-American Fighters in History
The impact made in this sport by Mexican-Americans is incalculable. As a group, they have basically single-handedly buoyed the sport on the west coast. Since way back, Mexican-Americans have provided star after star to the landscape of championship boxing. This list, unlike those of some groups, encompasses a wide period of the time–spanning from the 1940's to this very day.
1. Oscar De La Hoya (1992-2008)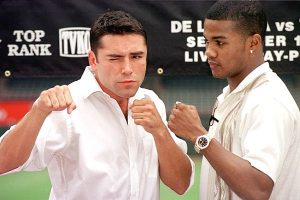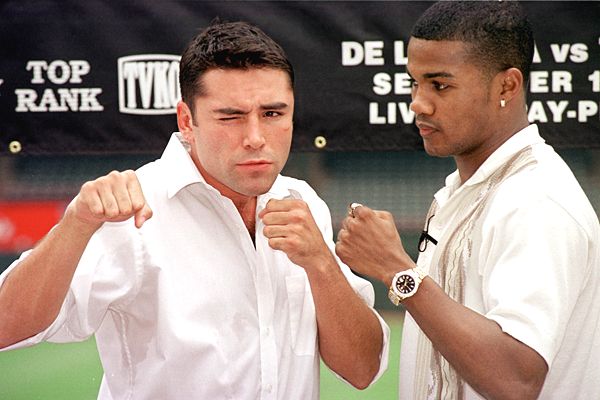 When he started, he caught a lot of flack for picking on the worst titleholders at 130 and 135 and seemingly avoiding the best. By the time he finished, however, you couldn't say much about his quality of opposition, as "The Golden Boy" took on all comers from a demanding era.
He beat John Molina, Rafael Ruelas, Genaro Hernandez, Julio Cesar Chavez, Miguel Angel Gonzalez, Pernell Whitaker, Hector Camacho, Ike Quartey, and Fernando Vargas–just to name some. He may have taken some losses and he didn't age gracefully, but that can be said about most all-time greats.
He won titles at 130, 135, and 140, 147, 154, and 160. Sure he blew it against Trinidad by trying to coast his way to victory, but I'm still waiting for someone to show me where Trinidad won 7 rounds that night. Oscar should get credit for cleaning out a welterweight division that included names like Whitaker, Quartey, and Trinidad. It sounds strange to say now, but De La Hoya might be the only poster-boy of the sport who was actually underrated.
2. Manuel Ortiz (1938-1955)
Going back to an era when there was only one champ per weight class, Ortiz made his bones as a longtime bantamweight champion and one of the best ever at 118 pounds. Ortiz was champion every year from 1942-1950. In 1947, Harold Dade relieved him of his belt, but Ortiz reclaimed the belt a few months later from Dade. Along the way, Ortiz made an impressive 19 title defenses.
3. Orlando Canizales (1984-1999)
Another great Mexican-American bantamweight champion, Canizales reigned for a long time and always exhibited the full package of his immense skills while he was at the top of his game. He combined cute skills with good power to reign as IBF champ from 1988-1994. He would never lose at 118, where he became one of the division's great champions. He broke the record of the man ranked above him by registering 16 consecutive bantamweight title defenses, though to Ortiz' credit, his title was unified. Nevertheless, Canizales was a joy to watch.
4. Michael Carbajal (1989-1999)
The 1988 Olympian was supposed to be a fighter who conquered numerous weight classes. Well, he ended up staying at 108 for his entire career, becoming one of the division's top all-time great champions. When the stakes were highest, he came through by rising twice from the canvas to annihilate Hall of Famer Chiquita Gonzalez in the Fight of the Year in 1993. Carbajal's fights were consistently thrilling and at his best, he was one of the sport's very top performers.
5. Johnny Tapia (1988-2011)
"Mi Vida Loca" overcame harrowing personal issues to forge a robust boxing legacy over two decades of excellence. One of the best to ever fight at 115 pounds, Tapia won his biggest fight in an all-Albuquerque matchup, schooling fellow champion Danny Romero over 12 rounds. A bundle of energy, Tapia fought with heart and skill–two areas where he was off-the-charts.
He would never lose at 115 pounds and added titles at 118 and 126. His energy, stamina, and fighting spirit made him a handful for years, despite a troubled life. Tapia was a special fighter and one of the more unique talents on this list.
6. Bobby Chacon (1972-1988)
One of the more charismatic fighters to ever grace the Southland rings, "Schoolboy" Chacon was a passionate fighter whose fights were some of the more thrilling spectacles in the 70's and 80's. A robust talent, Chacon emerged from the 70's where he was a featherweight titlist to make a big impact in the 80's, when many thought he was finished.
His fights with Bazooka Limon and Cornelius Boza-Edwards were the 1982 and 1983 Fights of the Year and he won both of them in unforgettable fashion, rising from the canvas and roaring back in Rocky Balboa fashion. Chacon will always be a heroic figure among Southern California fight fans.
7. Danny Lopez (1971-1992)
The wiry featherweight puncher reigned as champion from 1976 to 1980 and it took the immortal Salvador Sanchez to derail him. A gigantic puncher for the weight, Lopez graphically ended the dreams of many a ranking featherweight. "Little Red" made 8 defenses, all of which ended before the distance. Along the way, he beat Chucho Castillo, Ruben Olivares, Sean O'Grady, Art Hafey, and the 1979 Fight of the Year over Mike Ayala.
8. Diego Corrales (1996-2007)
At nearly 6-feet, Corrales towered over much of his opposition, but he was far from a cutie boxer who relied on his reach and height to subdue opponents. Corrales was a fierce trench warrior and a fantastic hitter. He was far from perfect, but in the most exciting fight anyone has seen in the past quarter-century, it was Corrales who came out on top. "Chico" looked all the world like he was finished against Jose Luis Castillo, before staging perhaps the most unforgettable rally in recent memory. For that alone, Corrales will always hold a special place in the heart of boxing fans.
9. Genaro Hernandez (1984-1998)
Another wiry battler who wasn't afraid to mix it up inside, Hernandez was a standout 130-pounder who was unbeaten at that weight until his farewell fight against Floyd Mayweather, Jr. Fans who saw his fight with Azumah Nelson will always remember how "Chicanito" was given a chance to take an easy exit following a debilitating punch to the throat after the bell, before deciding to fight on–decisioning the great Nelson over 12. He was champion in the ring and also in life.
10. Mando Ramos (1965-1975)
If only the guy had actually trained. Ramos did his work in LA, where his fights attracted the A-list Hollywood crowd. A hectic lifestyle led to inconsistency, but at his best, he was one of the more impassioned brawlers in SoCal ring history. He had skills, a great punch, and when in the mood–fought like a hungry and rabid dog. His record will never be able to impart his true level of menace. Ramos was a natural, one of those fighters who should have been better, but still accomplished enough to warrant historical respect.