Can Our Greats Match the Past?
Many hardcore fans of the Sweet Science would argue to say the history's past greats would dominate today's greats, and all boxing fans love the fantasy fight, pitting two greats who never had the chance to meet one another in the squared circle.
But everyone has their own opinion, and that's part of the fun. Here, find my top three fantasy fights between today's greats, and their legendary, historical counterparts, and my personal take on how they would go. Dive in and take a look at Floyd Mayweather vs. Sugar Ray Leonard, Manny Pacquiao vs. Roberto Duran, and Wladimir Klitschko vs. Muhammad Ali.
1.  Floyd "Money" Mayweather Jr. Vs. "Sugar" Ray Leonard, 147 pounds
We start with the classic counterpuncher vs. boxer puncher. One of the most gifted defensive fighters to ever lace up a pair of gloves versus a fighter who had it all, and was exceptionally gifted.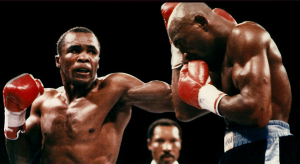 Boxing Ability: You have to first think about boxing ability, and I believe Floyd is perhaps the best pure boxer to ever fight. Floyd is CompuBox's most accurate fighter, has the highest landing percentage in fights, and holds most opponents he faces to land under 20% of their shots while barely any of them land as flush shots. Of course, Leonard was still a great boxer, he possessed great head movement, footwork and reflexes when fighting. Advantage: Floyd Mayweather Jr.
Hand Speed: Sugar Ray may have been equal in his prime years with Floyd in hand-speed. Both men were blazing fast. Advantage: Equal
Chin: Pretty Boy's chin has not been frequently tested, as he steers clear of most incoming fire. While Sugar has proved he does have a strong chin being able to take flush shots from some of the sport's heaviest hitters, Roberto Duran, Marvin Hagler, Thomas Hearns.  Advantage: Sugar Ray Leonard
Punching Power: Floyd Mayweather has shown moving up to 147 has taken a toll on his punching power, while Sugar Ray Leonard possessed strength in both hands to hurt any opponent he faced. Advantage: Sugar Ray Leonard
Strategies: Floyd fights the same way every fight now, walking the opponent down, launching the lead right hand, counter-punching, stepping back and landing his check left hook. When his opponent does his flurry, he counters with the shoulder roll, with barely any shot landing clean. Floyd's shoulder roll would be a very effective weapon against a punches-in-bunches type fighter, which Leonard often was. However, Sugar Ray Leonard has shown to be extremely versatile, with a different game plan every fight, opening up with flurries when he sees it, boxing, turning aggressor, and more. Additionally, Sugar Ray had one of boxing's greatest coaches in Angelo Dundee. Advantage: Sugar Ray Leonard
Prediction: Unanimous Decision 115-113 for Floyd Mayweather Jr. Floyd's counter punching ability and the skill to adapt and change to whatever his opponent does would prove to be too much for Sugar in the end. They both would use the ring, making it a chess match in the beginning, but as the first few rounds end, they both would start to stand in front of each other a little more, with Floyd walking Sugar down, Sugar would attempt to open up with flurries but Floyd would effectively use the shoulder roll, and counter right hand, effectively winning enough rounds with his superior counter punching.
[Also See: Our All-Time Best Fighters by Weight Class]
2. Manny "Pac-Man" Pacquiao vs. Roberto "Manos De Piedra" Duran, 135 pounds
This fight would have been a true Fight of the Year candidate and a very tenacious, an all-out brawl. This fight would be extremely close, Manny and Roberto have very similar fighting techniques. In your face at all times, throwing strong punches in bunches, never seeming to let up. Duran, with a ridiculous record of 103 wins, and an even more insane 70 knockouts, says he was arguably the heaviest hitter at lightweight to have lived. He truly lives up to his moniker. Manny Pacquiao is definitely trouble for any other lightweight to have lived. What he lacked in boxing talent, he made up in speed, tenacity and power.
Boxing Ability: As impressive as Manny looked when he was a Lightweight, he was a one trick pony, coming in on his opponents, and launching his money maker left land, hoping it will land, not caring how many punches may in turn land on himself. Roberto Duran was at his best in his lightweight career and was perhaps the best lightweight to have ever lived. Destroying people with his tenacity, and his ability to take hits without flinching. He had the look that he wanted to kill you in the ring. As tenacious as he was, he had boxing skill, working behind his jab, and throwing combinations to the body. Advantage: Roberto Duran
Hand Speed: The advantage is an obvious one, Manny Pacquiao was like a tornado of punches in every round, his speed could match up with other great quick fighters. Not only does he have extremely fast hands, his feet may be even faster, he literally would punch circles around his opponents. Advantage: Manny Pacquiao
Chin: Both of these fighters had extremely strong chins and the ability to take hits until the final bell, Manny for 12 rounds, while Roberto fought in the Gladiator type days of 15 round fights. Neither fighter being knocked out during their respective lightweight careers. While both men fell victim to one-punch knockouts in their career, still, I will have to give the edge to Duran. Advantage: Roberto Duran
Punching Power: As strong as Manny Pacquiao looked in his lightweight career, his only punch was a straight left hand, while Roberto had devastating knockout power in both hands. "Every punch he hit me with it felt like bricks, stones." Sugar Ray Leonard said about their first fight together. His punching power is evident with his KO %. Duran's record speaks for itself 103 wins 70 KO's. Advantage: Roberto Duran
Strategies: Both fighters had legendary coaches in their corners, Freddie Roach, and Ray Arcel. Roach implemented major improvements in Pacquiao's game, teaching him to use more angles, better defense, get to work with his right hand and more diverse combinations, and more. Still, Duran was a finely-tuned, aggressive machine, only frustrated by larger, and highly technically sound fighters, such as Leonard. Advantage: Roberto Duran
Prediction: 10th round KO for Roberto Duran. This fight would be a war, both fighters cut, both hurting each other with big shots. However, in 10 rounds, Duran would have done enough body damage and landed enough head shots to take Pacquiao down and out. Pacquiao has shown that he can recover quickly, and fight through pain but Roberto's "Hands of Stone" would be too much for him to handle. He would walk Pacquiao down every round, use his superior head movement, and would cut off the ring too effectively, ending the fight in dramatic fashion.
3. Wladimir "Dr. Steel Hammer" Klitchsko vs. Muhammad "The Greatest" Ali, Heavyweight
This would be exciting to watch, possibly the greatest boxer to have ever lived in Muhammad Ali against the greatest heavyweight of today's time. Wladimir Klitschko's opposition which he has faced has not been up to par with the heavyweights of the past, and it's not his fault the heavyweight division is at perhaps its weakest point ever. Muhammad Ali though was always testing himself, to keep on showing himself he could do it, facing the Heavyweight division when it was its toughest, with Joe Frazier, George Foreman, Ken Norton, Ernie Shavers, George Chuvalo and many more. Speed, elusiveness and footwork like no other Heavyweight for Ali, versus the extremely technical and powerful Klitchsko.
Boxing Ability: Ali was the first of his kind in the heavyweight division, and truly a unique specimen, a big man who could move like a small man, use his feet, in and out throwing punches, with phenomenal footwork, speed and reflexes. Meanwhile, Wladimir will walk you down, jab a lot, catch and counter, and time his destructive straight right hand. Ali's lateral movements would be a lot for Klitschko to handle since he is an extremely flat footed fighter. Advantage: Muhammad Ali
Hand Speed: Another obvious advantage goes to Muhammad Ali, not only were his feet, and his mouth, fast, Ali had exceptionally quick hands for a heavyweight. Although what Wladimir lacks in hand speed, he makes up for in his power and his height advantage. Advantage: Muhammad Ali
Chin: Wladimir has shown his chin is not terribly solid, when he gets hit with a very flush shot, his legs usually go out from under him. His ability to take shots are not as strong as Ali, who has faced some of the sport's strongest hitters and shown he can take them and come back to win, standing up to the best of Foreman, Frazier, Shavers, Liston and more. Advantage: Muhammad Ali
Punching Power: Now, finally a place where the new undisputed champ has his distinct advantage. Wladimir has destructive power in both hands, able to knock anyone out with either hand. Ali had enough power to hurt anyone he fought, although Wladimir's power is just on the next level. Advantage: Wladimir Klitchsko
Strategies: With both corners having legendary trainers, the late Angelo Dundee for Muhammad Ali and the late Emmanuel Steward training Wladimir. Steward was a very smart trainer, he knew Wladimir is bigger than most of every other Heavyweight fighter, so Emmanuel took advantage of Wlad's reach while maximizing his boxing skill and minimizing his risk. Uses the clinch a lot, and the one-two combination. While Muhammad Ali used his legs, wanted to land combinations and stay on the outside. Ali's overhand right hand counter punch would be the shot he would be looking for throughout the fight, but with the height disadvantage, it would be difficult for Ali. Ali was simply much more versatile, as he showed in various encounters ranging from Sonny Liston to George Foreman to Joe Frazier. Advantage: Muhammad Ali
Prediction: This is a very bold statement, but I believe Wladimir Klitchsko would defeat Ali, his power would be too much for him. The beginning rounds would be very much like Ali vs. Foreman, but Wladimir is a much smarter and more versatile fighter than Foreman was. He would stay behind his jab, keep throwing his straight right hand and would not be afraid to use the clinch as much as he wants. Muhammad's ego would ultimately be his demise, he liked to let his opponent hit him and get them discouraged by making it seem like it was not hurting him. Wladimir would not get lured into those kind of brawls, he would pick his shots. If not a 12 round point win, Klitchsko may win by late round stoppage.
These are just a few of the fighters that would make such great fights, fights for the history books. One can only imagine how amazing it would be to see these modern day legends face the legends who helped create and shape the sport. Every era that comes, there will be great champions to fight, fighters who transcend the sport, more fighters who can pick up the sport and put it on their back. The sweet science is one of the few things in the world that has went against the hands of time, and survived. As long as we have these greats, our sport will not go anywhere.
These are the match-ups boxing fans can only dream of, so back to the original question, could today's greats, match up with the greats of days passed? Yes, more than people think.
Disagree with my opinions? Tell me what you think! What are some dream fights you would watch?
Comments
comments