Is Adrien Broner as good as advertised? Is he the next-generation star we've been waiting for?
This is a question which boxing analysts and fans ask of all rising stars and top prospects in the sport, at one point or another, during the early ascent of their careers. In the case of Adrien Broner, that point is now.
The 23-year-old Broner is undoubtedly the hottest up-and-coming fighter in the fight game right now and has been a real problem for all of his opponents, as his nickname would imply. While he is developing a sturdy base for a potentially fantastic career, some in the boxing world are already staking themselves to the "wait and see" approach, waiting until he reaches the better perceived Junior Welterweight class, before they pass judgment on his ability.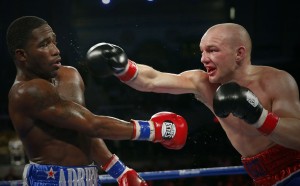 Many look past the calculated dismantling of Antonio DeMarco and his most-recent win over Gavin Rees, instead waiting for a probable near-future tilt with Ricky Burns and/or the anticipated move up to face an upper-echelon fighter in the stacked 140-lb division before they will deal him full props. What is causing the uncertainty and reservation about his current level of greatness has been the classic, naysayer drumbeat of a lack of high-level opponents. It's nonsense.
What we are seeing is what I believe to be a masterful handling of this streaking pugilistic meteor. His team, of late, has been adeptly coupling him with opponents who have just enough resume strength and name recognition to keep the average fan interested. Yet their styles have largely been long on heart if not a bit short on talent, married with average-at-best footwork, punching power and movement.
These traits have allowed Broner to showcase his skills in convincing and brilliant fashion, without blemishing either his record or his rapidly blossoming, bombastic persona, allowing him to continue to build his legacy and highly ignitable marketing potential in a somewhat controlled and precise fashion.
"He hasn't fought anyone!"… "He is fighting in a sub-par weight class!" … "He hasn't been tested!"
These are all valid points.  However, what Broner is displaying now is an evolved game which is being intelligently deployed and groomed for a long tenure as one of the sport's best, while already reaching inclusion in the pound for pound list.
Can he get better? Sure, but he is already a fighter whose skill set and ability is at a point where he can and will go through the best of his division, which is his second weight class. Surely, he has another level, even more depth to his ability; he just hasn't needed it much so far.
His overall defense has vastly improved and he is close to perfecting the tilted, rolling shoulder defensive style, a-la Floyd Mayweather. In addition, you can see a comfort level in him whether he is fighting tight or at a distance. His blazing hand speed is as good as advertised and his elite-class power seems to be staying with him as he looks to a likely future move to 140lbs.
Broner has shown patience and pressure, poise and chaos, guile and tenacity.  He was calculating, coordinated and almost obliging as he seemingly allowed DeMarco and Rees to have a few moments of perceived, early success before outclassing and overwhelming them, ultimately beating them both badly.  All the while he rarely appeared to need to stay in high gear for more than a flurry here or there.  He has that 'other level' that the great ones have.
He is a finisher whose brash personality is polarizing enough to create a massive interest among fans and haters alike. His exciting style, showmanship and HBO/Golden Boy supported marketing, will sell a lot of tickets, build a legend and keep everyone wanting more.
I have seen the future of boxing, and its name is Adrien Broner and yes, he is already as good as we think, and probably even better.