"You got a young, hungry, determined fighter, who trains like an animal, fights like an animal, who brings the pain, man…. Tim Bradley's going to do it against Pacquiao"
Timothy Bradley has been waiting for this moment his whole life. Now it's finally here, and he's ready to take the big stage. On June 9th, he'll step into the ring against Manny Pacquiao and try to topple one of the best fighters of his generation. It won't be easy, and he doesn't expect it to be. He just knows that he's going to do what it takes, and win by any means necessary.
In this exclusive interview with the undefeated, top 10 pound for pound fighter, Bradley talks about his training and preparation to face Pacquiao, what he thinks about watching himself and his family on 24/7, his thoughts on all of the drug testing controversy brewing over the past few weeks and much more, including a plan to step away from the game at an early age. Take a look.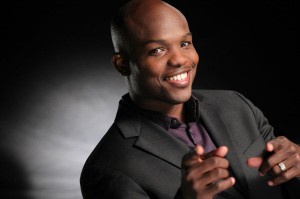 It's less than a month until fight night. How's camp going and how are you feeling?
Timothy Bradley: Camp's going well, I'm 110%. I'm just focused man, dialed in on the big day, can't wait.
Who have you been sparring with and what are you doing to prepare to face somebody with Pacquiao's unique skills and capabilities?
TB: I got a couple of guys, Luis Ramos, Marvin Quintero, Julio Diaz, a bunch of those amateur guys came out earlier to work with us. It's been great, I've had probably over 7 or 8 sparring partners already.
What's the single most important thing you have to do in the ring against Pacquiao to secure the victory?
TB: Hmmm. I don't know. I really don't know what the single most important thing is that I have to do. I have to be faster than him, punch more than him, land more shots, and make him miss a lot more than he hits me. Do anything necessary to win, I just gotta win.
Do you think that Pacquiao right now is still at his peak, or do you think he's beginning to slip?
TB: I don't really look at what he did in the past, I just look at now, and for him, he has a young, hungry lion in front of him. I'm sure he's going to bring his A game.
[View our Pacquiao vs. Bradley preview & prediction here]
There's been a lot of talk from Pacquiao's camp about distractions for his last fight, his new religious and moral revival and everything else like that. What do you make of all of that?
TB: You gotta focus on the big fight man. You have a big fight ahead of you man. That's what I think about it. I'm completely dialed in. So there's no excuses at the end of the day.
You've always been a big family man, and people are seeing that now on 24/7. Talk about the strength you get from your family.
TB: Family is the most important thing on this earth. Without my family man, I'm nothing. I have my family close by and I want it to remain the same for many years to come. I fight, and I fight for them, and their wellbeing. I don't want them to have to struggle. I want to be able to pay for my kids' college, and buy their first car, and do all of those things that parents wish they can do for their children. It's my job to fight and fight for them, so I'm just doing what daddy is supposed to do and taking care of them and trying to spend a lot of time with them.
What was it like for you to watch yourself on 24/7? Did you watch the first episode?
TB: Absolutely. It was great. I want people to see how the Bradleys are. I don't make a whole lot of excuses to not spend time with my family, and you know how I train, I train very hard. It's the mental focus and preparation that a lot of fans and people get to see, my determination factor which will play a big role in this fight as well. I think it's great man, it's unbelievable just to see myself on there and just being me. It's just me, there's no gimmicks, just me being me. I'm happy that a lot of people have been able to accept me for me, and I enjoyed the show.
How have you been coping with all of the extra attention and hype – the cameras, the photographers, the interviews – for this fight as compared to anything else you've dealt with in your career?
TB: Well, it comes with the business man, it comes with the territory. It's a huge mega fight, and without the media, nobody would know about it. Taking the time out and doing the reports, the interviews, it's all a part of the business, you know. It's how you become a superstar. I just try to deal with it, and it's not a problem for me.
When I talked to you after your win against Devon Alexander, you said two interesting things considering where you are today. You said you were a few fights away from getting a fight at welterweight against either Manny Pacquiao or Floyd Mayweather – so you can check that one off your list –  and you said that you would consider retiring at the age of 30. Is the second statement still holding true for you?
TB: Absolutely. I have goals in mind, I'm going to be 29 this year. I beat Pacquiao, I have a rematch. Win the rematch. Fight Mayweather. Beat Mayweather, have a rematch. Beat Mayweather. Retire.
… Well that would set you up pretty well for life…
TB: Here, here. Well that's the plan. If I can execute that, ha, oh man… it would go down in the history books. One of the best and smartest fighters in the game, ever. Get in and out get. I don't want to leave this business all jacked up man. Honestly. I love to fight, I love what I do. I just want to leave with some brains left. That's just it. I want to be able to hold my child, and I want to be able to talk on the phone like I'm talking to you right now.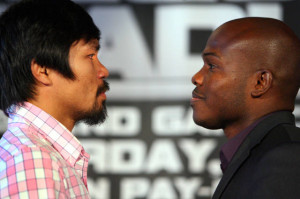 You're a 4-1 underdog against Pacquiao… I know you don't mind being an underdog, but is that fair?
TB: Hell yea. I'm fighting Pacquiao. He's considered the best fighter in the world, right next to Floyd Mayweather. Of course. It's my job to prove them all wrong though. That's my job. He's a superstar in the game, so it should be that way.
What does it mean to you to have gotten so much flak about not facing Amir Khan last summer, and now be weeks away from stepping into the squared circle against Pacquiao? The plan worked out and you're here.
TB: It means everything. It means that we made the right moves. We set ourselves up right. It means that I get my opportunity, and now I say to myself 'What you gonna do now Bradley? Here it is. Let's go out here and take care of business, let's shock the world.' It's everything to me, the beginning of a new career, a new journey. It's a new beginning for my family, winning this fight would change our lives forever. I'm ready for it.
So what do you think about Lamont Peterson's failed drug test and the controversy swirling around that and his first fight against Amir Khan, as well as Andre Berto's recent failed drug test?
TB: I don't really think anything of it. I just think that, you as a fighter have to be careful and watch whatever you're taking. You have to be positive with everything you take, and not just getting it off the Walmart counter, or from the convenience store or whatever, because you really don't know what's in that product. You gotta be cautious. Those are good guys. I know Berto, and Lamont, and they're not cheaters…
I think Berto's situation could be cleared up a little bit more because it could happen to anybody. He's taking a supplement that's supposed to be clean off GNC or anybody's counter or wherever he got it from, it should be legit, but it wasn't. There was some residue there, but it wasn't enough to really give him any kind of boost or anything like that, just enough to cause a bad test. But it wasn't enough to boost him in any way. So I think there should be some sort of regulation, or percentage, or something… if something like that does occur, you know, he could still be able to fight.
With Lamont, I just think that he should have came clean in the beginning. Even though he had a problem or something, he should have had all of his paperwork and facts in order, and I think he would have been better off. But then again, I really don't know, I don't know what he was thinking, or what really went on. I don't know the situation, and I haven't talked to him personally. But I know him, I know their team very well. They're not the type to cheat. I know the reason why he did it was because he was very low on testosterone, and this was a natural way of building it, by taking that supplement or whatever he did. But it wasn't intentional for an edge, it was for his life… and for boxing, you need to have testosterone in order to fight. And if your testosterone levels are low, you're not going to have any type of aggression, whatsoever.
Does it make you a little bit nervous at all – you're a big nutrition guy, and you're careful with what you take in terms of supplements – but is that an extra concern for you at all?
TB: Nope, no concern for me. I only mess with USANA. They are the only company out there that is going to guarantee me $1 million if I test positive for any illegal substance. I'm behind them 110%. There's no supplement company out there that's going to give you a contract that if you test positive, let me pay you $1 million of your salary that year. There's not one company out there. So, USANA's the way to go for me, and that's the bottom line. I only use USANA products and that's been very beneficial, and the potency is there, and what's in the bottle is actually what's in the bottle, it's not laced with anything.
OK, so, let's get back on track here – what's your prediction for the fight  – how do you see it playing out?
TB: I just see my hands being raised at the end of the night baby! I'm not one to go into particulars or say I'm going to knock him out or do this or do that. I just know I'm going to win by any means necessary. I'm going to get the victory. That's what I think for every single fight. I'm going to get that win man.
So if there's a casual fight fan out there and you needed to give him a reason to watch the fight – what would that be?
TB: Ha! He's missing history. If he's missing this fight, he's missing one of the best fights probably in the history of boxing. You know why? You got a young, hungry, determined fighter, who trains like an animal, fights like an animal, who brings the pain, man. And he's facing a guy who does the same thing, loves to bring the pain. So, you got two bulls going head to head on June 9th. That alone should tell you that hey – the throne is definitely going to be rattled, and taken away, on June 9th by this young, hungry lion. Stay tuned. There's always that element of surprise when you have a young, hungry lion like myself facing the best in the game. Sonny Liston. Muhammad Ali. Muhammad Ali did it, did it to Sonny Liston. That's surprise man. Buster Douglas did it against Tyson, you know. Tim Bradley's going to do it against Pacquiao.