On June 16, heavyweight contenders Tomasz Adamek and Eddie Chambers will duke it out in Newark's Prudential Center. Both heavyweights need a gust of wind in their sails and a win here should provide it. Adamek, 35, is rebuilding after a one-sided TKO loss to Vitali Klitschko. Chambers, 30, is in the midst of trying to put a painful last-round stoppage loss to Vitali's little brother Wladimir further back in the rearview mirror.
Date: June 16, 2012
Site: Prudential Center in Newark, New Jersey
Division: Heavyweights: 12 Rounds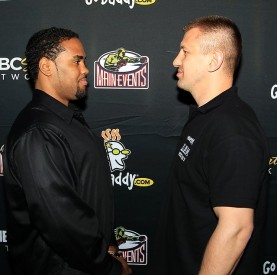 It's wrong to come down on these fighters because they are clearly at a sub-Klitschko level. At the same time, what is the goal? To become the best of the rest? Is Alexander Povetkin's WBA belt the new goal for the slew of contenders who are out of the Klitschko sweepstakes? Could either of these guys figure in the post-Klitschko era? Both men face the potentially-deflating prospect of regrouping after emphatically being shown they can't really hang with the big dogs.
Chambers, 36-2 (18 KOs) is a slick Philadelphian with good defense, guts, and speed. He's a small heavyweight usually scaling under 210 pounds. With a roll of flab on his physique, one might wonder why he doesn't drop to cruiserweight, especially after coming up so short against Wladimir. At least in facing Adamek, 45-2 (28 KOs), he is facing a guy who first made his bones at 175 lbs and therefore won't have a size advantage to speak of.
You can't be too thrilled with Chamber's post-Klitschko career course. Sure, he needed time to recuperate from the 12th-round KO loss to Wladimir. But that will have been 27 months ago come fight night. And since then, he's has one fight–a repeat win by decision over Derric Rossy, a man he previously stopped. And that was in February of last year! A back injury forced him out of bout with Tony Thompson earlier this year.
Adamek lost to Vitali in September of last year and re-emerged in March to decision gatekeeper Nagy Aguilera. You gotta like Adamek. He might be a full level underneath the cream of the division, but the former light heavyweight champion has been inspiring at times as he has worked himself into full-fledged contender status at heavyweight.
I look at both as being over-achievers at heavyweight. Adamek has really extracted about as much out of his body as one could have hoped for and Chambers has done pretty well in this era of cyborg heavyweights for being a small chubby guy. And beyond that similarity, they are at about the same point in their careers–two fights removed from bad losses to the best in the division. They're both probably a little past their primes. They're both undersized. And Adamek is a fighter with Chambers being the boxer. It's a nice, even match-up.
Adamek has some edges in this fight. He's fighting in front of a passionate, hugely-Polish crowd at the Prudential Center. He's been more active. In addition, he seems to have a slightly more robust winning spirit than Chambers. When in a winnable fight against a fighter he respects, Adamek really goes after it. In Newark, it might be hard to outpoint an energetic Adamek.
Chambers is cuter. He is slicker. Adamek hasn't faced a heavyweight with that package of skills. Chambers' hand speed might make Adamek look slow in comparison. It will be interesting to see Chambers pit his Philly sensibilities against the proletariat attack of Adamek. But I think one underrated part of Adamek's repertoire is his thoughtfulness. There is a cerebral side to his hard-working style. He has an advanced knowledge of timing during exchanges and a solid understanding of the how the fight is going. While not fast or particularly cute, Adamek is a slick customer.
Adamek vs. Chambers Prediction
As Chambers ages, he seems to use his legs less, relying on his defense and speed to shine during exchanges. Against Adamek, he will probably do the same. His decided edge in hand speed could potentially allow him to do the more eye-catching work during trading. But what is the best-case scenario for Chambers? He might be able to match Adamek's work-rate and throw sharper punches here and there. But that might not be enough.
Chambers probably can't hurt Adamek. And that's bad news against a guy who is working hard in front of a crowd that is 100% behind him. Chambers might have to win 8 rounds to get a draw. But I don't think it will even come to that. I see Adamek holding a small edge, outworking Chambers in a close and interesting fight that will probably be scored too widely for the pride of Poland.
Prediction: Tomasz Adamek wins by unanimous decision
Comments
comments