Best Fighters of All-Time With Less Than 50 Fights in Their Careers
In boxing, modern fighters are at a distinct historical disadvantage over their predecessors. It's been amusing hearing all the fuss over the years about baseball stats compared when there were only 154 games, as opposed to the 162 games we have today. That negligible difference is nothing compared to boxing. In the old days, a guy could face 6 Hall of Famers in one year, accumulate 200+ fights, and have exponentially more opportunities to establish greatness.
Harry Greb fought more rounds in one year than Evander Holyfield has fought in his entire career, which is over a quarter-century old. How can modern fighters compete? Is it any wonder why the all-time great lists in virtually every decision is stacked with old-time fighters? This practice hardly seems fair. All-time lists essentially become a tally of the most-accomplished fighters and not necessarily the best ones.
That is a difficult mess to sort out, but some greats have managed to establish crystal-clear greatness, despite fighting only a fraction of the fights of former greats. Here are the best fighters of all time who had fewer than 50 fights, which would have been a good two years of work for the fighters of yesteryear.
1. Sugar Ray Leonard (36-3-1):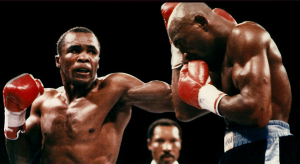 Whether you liked him or not is quite immaterial in light of the man's accomplishments. At the end of the day, there are only so many bad things you can say about a guy who beat 4 of the top 50 fighters of all time (if you count Hearns and Benitez, which I do). The 1976 Olympic Gold Medalist went all the way to 1991 with only one loss that he twice avenged. Not bad when your list of opponents reads like a who's-who from the Golden Age of 147-160 pounds.
Ray was not particularly durable—not in a taking a punch kind of way, but in a manner that prevented him from racking up 50-60 fights on his ledger. One could say Leonard would have struggled in the more rigorous days of old. He just wasn't cut out to be that type of fighter, so he maximized his ring appearances, opting for quality over quantity.
Turning pro in 1977, he had already beaten several top contenders and Hall of Famer Wilfred Benitez by the end of 1979. He earned respect in losing to top-ten all-timer Roberto Duran, engaging the 71-1 "Hands of Stone" on his terms. He lost the fight, but won 2 subsequent rematches. He snagged a 154-pound title from Ayub Kalule (36-0) in a tune-up (!) before he fought unbeaten Tommy Hearns, coming from behind to knock him out in the 14th.
A detached retina shelved him for the better part of five years, before he rose like Lazarus to decision all-time great Middleweight Champion Marvin Hagler. Anything after that was just gravy, as Leonard managed to crack the top 15-20 all-time list in 40 outings—an amazing feat.
2. Pernell Whitaker (40-4-1):
In just 44 fights, "Sweet Pea" became one of the best lightweights of all time, in addition to earning titles in 3 other divisions. The 1984 Olympic Gold Medalist was denied his first attempt at glory, losing an appalling decision to Jose Luis Ramirez in 1988. By 1991, he had completely cleaned out the lightweight class. Whitaker was head and heels above his lightweight contemporaries. Perhaps only Benny Leonard and Roberto Duran can claim to have been more dominant lightweights than Whitaker.
Whitaker snagged a belt at 140, before taking over the welterweight division. Again, injustice reared its ugly head in 1993, as Whitaker was denied a rightful victory over 87-0 Julio Cesar Chavez, earning a scandalous draw. "Sweet Pea" continued to dominate, before finally falling to Oscar De La Hoya—again by controversial decision. It wouldn't be until 1999 when Whitaker, now struggling with age and drugs, was beaten clearly, by Felix Trinidad.
The southpaw was one of the finest boxers and defensive masters of all time. With wins over Roger Mayweather, Greg Haugen, Jose Luis Ramirez, Freddie Pendleton, Azumah Nelson, Jorge Paez, Buddy McGirt (twice), and Julio Cesar Vasquez, among others, Whitaker maximized his ring time en route to a Hall of Fame career.
3. Rocky Marciano (49-0):
Quite possibly, the greatest fighting force under 190 pounds ever seen in a prize ring. The backlash on Marciano over the years is one of the graver misconceptions perpetrated in the annals of boxing analysis. Some people would have you believe that Marciano was just a strong bull, plagued by a lack of athleticism and coordination—a guy who came around at the right time.
While Rocky had some weaknesses in the ring and the best men he faced were aging, that's totally missing the point. Marciano, simply put, wiped out the heavyweight division, setting new standards for character, grit, stamina, and punching power. The fact that he was small, not terribly coordinated, had tender skin, and was slow afoot only makes you wonder more how he could have made it so far.
Rocky was absolutely tireless in the ring, churning forward until his work was done—regardless of what was coming back his way. He would ignore things that would bring most men to their knees, like when Ezzard Charles literally ripped his nose in two. And his punches didn't even need to land in typical fashion for damage to take place.
Punches looking like they missed were actually doing damage. He could bust blood vessels on your arms and hurt you wherever he landed. In relation to some other heavyweight greats, his capabilities might not leap off the screen. But there are other less-flashy qualities that are worthy of admiration, like stamina, chin, and a winner's attitude. In those areas, Marciano is in rarified air.
4. Salvador Sanchez (44-1-1):
For those who say Sanchez gets too much credit after dying at such a young age may have a point. But it looked almost certain that he would achieve all of the things people projected for him. And while he never got around to all of it—he accomplished a whole lot while he was here.
Despite passing away at 23, his defeats of 3 Hall of Famers suggests a fighter for the ages. The fact that he won all 4 fights by stoppage attests to his dominance—two K.O.s over Danny Lopez, a stoppage of 32-0-1 (32) Wilfredo Gomez, and a taxing last-round TKO over Azumah Nelson.
Sanchez wasn't really a power puncher per se, but his boxing skills were so deep that he was able to dominate opponents with his smoothness, anticipation, speed, and over-the-top ring intelligence. In under 50 fights and despite never seeing his mid-twenties, he established himself as one of the great featherweights of all time.
5. Floyd Mayweather (42-0):
You can complain about his competition, long inactive spells, and extreme hubris, but credit is due. Sure, it's hard to extend credit to a guy who won't miss an opportunity to tell you he is the G.O.A.T., but his record does in fact suggest greatness anyway you want to slice it.
His run at 130 pounds makes him one of the very best ever to compete in that weight class, with stoppages of Genaro Hernandez, Angel Manfredy, and 33-0 Diego Corrales. He struggled in the first of two wins over 135-pound champion Jose Luis Castillo—the only time any of his opponents had made a case for victory during his entire career.
Since then, Mayweather has captured titles in 3 additional weight classes, posting wins over Sharmba Mitchell, Zab Judah, Oscar De La Hoya, Ricky Hatton, Juan Manuel Marquez, Shane Mosley, and Victor Ortiz. A lot of people give him flack for the quality of his foes and apparent avoidance of Manny Pacquiao. The latter issue can still be worked out and it's also important to note that Floyd took on De La Hoya, Hatton, and Mosley before Pacman fought them and utterly dominated a man (Marquez) who twice troubled Pacquiao greatly. The fact that Mayweather rarely struggles in the ring speaks volumes.